This fundraising family know all about long days and nights in Bristol Children's Hospital and have been supporting us for years…
But the Great Bristol Family Mile was exactly what they needed, at just the right time. We talked to mum Kerry about what the day out meant to them – and why they're encouraging other families to sign up.
Why did you take part in the Great Bristol Family Run?
"We've done various fundraising events for The Grand Appeal in the past, but we hadn't taken part in anything like this as a family before. My husband has run a couple of 10ks, but just for fun – and I did a race for life, but that was when I was 13!
The closest we've come close to doing a competitive race was our fundraiser in February last year. We organised it ourselves and took it on as a family. We walked 31.7 miles over 10 days, raising £2,200 for Caterpillar and Daisy Ward at Bristol Children's Hospital, where our son Theo was treated. It was hard, but so worth it. We were so overwhelmed with the support and generosity from those who donated.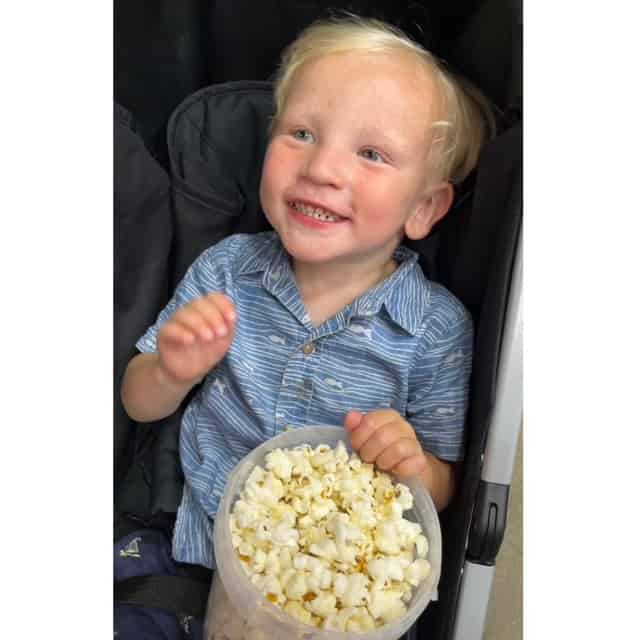 Steph, our contact at The Grand Appeal reached out to us about the Great Bristol Family Run and invited us to take part. Steph is a huge support when it comes to our fundraisers, so we were really pleased she asked us to get involved. It was a little intimidating, but mostly we were all very excited to take on a new challenge!
We raised a wonderful £250 from the run – the support from our family and friends means so much. Having had first-hand experience of the expertise of the doctors and nurses at the hospital, we know how much this money will help the children and families staying there.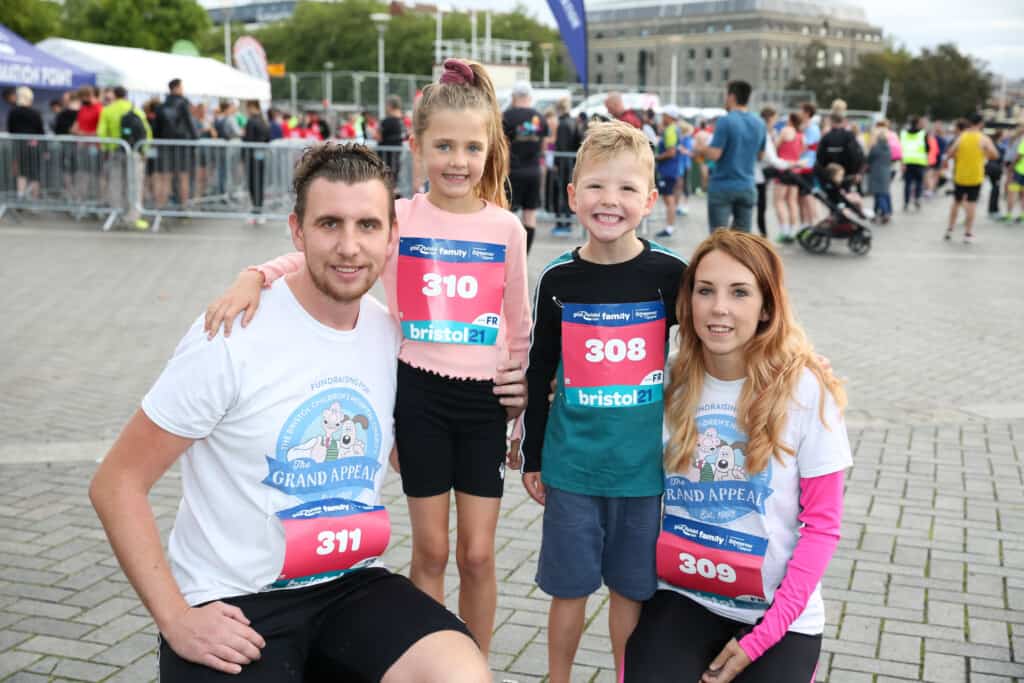 What was the family run like?
"While a mile might not seem like a lot to some people, I was pretty nervous about it. I was sceptical as to whether I could run a mile, especially in front of crowds of people. My husband runs sometimes, so he wasn't worried about the distance so much as towing the kids along with us!
The kids were very excited to be able to get involved in such a big event with lots of other people. The music, warm-up and getting to meet Wallace & Gromit prior to the race was a great way to start and we had so much fun doing that together. There was excitement, the atmosphere from the crowds really spurs you on and the cheering and the clapping from passers-by make it that much more special. It keeps you motivated and pushes you to carry on. I stopped twice as the most exercise I get these days is chasing the children around!
Millie slowed up but continued running and Harry and Tom ran the whole thing… Harry seemed to find an inner strength and powered on. The kids hung their medals up proudly in their rooms, and it was all that we talked about in our house for days after!"
What did it feel like to cross that finish line?
"Crossing that finish line and seeing everyone cheering and receiving medals was such a sense of achievement. My adrenaline was rushing, and I actually felt emotional. After having had such a scary, chaotic journey with Theo in hospital and stretching myself thin between seeing Millie, Harry and Tom, it was so nice to be able to do something as a family.
To work together and support each other in something that was very important to us just felt brilliant."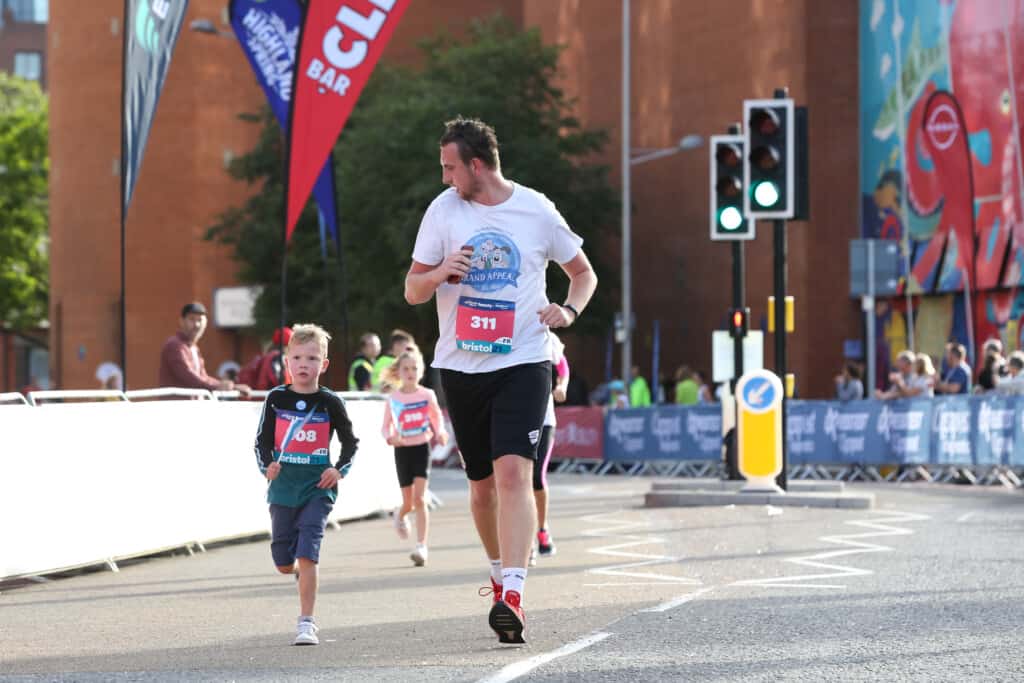 Your family are always taking on new challenges! What motivates you to keep fundraising for Bristol Children's Hospital?
"When our son Theo was just six weeks old, he became seriously unwell and needed the help of Bristol Children's Hospital. He spent a lot of time in the Paediatric Intensive Care Unit with a viral infection in his lungs. At four months old, he was back in again – this time with a serious case of chicken pox that became life-threatening.
The staff were just fantastic – they provided emotional and physical support not just to Theo, but to all of us as his family. They provided toys and books to help with Theo's development and to occupy his siblings, Millie and Harry, when they came to visit.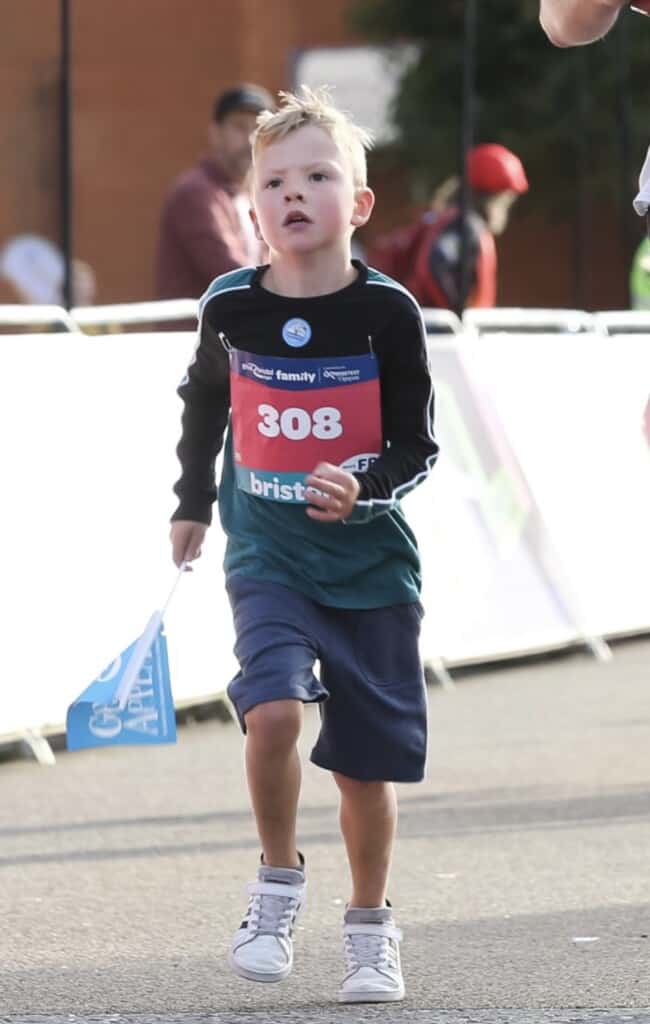 We wanted to be able to do something that could give back to such a fantastic charity that makes a horrendously worrying time that little bit more bearable and helps you get through each day. No amount of 'thank-yous' will ever show just how grateful we are, but by participating in events like the Great Bristol Family Run, we can continue to show our appreciation. We might even make someone else's hospital journey that little bit more bearable too.
Having gone through these experiences together, it was a chance to do something as a family unit – and that's exactly how the run felt."
Do you have any words of wisdom for families taking part on Sunday 25 September?
"Anyone considering the family run… do it! You don't have to be fit. You don't have to be good at running. You just need to want to have fun and run to give something back to a wonderful charity to help other families in their time of need.
You could make a real difference to someone else's hospital journey by getting involved and fundraising. Coming together with other families who understand your journey better than most and making precious memories with your family are just two of many good reasons to do it. The medals are a great reward, but the biggest reward is knowing you've made a real difference to real lives.
We will be eternally grateful for the Bristol Children's Hospital and The Grand Appeal and everyone who take part in events like this to support their brilliant work."
If you can relate to Kerry's story – or her lovely words have convinced you to take part with your family – all you need to do is sign up! We'll be cheering you on all the way – and when you reach the finish line, we'll be waiting for you with a goody bag and a medal.
Take on the Great Bristol Family Run with your crew…
One mile could make all the difference.