Five years ago, Owain sadly received a cancer diagnosis. He was just four years old. Despite showing very few symptoms, he was unwell enough for his parents to know something was wrong. 
Luckily, his cancer was caught early, but his treatment lasted two long years – a tough ordeal for anyone to go through, let alone a young child. His strength kept him pushing through, getting stronger and better with each passing day. 
Owain's fight wasn't over, though – the only way he would be able to beat the cancer was with a bone marrow transplant. It was scary for his whole family. In such a short space of time, their lives were uprooted and changed. What would the future look like?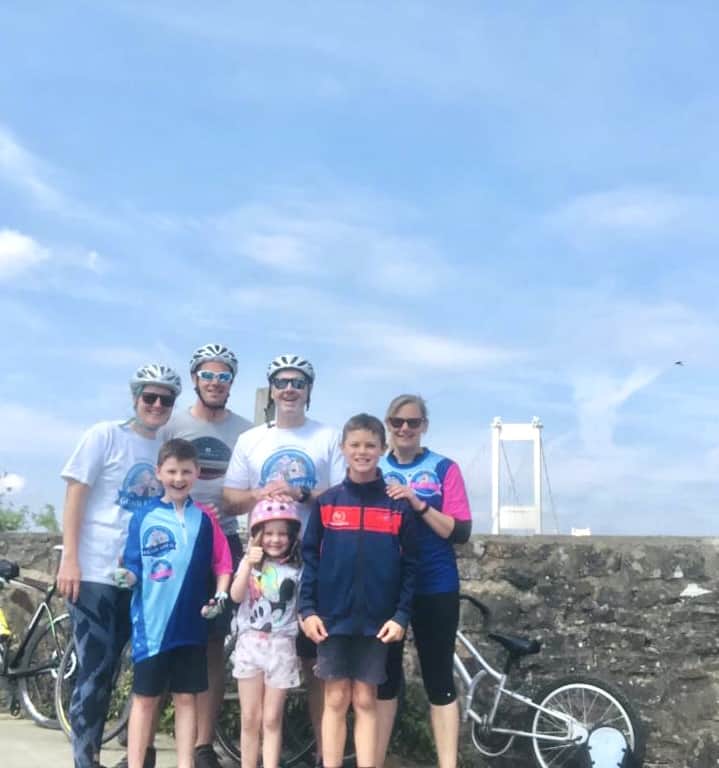 "When we found out that he was high risk and his only chance of survival was a bone marrow transplant, coming so soon after the initial diagnosis, that was even more heart-breaking and scary in terms of what the future held."

Cerys, Owain's mum
finding the fight
It was Owain's strength and positivity throughout his treatment that kept the people around him going. He battled through treatments, uncertain times and pain – and now, five years later, he's known to the entire Grand Appeal team as 'Awesome Owain' – one of our fantastic fundraisers.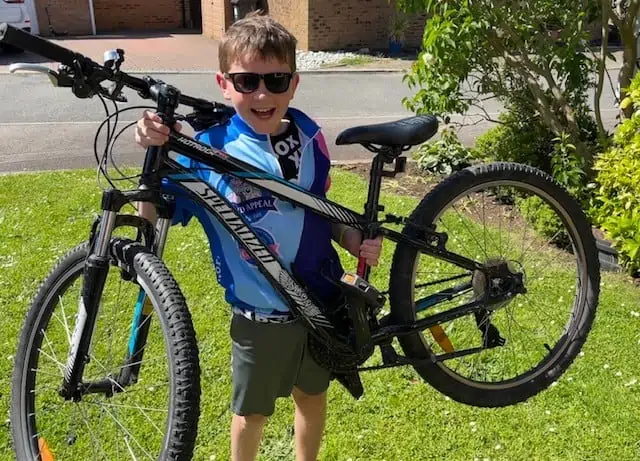 In celebration of his 10th birthday, and "five years since Bristol Children's Hospital saved my life", Owain decided to cycle 100 miles over a month. 
He was strict about his cycling schedule, fitting it between schoolwork and socialising, and found inventive ways to reach his target – including cycling through the Forest of Dean, over the Severn Bridge and to and from football practice. He even encouraged some of his teammates to join in! In just one day, Owain completed 16 miles when he cycled from his home to Bath. Come rain or shine, Owain let nothing stop him – his resilience knows no bounds. 
hospital stays didn't get owain down
Cerys, Owain's mum, told us why Owain and his family are so dedicated to fundraising for Bristol Children's Hospital.
"We made great relationships with the nurses and doctors, and we feel very fortunate as parents. Owain enjoyed the playroom and again as parents we were overwhelmed by the offering of opportunities like music specialists and a play specialist. The nurses tried to make the ward fun, we have many memories of the different games the nurses used to play to get meds into Owain, entertain him or distract him."

Cerys, Owain's mum
The brilliant play staff at Bristol Children's Hospital kept Owain distracted from his intense cancer treatment with games, toys and activities. With child-friendly ward decorations and bright colours, artworks funded by us also helped make Owain feel comfortable.  
Staff managed to bring a little silliness to the tougher parts of treatment by tickling Owain's funny bone and making him laugh.
This year, Owain's family made contact with his bone marrow donor. His donor refers to Owain as his "British blood-brother", and they're hoping to meet soon.
It's clear Owain can draw out the light even in the darkest of times, brightening the lives of everyone around him. He's even looking to take part in the World Transplant Games at some point in the next few years.
Watch out, world – Owain is going to take you by storm!