What would you do with £25,000?
---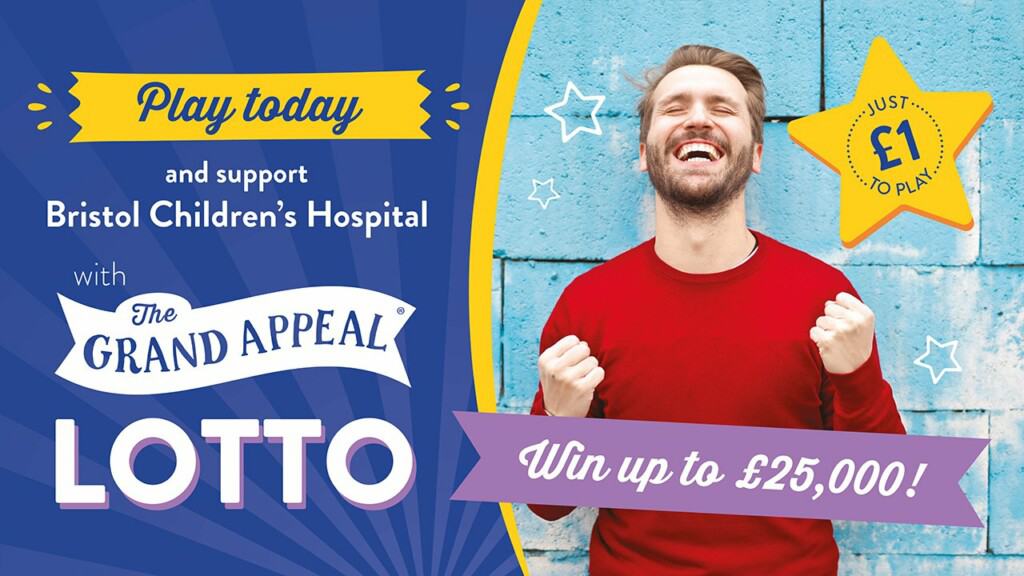 The Grand Appeal Lotto is a fun way to support Bristol Children's Hospital whilst giving you the chance to win fantastic cash prizes.
For every £1 ticket sold, we will receive 50p. It really is a win-win!
For each chance you take, you'll be allocated a unique six-digit number to be entered into the draw and matched with that week's winning numbers. Six matching digits in the correct order wins the jackpot; five wins £1,000; four wins £25 and three wins five free entries so you can keep on playing!
Each time you play The Grand Appeal Lotto, you'll be supporting young patients and families, helping to fund projects such as accommodation, music, arts, research and life-saving equipment so that each child receives the best possible care.
You can enter up to 20 times per week. Players must be 16 years or over. For support on gambling, visit Gamcare's website.
---
The lotto is a number match game, generating a random 6-digit winning number sequence. If your digits are in same positions as the digits in the winning number sequence, you win a prize!
For example, if the winning number sequence was 123456, the lottery number 163057 would be a 3-digit winning match; because 3 digits are positioned in the same place in the sequence:
3 digit match = 5 entries into the next draw
4 digit match = £25
5 digit match = £1,000
6 digit match = £25,000
Because it's a number match game, the odds are fixed. This means that every lottery number has an equal chance of winning a prize:
3 digit match = 1 in 69
4 digit match = 1 in 823
5 digit match = 1 in 18,518
6 digit match = 1 in 1,000,000
You can now buy E-Vouchers to gift your friends and family with a chance to win £25,000.
You simply fill in the form, choose entries per draw and how many draws you'd like to buy, and then print or email to the recipient.
They will then enter a unique code to register their entries.
The maximum spend on vouchers is £100 which is equivalent to 2 entries over 50 weeks.
A minimum of 50% of the total lottery proceeds go to supporting the work carried out by The Grand Appeal Society, 18.4% on prizes and 31.6% on expenses and administration of the lottery.
In 2021/22 The Unity Lottery raised £19,438.50 for Bristol Children's Hospital.
We are committed to ensuring those with a problem with gambling know where to get advice.
BeGambleAware provide support, advice and counselling to people affected by gambling problems. If you need help or advice, visit www.begambleaware.org or call GambleAware's helpline on 0808 8020 133.
If you have a problem with gambling, you can self-exclude using this form.
The promoter of this Unity Lottery is Nicola Masters, The Bristol Children's Hospital Charity, 30-32 Upper Maudlin Street, Bristol, BS2 8DJ
Grand Appeal Society is licensed and regulated in Great Britain by The Gambling Commission under account number 4932.
The Gambling Commission: www.gamblingcommission.gov.uk.
Unity is administered by Sterling Management Centre Limited, licensed and regulated in Great Britain by The Gambling Commission under account number 3137.