We understand that writing your Will is not always at the top of your priority list, so we have partnered with Farewill and Bristol-based Simpson Solicitors to offer 50 Wills free of charge.
Farewill
Since opening its doors in 2015, Farewill was voted the UK's best-rated Will experts on Trustpilot and has won 'National Will Writing Firm of the Year' in 2019 and 2020.
In as little as 15 minutes, with live expert help, you can make a legally binding Will online or over the phone, which can be amended at any time. Claim your free Will today.
Are you interested in supporting Cots for Tots or a particular ward at the children's hospital?
If so, please choose the telephone option for writing your Will with Farewill. Legacies left via the online Will writing service will support both Bristol Children's Hospital and St Michael's Neonatal Intensive Care Unit. Your generous gift will be used where it is needed most at the time of the gift.
It is so important to have a Will in place to secure your assets how you intend and give peace of mind to those you leave behind.

Cathie, parent of a patient
Simpson Solicitors
Prefer to speak to a solicitor on the phone and make an appointment? Bristol-based specialists, Simpson Solicitors, are waiting to speak with you.
To arrange your free consultation please contact your local Simpson Solicitors office directly. (Ten appointments will be allocated at each branch).
Be quick because all appointments are based on a first-come, first-served basis.
Chipping Sodbury Office: 79 Broad Street, Chipping Sodbury, Bristol, BS37 6AD Telephone: 01454 322 722
Kingswood Office: 7 Kings Chase Shopping Centre, Regent Street, Kingswood, Bristol, BS15 8LP Telephone: 0117 960 8594
Nailsea Office: 15 Crown Glass Place, Crown Glass Shopping Centre, Nailsea, North Somerset, BS48 1RE Telephone: 01275 857 122
Thornbury Office: 12 The Plain, Thornbury, South Gloucestershire, BS35 2BE Telephone: 01454 412 278
Westbury-on-Trym Office: 14 High Street, Westbury-on-Trym, Bristol, BS9 3DU Telephone: 0117 209 2724
The Grand Appeal is a worthy cause because it reaches out to all members of the family when a child is in hospital and provides essential resources to Bristol Children's Hospital.

Cathie, parent of a patient
A message from us…
There is no obligation to include us in your Will. However, if you feel you can leave us a gift, your legacy will help us continue to fund the latest, cutting-edge technology for our operating theatres, provide accommodation to keep families close to their sick children and fund our support staff working in the hospital, to name a few of the services which we support.
Here at The Grand Appeal, we have one vision: to ensure every sick child has access to the best care 365 days a year when they need it most. Leaving a lasting gift to Bristol Children's Hospital will help us do just that.
Thank you for your support.
---
Have a question about leaving a legacy? Read our list of frequently asked questions or get in touch with Helen below.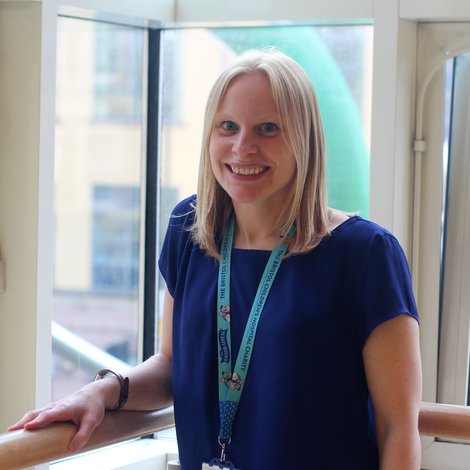 Corporate Partnerships Manager
Helen Haskell
Helen works with our amazing corporate supporters. Contact Helen if your business or company would like to support Bristol Children's Hospital or if you are keen to find out more about ways we could work together.