Christmas house displays are an important part of many people's festive celebrations – but with the rising energy costs, it's getting harder. Three of our fantastic fundraisers are here to give you tips, tricks and advice on building a cost-effective, stunning Christmas display so you can still join in.
This Christmas, we want you to get involved with Shine Bright for Bristol Children's Hospital – but we know it might seem unaffordable at first. Jane, Trina and Natasha, three of our fundraisers who upcycle, recycle and create displays in innovative, low-cost ways have shared their top tips to help you create a wonderful display that doesn't weigh on your bills.
How did you find the materials for your decorations?
Jane
"Firstly, it was a case of working out what I needed, based on my plans and designs, to ensure it was 'weatherproof'! Good old British weather!
We then did a scavenger hunt around the house and garden to see what we could use. Some of it was spare wood we had lying around in the shed etc. We then advertised on Facebook to see if anyone had any spare pallets, they could donate to us. We also contacted local building sites to ask if they had any spare plyboards that they use to fence in new building sites.
Everyone was so great at offering these items to us. Once we had these, it was full steam ahead, designing them, cutting them out, painting them and sealing them up, so the weather wouldn't ruin them."
Trina
"We found a lot of the wood we used. We found some larger logs left on the side of a grass verge and the smaller logs and branches were found in the local woods. We looked on local selling pages for people who had cut down trees too. Wooden pallets are also a great option – you can turn them into Christmas trees and other fab festive decorations.
The reindeer-sized logs should be easy enough to find out and about but the larger logs for the snowmen can be a bit trickier."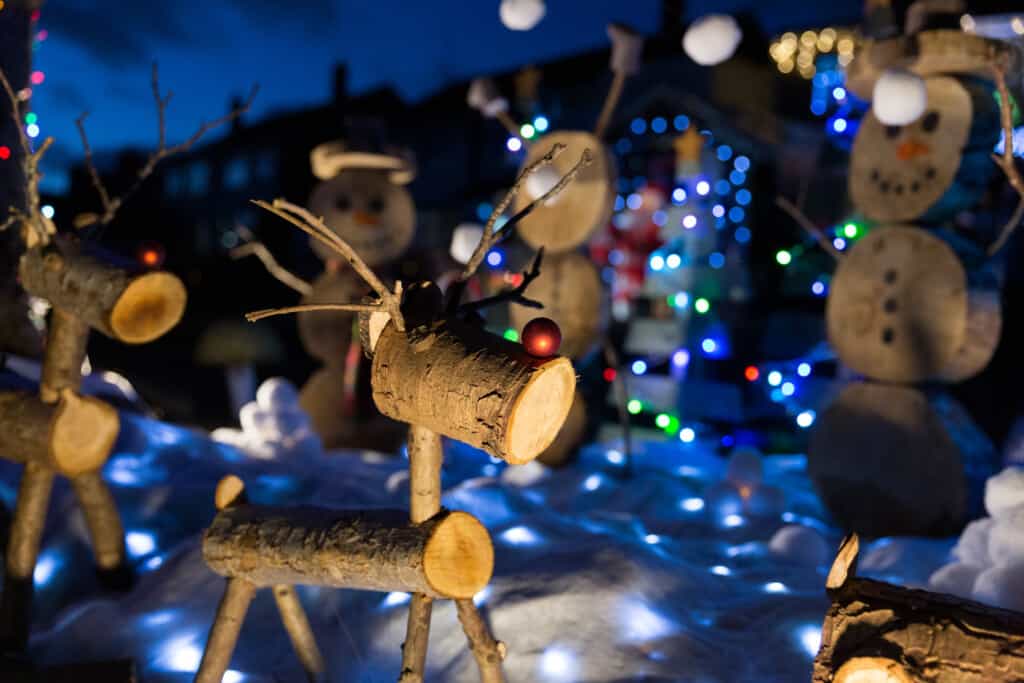 Natasha
"I usually upcycle. For instance, this year for Christmas I'm going to use old paper plates from what I have left over from my children's birthday parties. I'm going to paint them to look like lollipops then cover them in clingfilm to make them weatherproof. I'll get a bamboo stick and pop it in the ground and hot glue that to the paper plates so it will create a giant lollypop!
I have also used carpet tubes, milk cartons and cereal boxes to make props."
What will my display help fund?
This year, we're calling on you to shine as bright as you can for sick babies and children. Two new ventilators are needed in Bristol Children's Hospital and St Michael's Neonatal Intensive Care Unit – and we need your help to fund them!
What other decorations did you have set up that weren't lights?
Jane
"We made a snowman from clingfilm wrap and thick clear Sellotape, using a yoga ball to get the size and shape and then put battery-operated LED lights inside, so it shines through.
Our Nightmare Before Christmas theme "Christmas Town" stayed, so have been expanding on this. We made the entranceway from old white drainpipes and plastic cladding boards. We have various life-size characters cut out of wood such as the dog, Zero, made from materials we found around the house (old sheets and wire etc).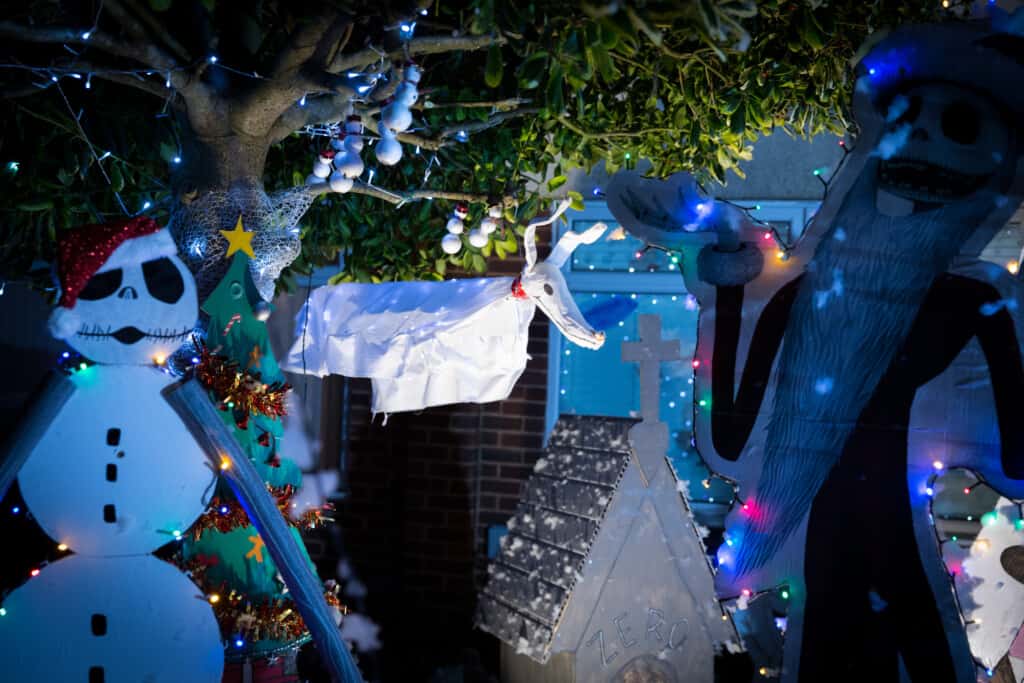 We upcycled a garden bench, so we could have a photo opportunity area for people to sit and take pictures as part of the display too!
We also made the wooden door entrance to Christmas Town from recycled wood and screwed it to our Holly Tree, which looked really awesome!
The only expensive item we have purchased was our snow machine, but a wonderful local guy has donated 10 five-litre bottles of snow liquid to us for this year, which was amazing of him!" 
Trina
"I made present-shaped decorations from pieces of wood we had in the garage which I painted and then added ribbon. I also had a metal bobblehead character I picked up from the supermarket – and lots of tinsel and fake snow (you can buy rolls of fake snow from places like B&M, The Range and Hobbycraft).
We have Christmassy silhouettes in our windows, and we also hang baubles from our tree outside. One of the key things I wanted was for our display to be able to be enjoyed during the day and not just at night – so although there are lots of lights, these were secondary to the wooden reindeer and snowman scene – that is my absolute favourite bit!"
Natasha
"I created a full-size fireplace made from insulation! I have used an old arch and decorated it with tinsel and baubles. I've also used old Christmas trees and white netting for snow."
Do you have any plans for any new cost-effective decorations this year?
Jane
"I find the cheapest way to run my displays is by using a lot of battery-operated lights in zip-lock bags (to keep them dry). They usually last the whole period the lights are on and longer! That way, I know the cost of running them and don't run up the electricity bill too high."
Trina
"Most of our lights are LEDs so cheaper to run than normal fairy lights and we have some solar lights, too. They aren't as bright as mains ones but still add to the effect. I use timers for everything so one of the ways I will save some money is to reduce the time they're switched on.
I did a survey on a Christmas light Facebook group and most people visit between 5 pm – 9 pm so this will be my core light-up time."
Natasha
"Yes! This year, I'm going to try to make as many things as I can from stuff I have already got. I have some old pipe insulation that, with a bit of creativity, can easily be made into candy canes, for example.
I also have two 120-meter light strips, so this should cut down on having loads of things plugged in that use electricity."
What would your advice be to someone trying to do a Shine Bright display on a budget?
Jane
"If you want something, reach out on Facebook and to your friends and local businesses to see if there is anyone willing to donate to your cause. If you mention you are doing it for charity, there are so many kind people out there who are willing to help if they can!
Look around the house and see what you already have… you'll be surprised what you can find to use!"
Trina
"It doesn't have to be big. I started small and have built up my collection over the years. It's surprising what you can make out of junk or freebies, paint and tinsel – just get creative, use sites like Pinterest to get inspiration. A lot of my display isn't my own ideas, they were inspired by things other people have done.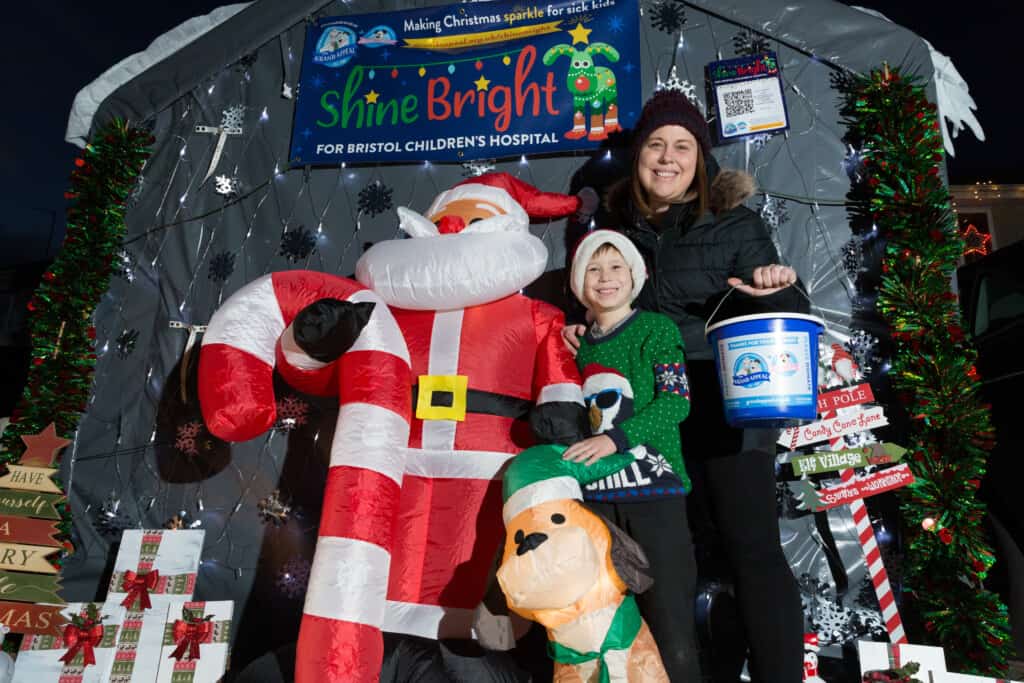 Window silhouettes are simple yet effective, so cut out Christmas characters from black card and stick them in your window. Go to the pound shops and pick up some decorations, they usually have a good selection. There is definitely a lot more around in the way of solar lighting now so if you don't want to rack up electricity bill then this is a fantastic option."
Natasha
"I think we all need some joy at this time, and there is no better way than by doing a Christmas display and raising money for this fantastic charity.
Honestly, doing a display is easier than you think! You can make amazing window displays out of card and tissue paper, and you can get loads of ideas for making free Christmas decorations online! Just try Googling it or looking on Pinterest.
You can always ask your friends and family to donate old Christmas decorations, too."
When will your display be up and ready for visitors?
Jane
"My Christmas display will run from Thursday 1 December until the new year. The lights will be on between 6 pm and 8:30 pm daily, with snow blizzards throughout the evening at various intervals. Candy canes will once again be on offer to the children, as I love to give them all a little treat!"
Trina
"We aim to be completed by Sunday 27 November."
Natasha
"You can visit us from Saturday 3 December at 5 pm."
What do you enjoy most about taking part in Shine Bright?
Jane
"Bringing joy and happiness to the community is the key. Seeing people walk past the house with a smile on their face. Children visiting and having some fun! The best part is knowing that the funds we raise are going to an amazing local charity (being a Bristolian, that means so much to me), which I know has and will continue to help so many children and their families."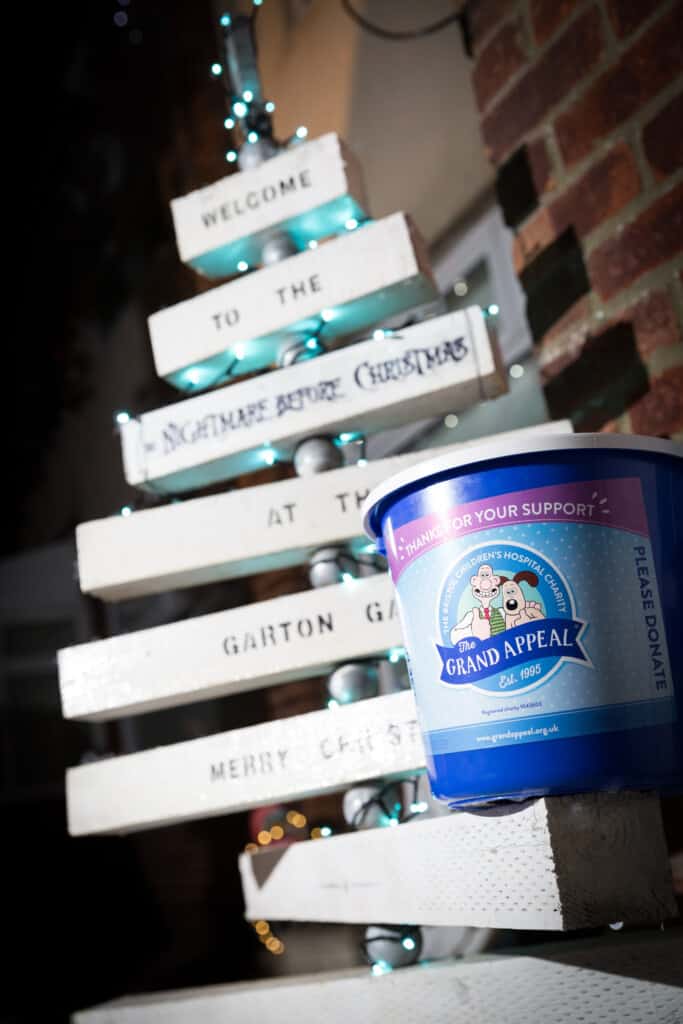 Trina
"The main reason I do this is to spread some cheer. I love seeing and chatting to people visiting the display – seeing happy faces pointing and smiling. It's what makes it all worthwhile. I'd like to think that maybe I might just brighten somebody's day – they might have stuff going on or are feeling low and then they walk or drive past and see the garden and smile.
I love supporting The Grand Appeal too, as I have had to stay in the children's hospital a couple of times when my youngest was little. They looked after us so well and then I heard about all the things they do to help support families of sick children it was an easy decision to choose this amazing cause."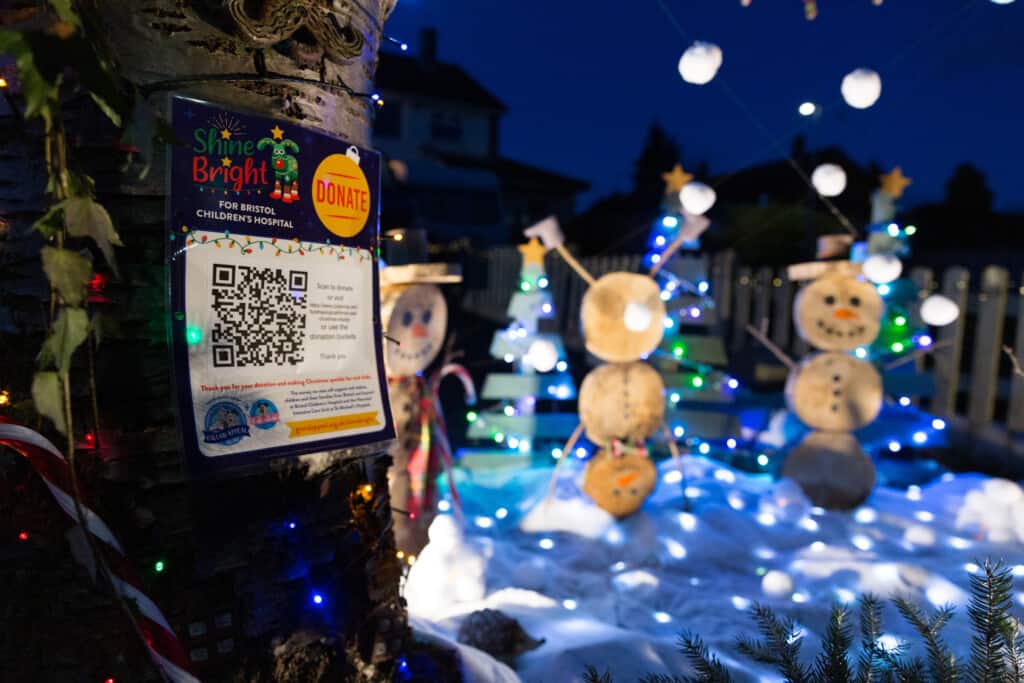 Natasha
"I love that I'm making a difference and helping children and their families. I know that some people really go through a lot in the hospital, so anything I can do to raise money to help, I will.
I also like to spread cheer in the community with my display.
I have spoken to the amazing Kate from The Grand Appeal and she has made raising money super accessible! We have QR codes, buckets, posters and badges sent to us to help raise as much as possible."
So, there you have it – cost-effective top tips from a few of our fab fundraisers. You, too, can Shine Bright for Bristol Children's Hospital on a budget!
If Jane, Trina and Natasha have inspired you to get involved, sign up now.