Join Bristol's biggest Christmas light display and help us raise money for vital equipment: ventilators for both Bristol Children's Hospital and St Michael's Neonatal Intensive Care Unit (NICU).
Our fantastically festive Christmas event, 'Shine Bright for Bristol Children's Hospital', is back! We're asking households across the South West to decorate their gardens and homes with all things fun and festive. You can add your display to our interactive map, allowing families to organise a Christmas light walk between each display. We'll send you free resources so everyone who visits knows you're part of the Shine Bright family.
This year, we're asking for help to fund ventilators – a vital piece of equipment that helps critically ill babies and children breathe. Children like Mia, whose life was saved by a ventilator.
A ventilator saved my Mia's life. She came into the world suddenly, born by emergency c-section at 26 weeks. She weighed less than a bag of sugar.  

Immediately, Mia was struggling to breathe – her lungs were underdeveloped. After just seven minutes, she was put on a ventilator. She looked so tiny compared to all the wires and machines, but I knew she couldn't survive without it.

Sabrina, Mia's mum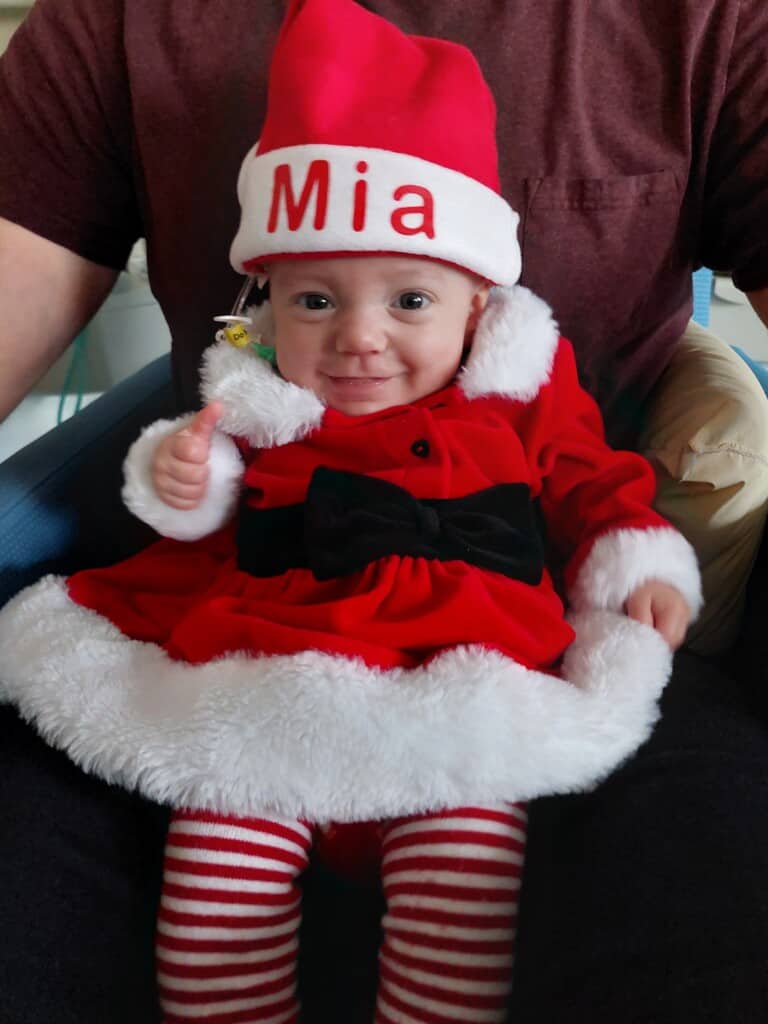 What you're helping fund this Christmas
Learn more about Mia, our little Christmas elf, helping us spread the word about the importance of funding new ventilators.
Add your light display to our map
'Shine Bright for Bristol Children's Hospital' is a community. Fundraisers make friends, visit each other's displays and of course, come together for a common cause: raising funds for your children's hospital and NICU.
When you register to take part, with your permission, we'll add your display to our interactive map, so Christmas light trail fans can visit you. Use the map below to plan your Christmas light walk this winter.
Past supporters get inventive
We know that lighting up your house throughout the festive period can be expensive. Your display doesn't have to be big, and you don't even have to dress your house with Christmas lights! Some of our incredible past supporters have used household items to create stunning displays. From log reindeer to miniature Christmas towns and even a Nightmare Before Christmas-themed front garden, complete with 'Zero' the dog made from a bedsheet, we've seen a huge array of creativity.
Top tips for a cost-effective display 
Three members of the 'Shine Bright for Bristol Children's Hospital' family share their hacks and hints for creating an epic Christmas display on a budget.
Fabulously festive Christmas lights for NICU
Our Christmas campaign might be called 'Shine Bright for Bristol Children's Hospital' but that doesn't mean you can't fundraise for the Neonatal Intensive Care Unit at St Michael's Hospital. We love it when our Cots for Tots supporters get involved by holding their own Christmas light shows! We'll even send you branded resources so you can show people exactly who you're raising money for.
This year, our incredible NICU needs new ventilators. We're asking our fundraisers to join in with 'Shine Bright for Bristol Children's Hospital' and embrace the festivities to their fullest, encouraging others to donate whatever they can.
Freddie was born prematurely at 30 weeks, with severely underdeveloped lungs. When we met him, there was no time to cuddle or kiss. Freddie was instantly put on a ventilator. But he went from strength to strength – he gave me hope. Then, on day 52, we finally brought Freddie home.

– Steve, Freddie's dad, whose life was saved by a ventilator
Free Resources
When you sign up, we'll send you a fundraising pack, complete with posters, collection tins and even a little gift to say thank you for joining in.
Below, you can find all the digital resources you'll need to take part – from social media graphics to printable decorations!
Downloadables:
FAQs
There's no such thing as a silly question. Check out our frequently asked questions below or, if the answer you're looking for isn't here, get in touch with us.
Absolutely! You can tell us where you'd like your funds to go. When you join 'Shine Bright for Bristol Children's Hospital', it's completely up to you where your funds go. If you'd like to only fundraise for Bristol Children's Hospital or the Neonatal Intensive Care Unit at St Michael's Hospital, just let us know. 
Alternatively, if there is a specific ward or unit you'd like to benefit from your fundraising, send us an email. 
Once you've signed up to take part in 'Shine Bright for Bristol Children's Hospital', we'll send you all sorts of free resources: fundraising t-shirts, collection tins and buckets, posters, banners and more. Have a think about what your light display will look like, and what fundraising resources you'd like us to send. You are also welcome to pop into our office on Upper Maudlin Street and collect them – we'd love to meet you! 
We suggest setting up a JustGiving page to collect online donations. It's super easy, and our team is on hand to help you create your page! We can also provide posters with a scannable QR code to get online donations, as well as tins and buckets to collect cash from visitors. 
Please don't think you can't join in if your display is a little smaller than some of the others you've seen. We'd love you to join our Shine Bright family and we welcome all sizes and types of displays. No matter how much you raise, every penny counts and will support sick children and their families at Bristol Children's Hospital and St Michael's NICU. For that, you are amazing! 
This year, we've got a very important ask. Bristol Children's Hospital's Paediatric Intensive Care Unit and St Michael's Neonatal Intensive Care Unit both need ventilators. These pieces of equipment are so important for saving lives. However, if you already have a special connection to a particular ward or service at the hospital that you'd like your fundraising to support, let us know.  
It would be fantastic if you wanted to organise a switch on event for your display and raffle to help boost your fundraising. Please get in touch if you are thinking of doing this so we can advise you on the necessary fundraising regulations. 
If you're in need of some festive inspiration or would just like to take a walk around your nearby displays, check out our interactive map at the top of the page. We'll even put your display on the map if you'd like to! 
Big or small, lit-up or rustic, travelling or static – we want to see what you've got in store for the festive season. If you've got any questions at all, please don't hesitate to get in touch with Kate below.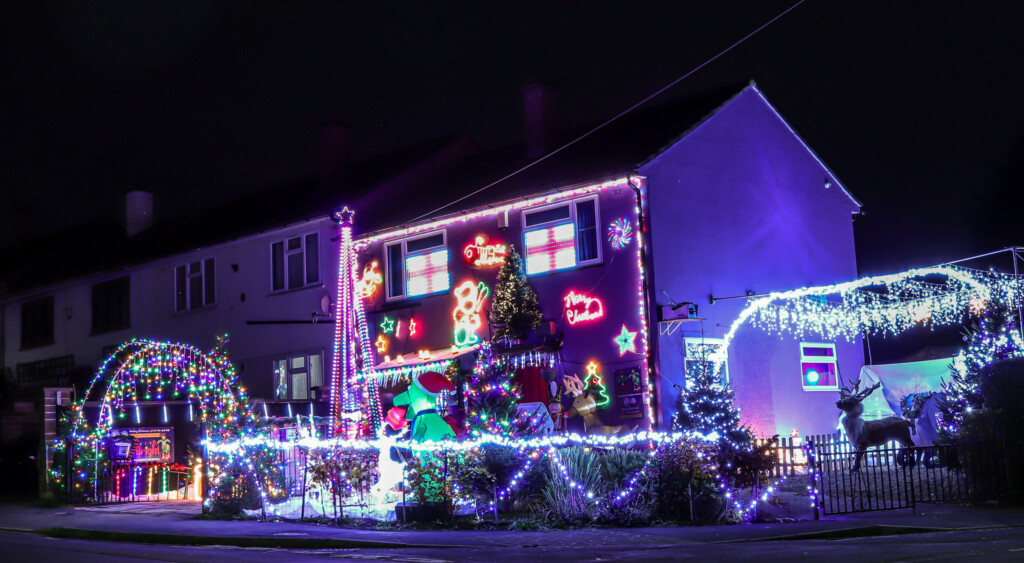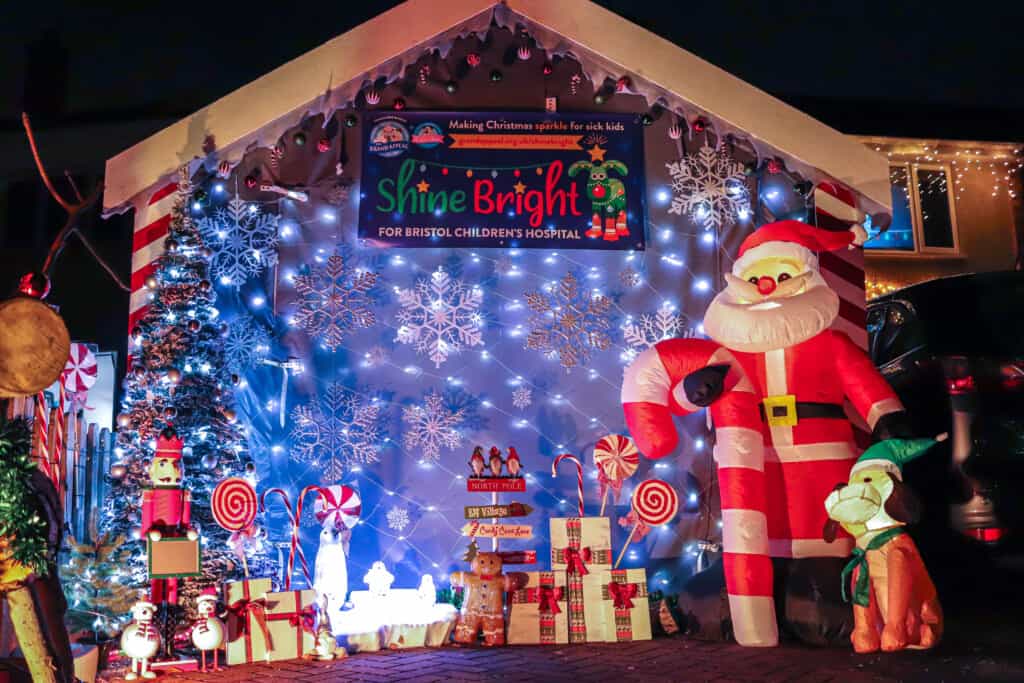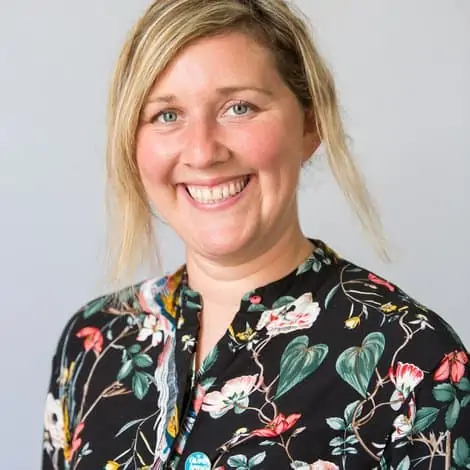 Community Fundraising Manager
Kate Jones
Kate works with our incredible family of fundraisers, supporting them throughout their journey. Contact Kate if you are interested in fundraising on your own or with friends and family or want to find out more about fundraising in memory of someone special.