This Christmas, we're asking businesses and generous individuals to spark a flurry of joy across Bristol. Unfortunately, hundreds of babies and children will need care throughout the holiday period. Help us make it as festive and fun as possible by sponsoring a star or Gromit Unleashed character and together, we can create a dazzling Christmas light show on the walls of Bristol Children's Hospital.
Christmas is just around the corner, and like every year, we're calling on amazing Bristol businesses and generous individuals to come together to light up Bristol Children's Hospital by sponsoring a star.
From shining stars to much-loved Gromit Unleashed characters, dozens of lights will dance across the walls of the hospital every evening in December, from 4:30pm – 10pm. These Christmas lights bring a huge amount of joy to families like Noah's, who need cheering up when visiting hospital during the festive season. So, register now. 
Our parking space was underneath The Grand Appeal's display. Noah would stand there for at least ten minutes every day, watching them change from picture to picture. Seeing how much joy something so simple brought to him was lovely.

Beccy, Noah's mum 
Bristol Children's Hospital's Christmas light show is back
With a fresh new design featuring Aardman's lovable characters Gromit, Feathers McGraw and Shaun the Sheep, as well as small, medium and large stars, there are price points for everyone.
Whether you're a small Bristol business looking for a way to give back, a larger organisation looking for the perfect corporate sponsorship opportunity or a generous individual who puts philanthropy and charity at the heart of what you do, find the light for you.
Take a look at our festive friends joining the light display this Christmas…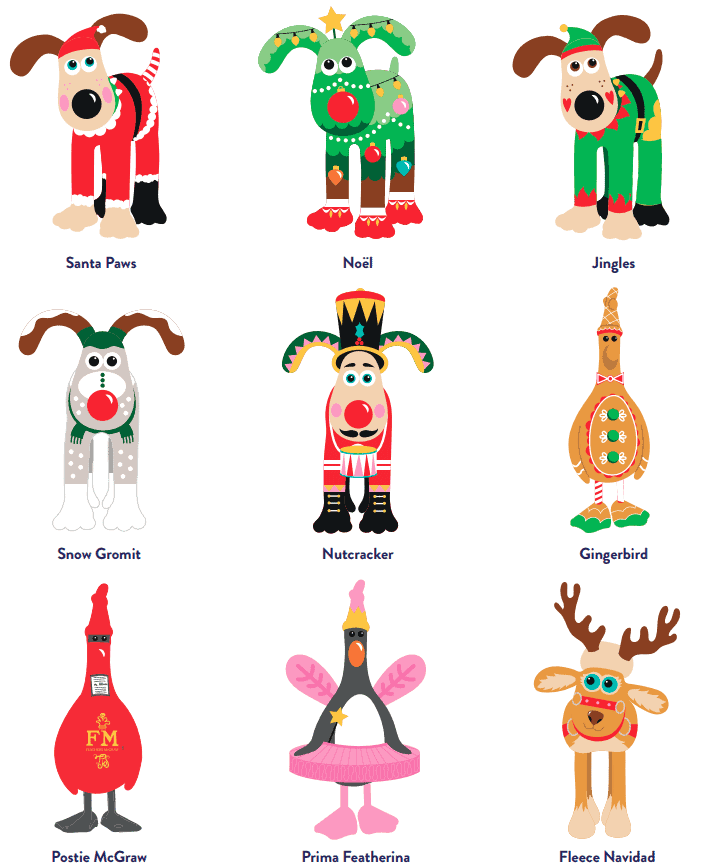 Corporate fundraising and philanthropy at its most festive
Christmas really is a magical time of year. Communities come together and make us so proud to support the incredible work and treatment that goes on in Bristol Children's Hospital and St Michael's Neonatal Intensive Care Unit (NICU).
This Christmas, we're asking for your help to save a life like Mia's.
New ventilators are needed in Bristol Children's Hospital's Paediatric Intensive Care Unit (PICU), and in St Michael's NICU. These vital pieces of equipment help a child breathe when they are so sick, they aren't able to do so themselves.
A ventilator saved my Mia's life. She came into the world suddenly, born by emergency c-section at 26 weeks. She weighed less than a bag of sugar.

Immediately, Mia was struggling to breathe – her lungs were underdeveloped. After just seven minutes, she was put on a ventilator. She looked so tiny compared to all the wires and machines, but I knew she couldn't survive without it.

Sabrina, Mia's mum
When families go through the unimaginable, your children's hospital and NICU are there with incredible care and dedication – but they can't do it alone. Ventilators, funded by generous people like you, save the lives of hundreds of children every year. Children like…
Please, help us create more good endings like Henry, Archie, Georgie and Regan all had, by donating this Christmas through our Christmas hospital lights.
Help us fund life-saving ventilators
Looking to support our Christmas Appeal, but don't want to sponsor a light? Why not make a donation instead?
Secure your spot to sponsor a star below
So, you've decided you want to spread some festive joy for the brave patients in Bristol Children's Hospital this year. You are Claus-itively amazing!
Your company or family name will be displayed outside the hospital for all to see – as well as on our social media pages and website when we shout about how amazing you are. There will likely be associated press exposure too, so everyone across Bristol will see your generosity and willingness to do good.
Social responsibility this Christmas
Help fulfil your Environmental, Social, and Governance (ESG) targets by supporting our Christmas light show and children from across the South West of England. By supporting an award-winning charity and your local children's hospital, you can demonstrate to your employees and clients that you are committed to your local community.
Last year's Christmas lights were a hit
Christmas 2022 was incredible – our festive Christmas display was a huge hit with families at Bristol Children's Hospital and local Bristolians alike. Take a look at our Christmas lights from last year.