Make the leap and take part in a sponsored skydive.
Take to the skies 15,000 feet above the stunning Devon coast and experience the world from a bird's eye view.
Jump on your own or with your friends and family in this once-in-a-lifetime event.
Who can I skydive with?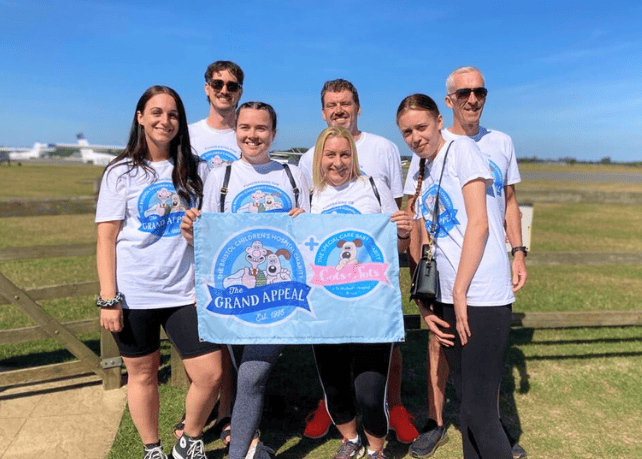 Make this skydive completely yours.
Grab the opportunity to push yourself to new heights (literally!) and do a tandem jump with a trained instructor.
Or, if you've got other daredevils in your family, friendship group or workplace who want to take on an epic challenge with you to raise money for sick babies and children, then rally your crew and take to the skies together.
Just don't forget to set up your JustGiving page to maximise your fundraising potential.
This could be you…
Feeling that buzz of excitement? Want to climb on top of the world and free fall into it? This could be you. All you need to do is register!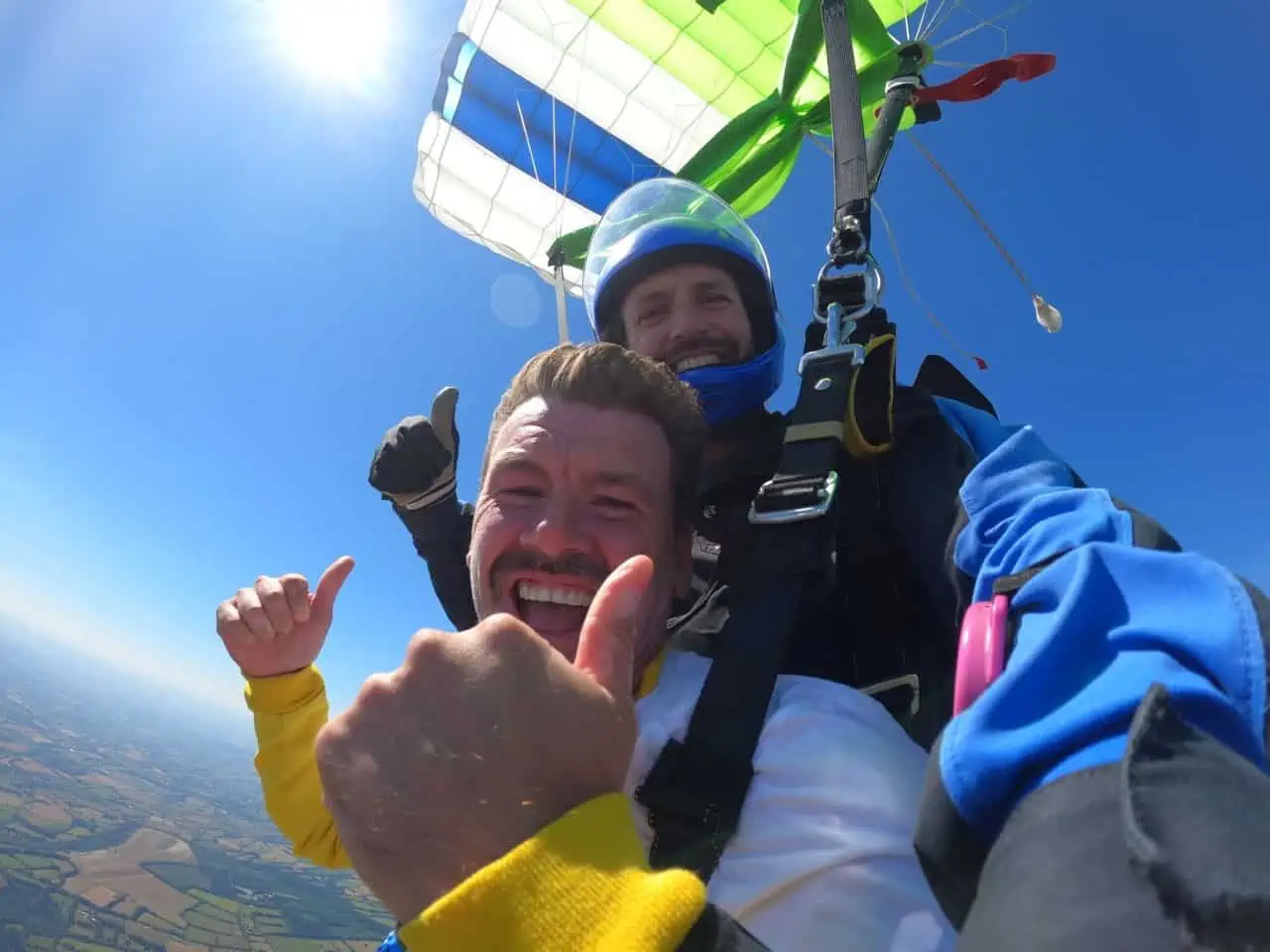 "It's a bit of a cliché, but when you experience something like this, something that you wouldn't do every day, something you may only ever do once… it's something unique to us as a group that we will always have in our memories, and we will never forget it." – One of our sensational skydivers.
A little bit about your skydive…
We know that committing to a skydive can be a daunting thought, but don't worry – we're here to support you every step of the way, with answers to every question and query you might have.
Read on for all the information you'll need to take on this incredible challenge.
Do I need previous experience?
No previous experience is necessary, and even if you're jumping on your own, our fantastic Events Fundraiser Stacey and the Skydive Buzz team will be on hand every step of the way. These skydives are tandem, so you'll be jumping with a highly experienced, licensed skydiver who is there to keep you safe, calm and make sure you enjoy this incredible experience to the max.
Is there skydiving near me?
We run our skydives through our partners at Skydive Buzz, who hold their jumps from Dunkeswell Airfield in Honiton, Devon. However, you are more than welcome to find a jump site closer to you or your desired location. If you'd like a list of other skydive companies that might be closer to home, send Stacey an email.
A colourful charity t-shirt to keep
Expert advice from our dedicated fundraising team
Free fundraising materials from sponsorship forms to event posters and more
Additional digital resources for social media channels
Just go for it! It may sound scary, and you may feel you can't do it – but you can! It's a feeling you can't explain until you have done it, and the difference you can make to the hospital is unimaginable.

– A member of the KCT skydiving team
More skydive FAQs
All of our skydives are run through Skydive Buzz which is based at Dunkeswell Airfield near Honiton in Devon, which allows for breathtaking views when you're above the clouds.
However, if this location does not suit you there are plenty of other UK-based skydive companies dotted across the country. Feel free to find your local site and let us know where you would like to jump. The support you receive from us will be exactly the same wherever you jump.
Absolutely! We encourage you to bring your family and friends along to share this amazing experience with you.
As there is quite a bit of prep to do before your event, we would recommend that any spectators arrive about 45 mins after your arrival time. There is a café at the airfield so your friends and family members can get food and drink while waiting.
The minimum age for skydiving in the UK is 16 years old. If you are under the age of 18, parental consent will also be required. There is no maximum age but you may be required to receive a doctor's signature if you are over 70.
The standard upper weight limit for UK skydives is 15 stone / 95 kilos fully clothed. Please call the Skydive Buzz office on 01404 890222 if you are between 15 to 18 stone.
You can find the full Skydive Buzz FAQs page here with lots of useful information.
Our top priority is your health and safety. Our partners at Skydive Buzz will never let a skydive go ahead if the weather is poor, or there is a chance the weather could effect your jump.
Either us or the venue will let you know of any cancellations as soon as possible, but don't fret – you'll still get to jump, just let Skydive Buzz know which date is best.
It'll get chilly when you're 15,000 feet above the ground! Be sure to wear something comfortable, relatively loose fitting and insulated. Be sure not to wear anything that could fall off or hit you in the face as you're jumping.
You can find the full T&Cs on the Skydive Buzz website.
Still have questions?
If there's anything you're unclear on, would like advice about or if you'd just like to chat through what a skydive entails with us, contact Stacey, our friendly Events Fundraiser, who is happy to answer every question you might have and will guide you through this exciting process.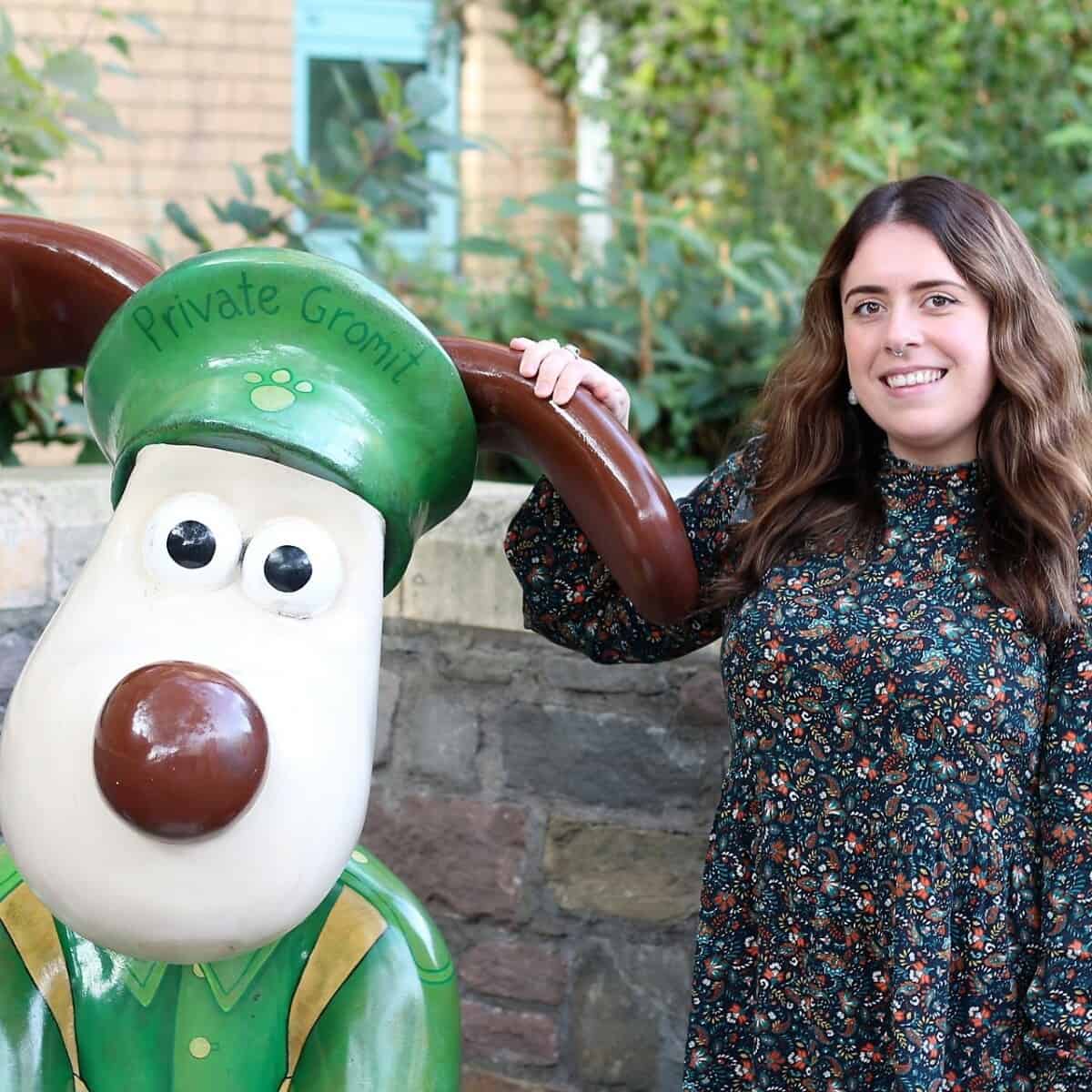 Events Fundraiser
Stacey Vincent
As our Events Fundraiser, Stacey is here to look after our fantastic fundraisers every step of the way. She'll walk you through where and how to sign up for your event, how to set up your JustGiving page, and how to fundraise. She'll also be there to thank you after your event, follow up with you and stay by your side through the rest of the process.