When Mia was born at 26 weeks, she weighed less than a bag of sugar. As she fought to grow stronger, it was a ventilator that saved her life. That's why we've launched a special Christmas appeal to fund more ventilators, so every child gets that chance. We spoke to Mia's mum, Sabrina, to find out more.
"Mia was born suddenly by emergency c-section in July 2021 at our local hospital in Devon. She weighed 770 grams. Her lungs were not fully developed, and she was having breathing difficulties, so at just seven minutes old, she was ventilated.
Before my partner Rob and I could even make sense of everything, we were transferred to another hospital in Plymouth where Mia spent nine days.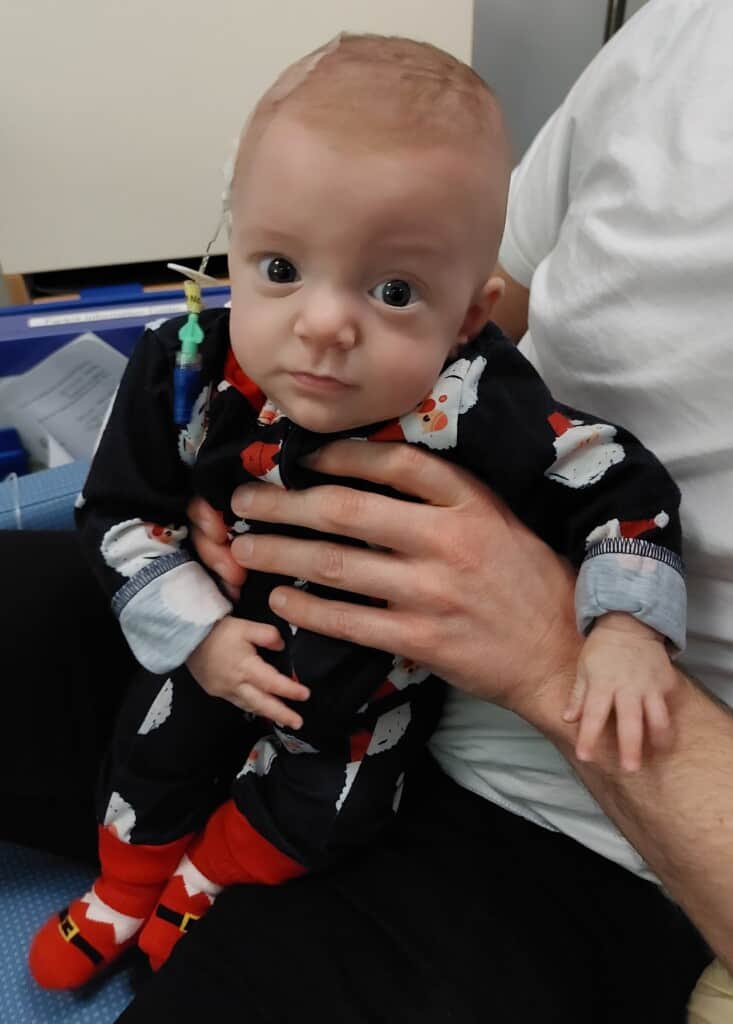 Concerns were raised about Mia's belly, which was hard and swollen because she had never used her bowels. Knowing she needed specialist care; Mia was transferred to St Michael's Neonatal Intensive Care Unit (NICU) in Bristol.
Rob and I arrived in Bristol upset and in disbelief. How were we in this situation? The nurses at the NICU tried their best to comfort us and explain what would happen next.
They confirmed Mia's bowels were blocked, and she needed her first bowel surgery to fit a stoma bag. This was reversed weeks later, after they noticed Mia wasn't growing.
Unfortunately, Mia declined rapidly when her breathing difficulties and blocked bowel only got worse. She was rushed to surgery, where the team removed part of her inflamed bowel and fitted another stoma bag.
We were terrified about what Mia's future looked like and being so far from home made it harder.
When we first met Anne from Cots for Tots, she was so welcoming and comforting. She offered us a room at Cots for Tots House and couldn't do enough for us. Knowing Mia was just over the road from us was a huge relief.

– Sabrina, Mia's mum
The excellent care from St Michael's NICU saw Mia grow stronger each day. Days before Christmas, Mia had her fourth surgery to reverse her stoma, which was successful.
On Christmas Eve, we were transferred to Bristol Children's Hospital because Mia was no longer considered neonatal. It's where we spent our first Christmas together. While being away from our families was hard, we wanted to stay with Mia. The nurses at the children's hospital gave Mia Christmas presents, and a stocking filled with gifts.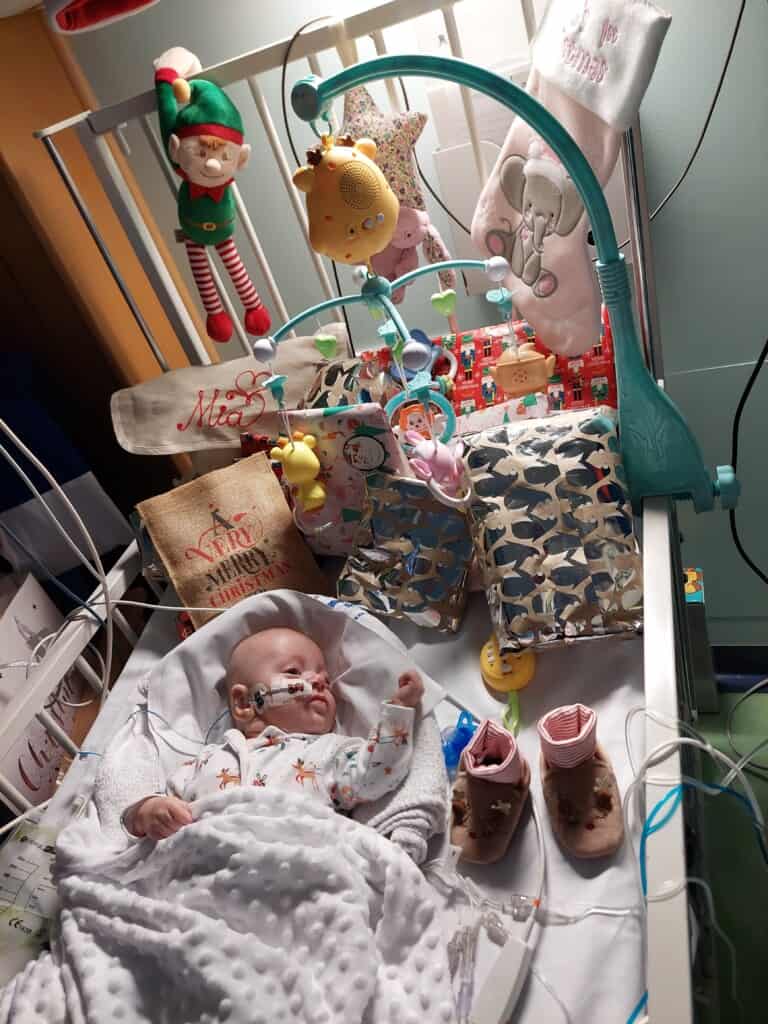 In January, we got the news we had been waiting over six months for: Mia could come home. Rob and I couldn't believe it. It was even more special, knowing family and friends were yet to meet Mia because of coronavirus restrictions. We decided to surprise them and went home without telling anybody.
We are both eternally grateful for the support from each hospital and Cots for Tots. We will never forget the kindness we received.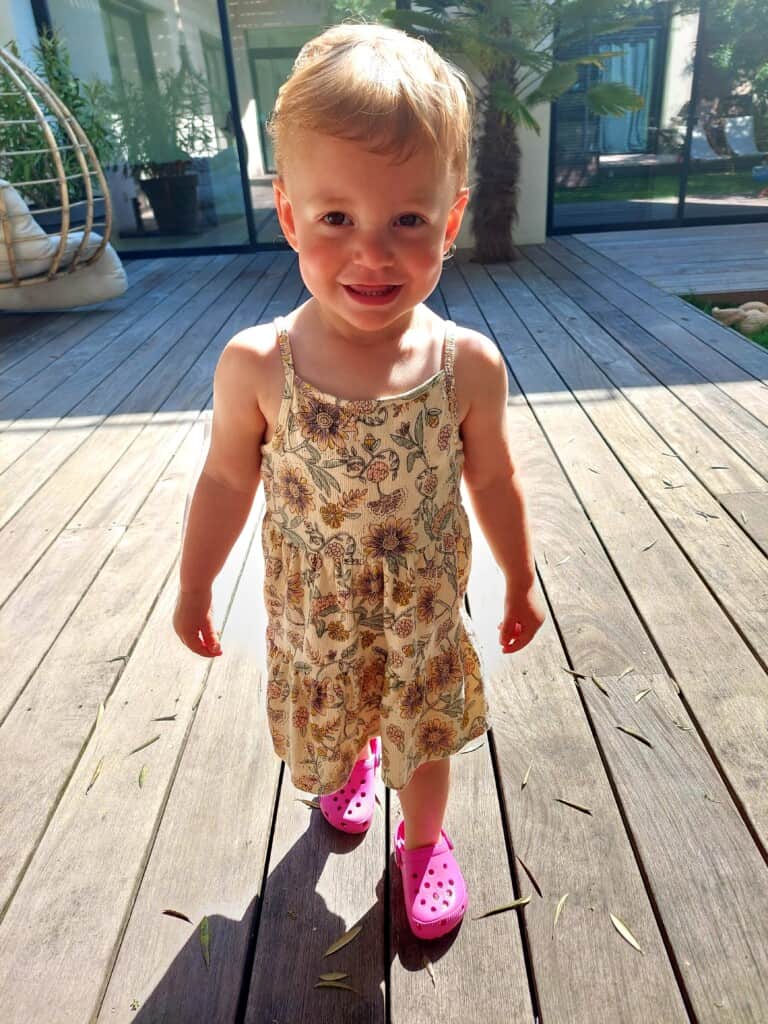 Mia is now two years old and developing well. She is talking and goes to nursery twice a week, which she absolutely loves. She loves to dance and kick a ball around. You would never know she had such a troubled start in life.
We spent 174 days in Bristol and for 30 of those days, Mia was ventilated. I am certain it saved her life. Please donate this Christmas so that Cots for Tots can fund new ventilators to help even more sick children."