Unsure which event you want to sign up to in 2020? We have launched our events finder, what will you do in 2020?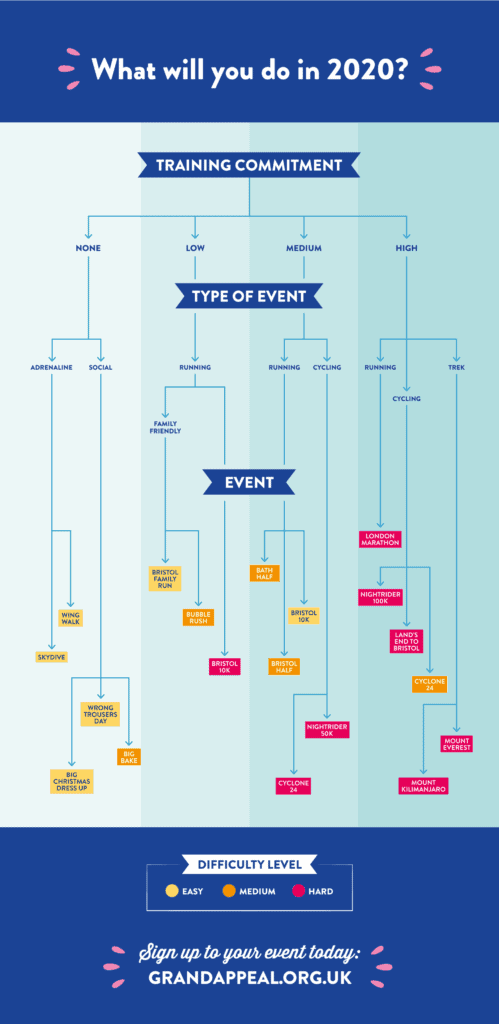 Events – A to Z:
Now that you have found your event, it's time to sign up!
Big Bake – rise to the challenge and bake a difference.
Big Christmas Dress Up – gather your colleagues, prime your pupils and recruit your friends.
Bristol 10k – run in Bristol's most popular and prestigious sporting event.
Bristol Half – run through historic Bristol in one of the UK's leading road races.
Bristol Family Run – be a family of medal winners.
Bubble Rush – get your family together for 5k of foamy fun.
Cyclone24 – 6 people, 1 velodrome, 24 hours.
Land's End to Bristol – saddle up for a truly unique ride and cycle 250 miles in 4-days.
London Marathon – run the world's greatest fundraising marathon.
Mount Everest – conquer one of the most sought after treks in the world.
Mount Kilimanjaro – climb the world's tallest freestanding mountain.
Nightrider – cycle overnight in a challenge like no other.
Skydive – make the leap and take part in a sponsored skydive.
Wing Walk – take on the greatest aerial adventure!
Wrong Trousers Day – wear your weirdest, wackiest and most wonderful trousers.