As part of the Grand Series, our new virtual event, we're encouraging supporters to take the plunge and complete a sponsored swim. Whether that's indoors or outdoors is up to you.
When it comes to open water swimming, we knew there was only one person we could ask for advice: Professor Andy Wolf. This fundraising hero and swimming superstar has completed epic swims across the English Channel and even has his sights set on a solo swim of Loch Ness later this year.
If you feel like you're in unchartered waters when it comes to outdoor swimming take a seat as Andy runs through his top tips.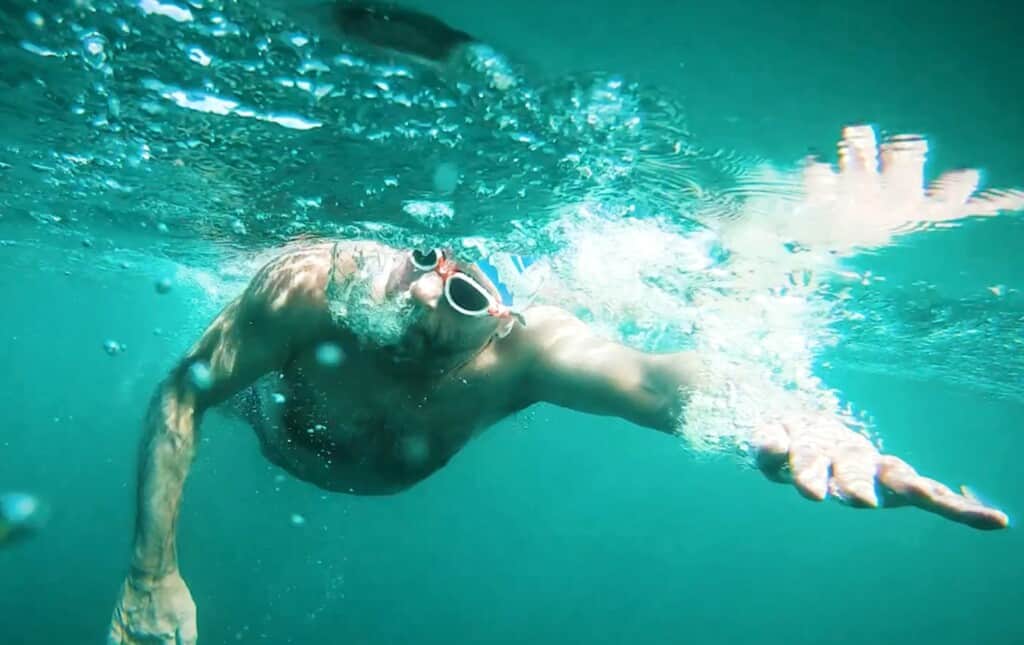 "Swimming in a pool is a great way to keep moving and keep fit, but once you have ventured outside this chlorinated, heated environment, a whole new world opens up.
"While many people have recently rediscovered the sheer joy of swimming outdoors in a safe local river or beach in the summer months, the adventure does not need to stop there. The closure of regular pools over autumn and winter has encouraged folk of all ages and shapes to dip their 'toe in the water' and try winter outdoor swimming at temperatures in single figures.
"This activity's wonderful benefits are not just confined to physical fitness: evidence is emerging of effects of cold-water swimming on mental wellbeing and its positive impact on anxiety and mood. Open water swimming is not just about putting on a swim hat and goggles to cross the English Channel (although it has its attractions). Simple dips in the cool water outdoors are enough to make anyone grin. Perhaps I need to persuade you to try open water swimming. So, I will tell you about my journey…
Meet Andy Wolf:
"My name is Andy Wolf, and I am a retired Professor of Paediatric Anaesthesia and Intensive Care in Bristol. In the 1970s and before I started my medical career, I was a competitive indoor swimmer. I enjoyed the odd outdoor swim and even won a few open water races but never really saw this as an alternative to the quest for speed and competition in the pool. A medical career in the emerging speciality of paediatric cardiac anaesthesia and intensive care plus family commitments followed, and my swimming activities were minimal for 30 years.
"In 2017, I was asked to join a team of six staff members from Bristol Children's Hospital to swim the English Channel to raise money for The Grand Appeal. We successfully completed the challenge and in doing so raised funds for a family support area in the Paediatric Intensive Care Unit. In order to complete this swim, I needed to learn how to swim for several hours in cold, bumpy seawater, and I found I loved it. I then went on to swim the English Channel solo in 2018 again for The Grand Appeal, and am now training to swim the Bristol Channel and Loch Ness in 2021.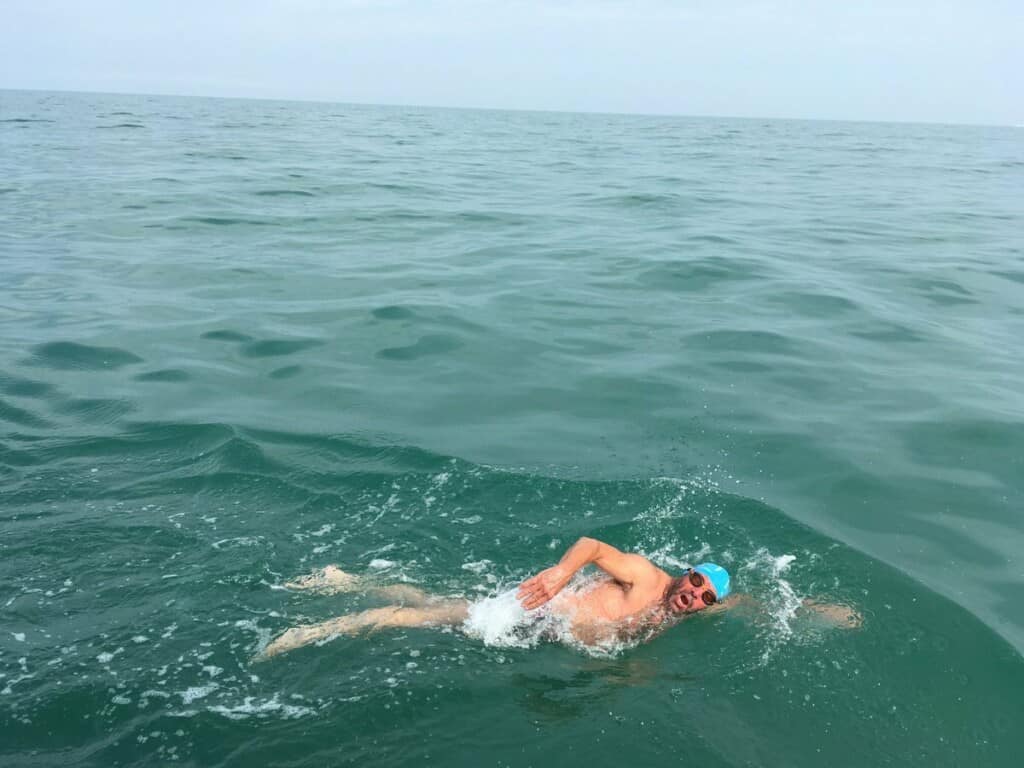 "I also found a love of swimming with my swim buddies in the cold water of winter – probably my favourite "swimmy" pastime. Although you don't spend so much time in the water, the joy of dipping in the cold water with like-minded individuals and sharing the fellowship of shivering as you warm up together is quite unique.
How to get started with cold water swimming?
"Anyone can try and see how they like open water swimming. There are groups everywhere, both inland and on the coast. My local swim sites are the Clevedon Marine Lake and the Bristol Channel at Clevedon, around high tide. The key is to do this safely: the dangers of cold water, currents and cold water are all too apparent in those who take off in sea or river without understanding the potential risks. Fortunately, open water swimmers are a very friendly and inclusive bunch. When I first started, I just introduced myself, and the regulars took me under their wing and made me feel very welcome while looking after me to ensure I swam within safe limits. You do not need to be a strong swimmer to get the enjoyment and benefits from open water swimming.
"Many of my friend's dip in the lake or sea just for a few minutes. The joy of paddling around doing breaststroke in a woolly hat, breathing fresh air while looking at the sea or riverbank and sky is quite its own reward. So go on and give it a go!"
Top tips to start open water swimming:
Find a local open water swim group and location to swimming. Apart from the internet, the monthly magazine 'Outdoor Swimmer' will give you lots of contacts and tips for getting into the activities.
Remember, open water and cold-water swimming can be dangerous. You should not just arrive on your own and get into an unknown environment. Do your homework and contact local groups. Never swim on your own.
When you get to a swimming spot, introduce yourself to the locals. They will be regulars who know about the local conditions. They will be friendly and wanting to help advise and assist you.
Bring appropriate warm clothes and a hot drink in a thermos for afterwards. I put four fleecy layers on as soon as I get out of the water, even in the summer. Get a woolly hat and scarf on as quickly as possible after your swim. If you have been in a while, you may shiver quite violently. This is normal and is just your body coming back up to temperature.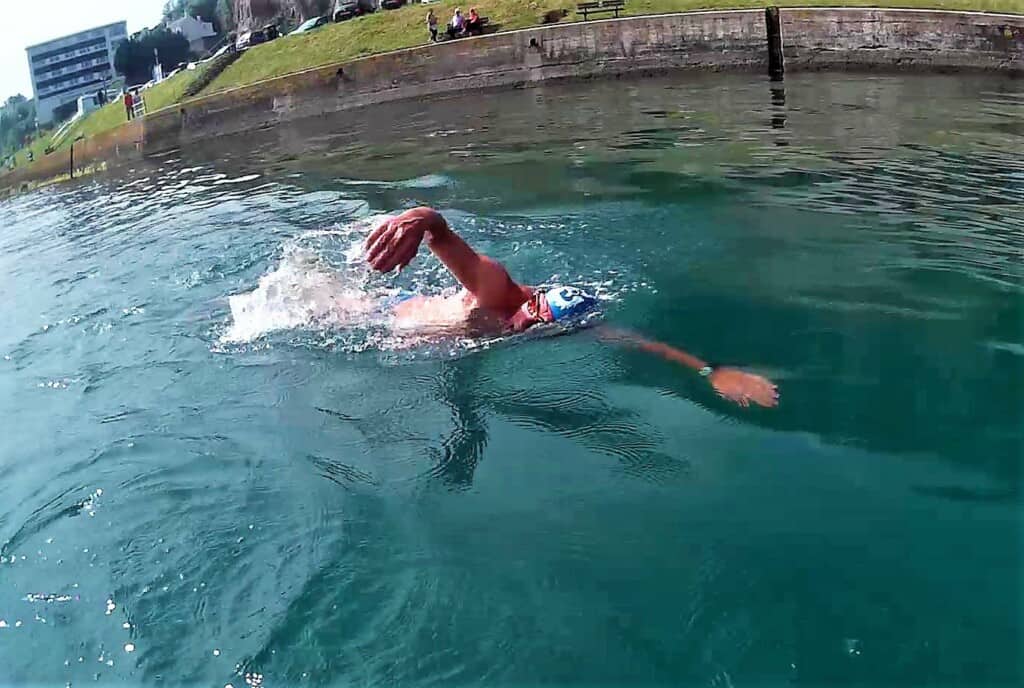 Don't stay in too long to start with. It's so easy to get cold, hypothermia, and not notice this even in the height of summer. The water may feel quite warm to start with, but your body temperature will fall quite quickly in the UK and the ability to swim effectively will decline. So, keep within safe limits and build up to longer swims. Just because a local swimmer stays in the water for 20 minutes in 5 degrees is not a reason to do the same. They will be used to it.
If you're ready to feel the freeze, why not sign up for an outdoor Grand Series swim and start your cold-water swimming journey?