Gather your colleagues, prime your pupils, recruit your friends – the countdown to the BIG Christmas Dress Up has started!
You can choose any day in the run-up to Christmas to wrap the teachers in tinsel or your boss in baubles. Read on to find out more about the coolest Christmas fundraising event this year and grab your free resources.
Fundraise at school
Add a little sparkle to your dress-down day this December by wearing your Christmas jumpers, Santa hats and tinsel hairbands.
Could your school raise money for sick children across the South West while adding seasonal sparkle to the classroom?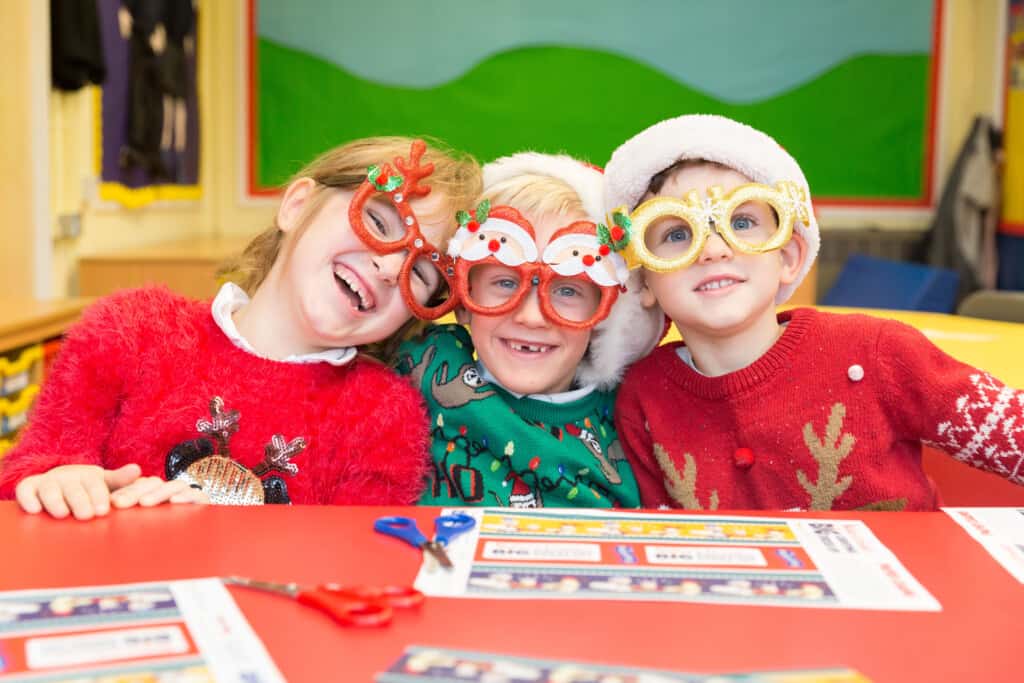 How do we get involved?
Register your school to get your mitts on a whole host of free resources to use in your classroom; from stickers to posters, games and activities, we've got you covered. All you need to do is pick a day to party-cipate!
When you sign up for the BIG Christmas Dress Up, you're signing up to be awesome.
Need some fabulously festive ideas to make your day tree-mendous?
Collect sponsorship for wearing outrageously festive attire
Design-your-own Santa hat competition
Host a Christmas jumper catwalk
Whatever you decide to do – even if you simply donate on the day – every penny you give will help sick children and their families get the care and support they need.
Fundraise at work
The countdown to Christmas is on – spice up your annual festivities in the office with the BIG Christmas Dress Up!
This year, we're calling on companies across the South West to donate to support sick children spending the festive period in hospital. So, dig deep and spread the Christmas cheer!
We've got you covered with plenty of fundraising resources. From posters, stickers and social media graphics to our corporate video challenge and other cracking games.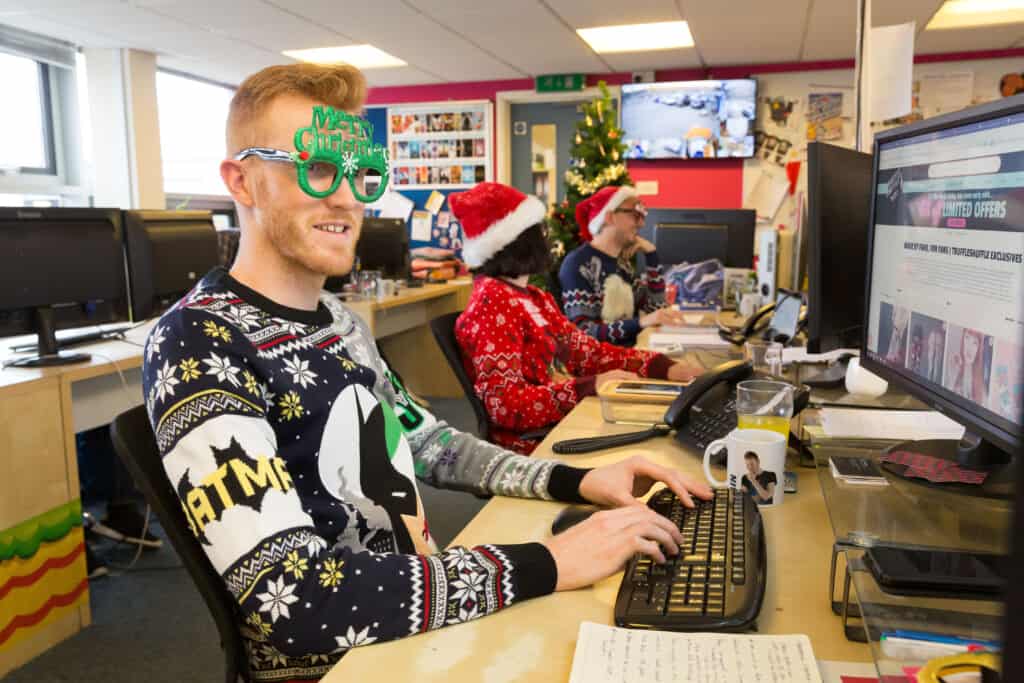 How do we get involved?
Sign up and register your details so we can send you everything you need to get the office party started.
However you choose to take part in Wallace & Gromit's BIG Christmas Dress Up this year, the money you raise will support brave children in hospital during the festive period and beyond.
Set up your JustGiving page
Creating a JustGiving page is fast, free and easy!
This could be you!
Take a look back at the festive fun our Wallace & Gromit's BIG Christmas Dress Up participants have had over the years…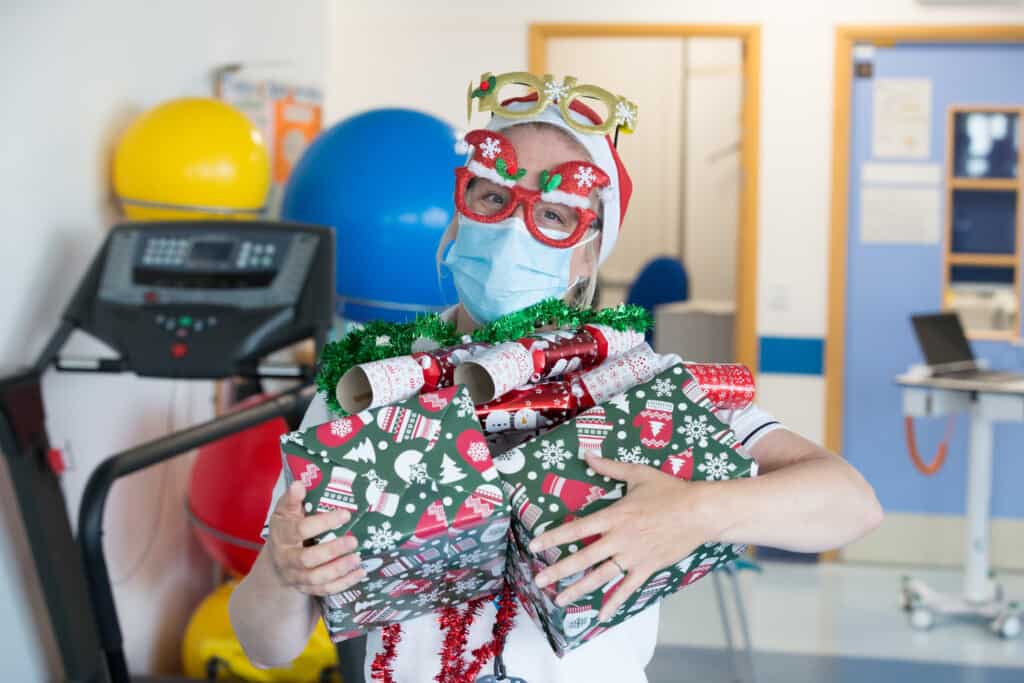 Whether you're sporting your ugliest Christmas jumper, getting friends and family together for a cookie bake-off, taking part in a dress-down day at school or bringing festive cheer to the office, there's never a wrong time to break out these Wallace & Gromit themed Christmas decorations and activities.
The difference you make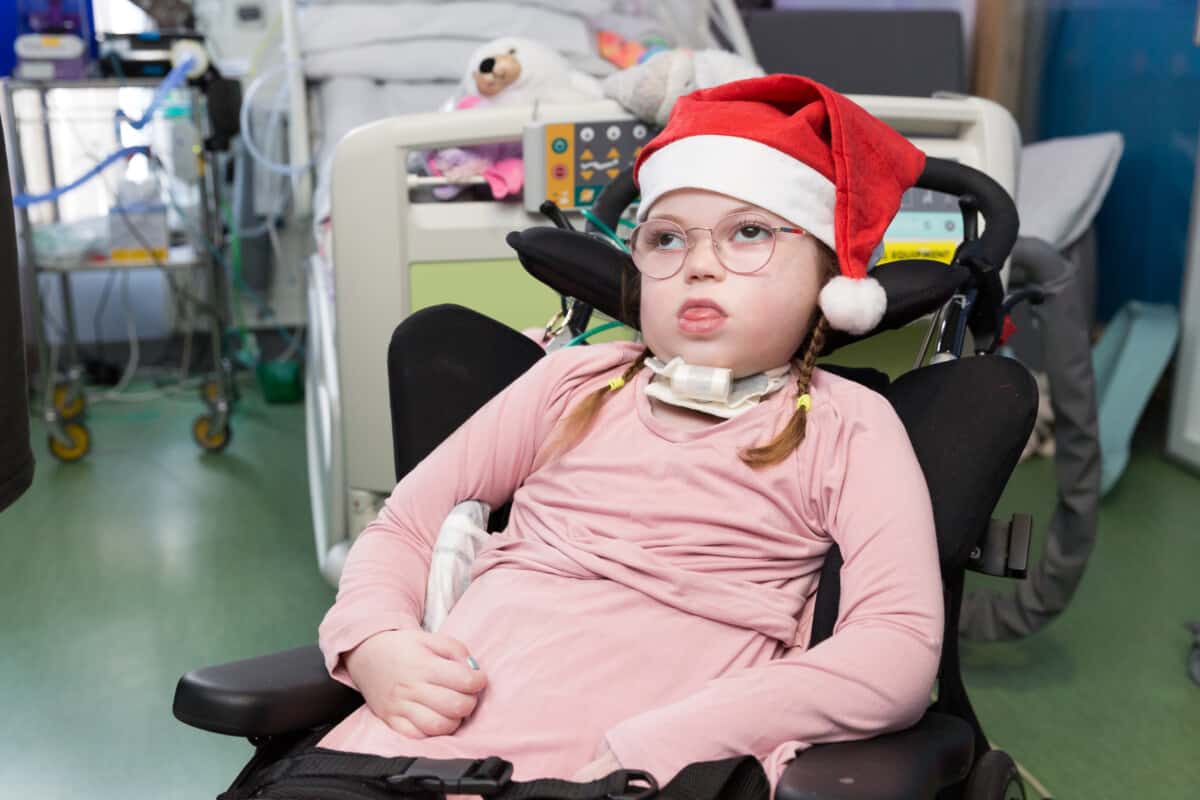 Wallace & Gromit's BIG Christmas Dress Up is loads of fun – but it's always nice to know where your fab fundraising goes.
Over 100,000 children from Bristol and beyond are treated in Bristol Children's Hospital every year. Meanwhile, hundreds of critically ill and premature babies are cared for in the region's Neonatal Intensive Care Unit.
These children need your help – and with the funds you raise, we are able to provide vital services that otherwise wouldn't exist: free family accommodation, music and play therapy, groundbreaking research, top-of-the-line equipment, staff uniforms, toys, presents for every child in hospital on Christmas day… and so much more.
Get into the Christmas spirit
Sign up and change little lives.
BIG Christmas Dress Up FAQs
There's no set date for our festive dress-down event. Join in with Wallace & Gromit's BIG Christmas Dress Up any day that suits you!
Fundraise any which way. Hold a Christmas jumper competition, put on a festive bake sale, strut your stuff on a Christmas catwalk, play games in the office, hold a sweepstake – your options are endless!
When you register, we'll even send you out extra fundraising resources like coin collection tins to make the most it.
No! Just raise as much as you can and have fun doing it.
Head to our BIG Christmas Dress Up resource page for a huge range of free resources and fundraising ideas. Make sure to register to let us know you're taking part, too, so we can provide expert fundraising advice and a certificate to show off how much you raise.
If you've got a query about Wallace & Gromit's BIG Christmas Dress Up or fundraising at Christmas, email our Events Fundraiser Stacey, who is on hand with expert advice to talk through any festive fundraising idea you have.