When Dan and Sarah found out they were expecting their second child, they could never have imagined what would happen next. Sarah told us about her three-month journey at St Michael's Neonatal Intensive Care Unit (NICU) and the unexpected friendships inspired by Cots for Tots House.
"My waters broke at 23 weeks. I was rushed to St Michael's Hospital, where they thoroughly informed Dan and me of the risks of having an extremely premature baby. Thankfully, I managed to remain pregnant for three more weeks.
Emmy was born via emergency c-section. She weighed just 1.8 lbs and dropped to 1.5 lbs after birth.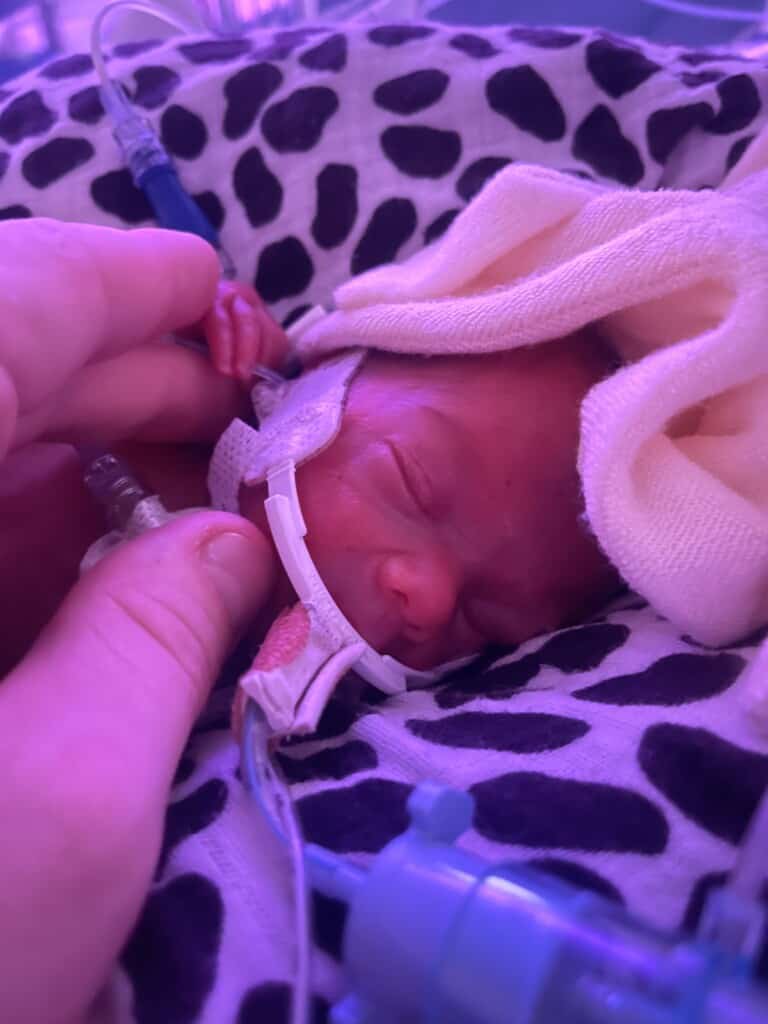 Dan visited Emmy while he waited anxiously for me to wake up from surgery. The feeling was surreal – scary but amazing all at the same time. Emmy had a ton of wires connected to her, but she was our little girl. 
When Emmy was one week old, we finally held her in our arms. The feeling of her breathing and moving around quickly changed from fear into comfort. 
Then came the most terrifying news we have ever received. Emmy had a brain bleed. 
Speaking to the consultants, doctors, and nurses eased our worries, but seeing Emmy so poorly was horrible. Having our baby was nothing as we imagined: constantly checking Emmy's feeding tube and being unable to carry her more than two feet away from her bed because of all the wires. We couldn't make it feel like home or 'normal'. The constant worry was unexplainable. 
We were very fortunate Emmy didn't develop any infections. She kept hitting each medical milestone and was eventually moved out of intensive care. Getting Emmy to bottle feed proved the hardest part of our journey. She could latch just fine, but her 'suck, swallow, breathe' pattern was messy. The Speech and Language Therapists (SALT) became involved, and Emmy started to do better.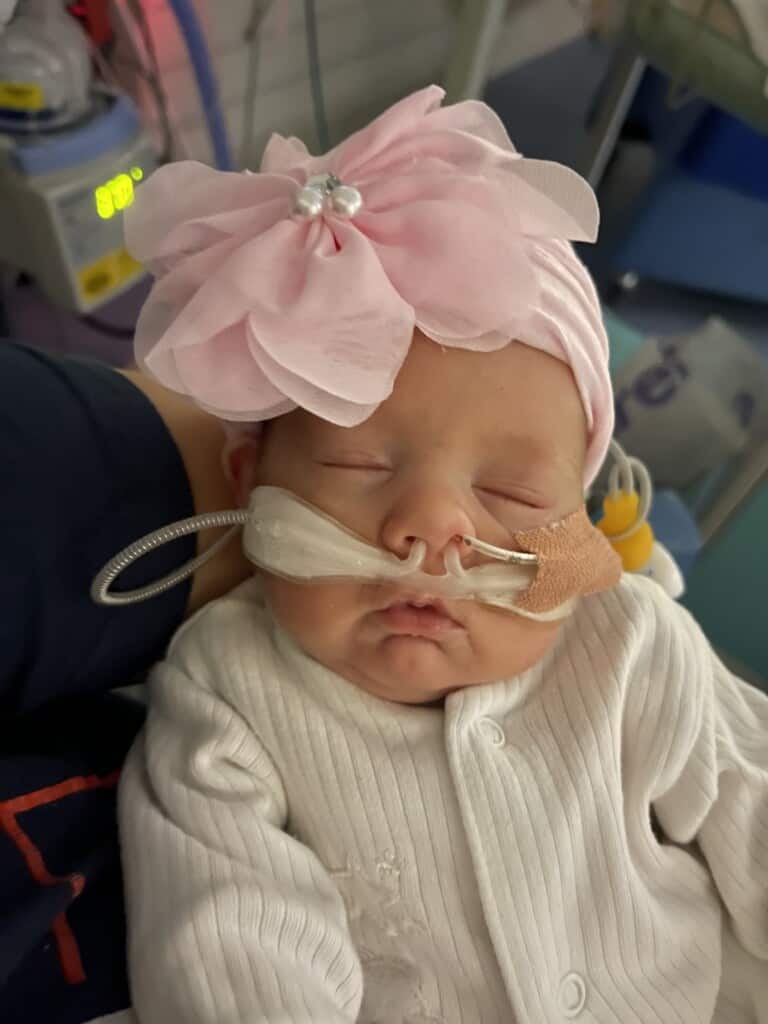 The days felt so long, but we had another child, Henry, who was 20 months old. He kept Dan and me busy – we could never see Emmy at the same time. Henry would get very bored in the unit, so we took turns visiting Emmy and looking after Henry. We only really ate meals together. 
One of the greatest parts of our experience was Cots for Tots House. Having a place across the road to call 'home' was a lifesaver.
Being with both of my children every day meant the world. Cots for Tots House was the only thing keeping our little family together.

Sarah, Emmy's mum
It gave us one less thing to worry about – if anything happened to Emmy, we were only one minute away. Leaving her was never easy, but I can't imagine how difficult it would have been if we'd had to drive home – over an hour away in Somerset.
Cots for Tots House also laid the foundations for some incredible friendships. Talking to family and friends is great, but they just don't understand the situation as well as fellow NICU families. After a great visit with Emmy, I had someone to tell who would completely understand my excitement. On the bad days, they became friendly faces going through similarly tough times. 
Happy. Sad. Excited. Worried. Depressed. Angry. They got it all. 

Sarah, Emmy's mum
Henry became close with our newfound friends too. Henry would light up and offer a hug if another family came down for breakfast. When Dan and I needed to go to meetings, a family we'd grown close to would keep him occupied in the lounge. Henry also adored Anne the House Manager and loved to show her his big, cheesy smile.
None of this would have happened without Cots for Tots House. 
After weeks of ensuring Emmy was gaining weight, we decided not to push her to come off her oxygen tube before bringing her home. It took a lot of work, but Emmy was finally discharged after three months. We couldn't be more thankful to everyone at NICU. The consultants and doctors are kind and caring. The nurses make everything a little less scary for mums and dads: they hold you while you cry, care for your baby when you can't, and share your excitement.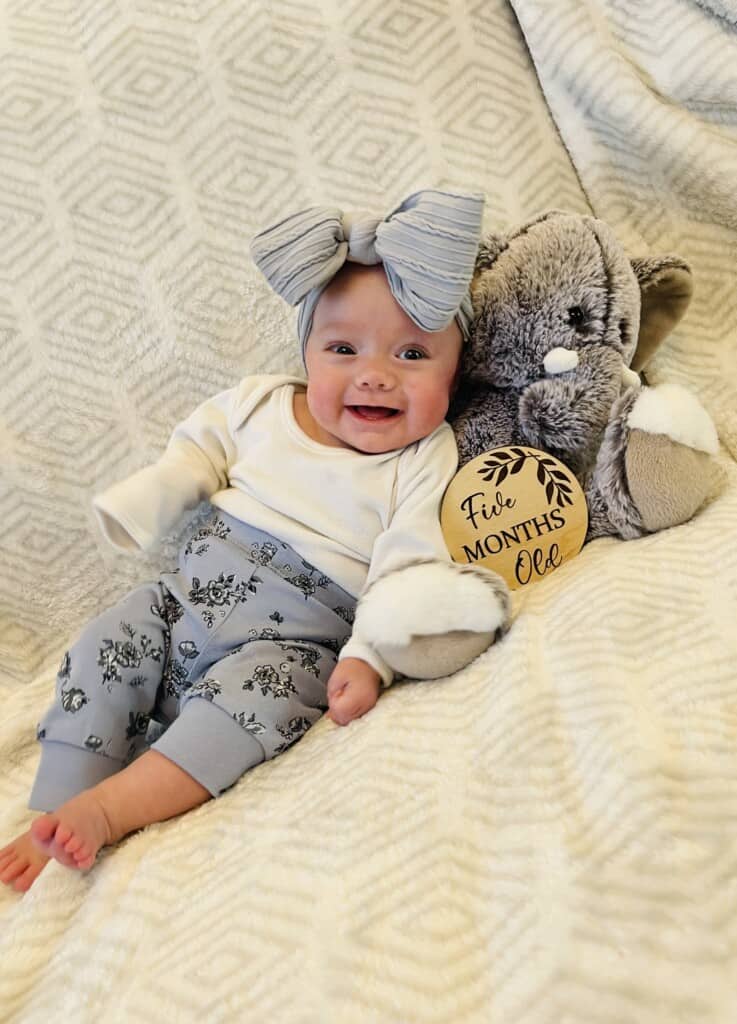 Emmy is now five months old and settling into home life quickly. We won't fully know how being premature will affect Emmy's future, but she has hit all her milestones and shows no signs of slowing down. We're not so worried anymore. Her future looks bright and full of love."