Dan knows exactly what it's like to have a baby in the Neonatal Intensive Care Unit (NICU) – his daughter, Emmy, was born at just 26 weeks. For 2023's World Prematurity Day, Dan is taking on a mammoth challenge to raise money for the unit his daughter was cared for so brilliantly on. He tells us all about the motivation behind the marathon.
Tell us about Emmy's journey 
"My daughter, Emmy, was born three months premature in St Michael's NICU. Me, my wife Sarah, and our son Henry (who was 16 months old at the time) were offered charity accommodation just across the road. I had no idea what to expect from Cots for Tots House, but our family needed somewhere to stay, close to Emmy.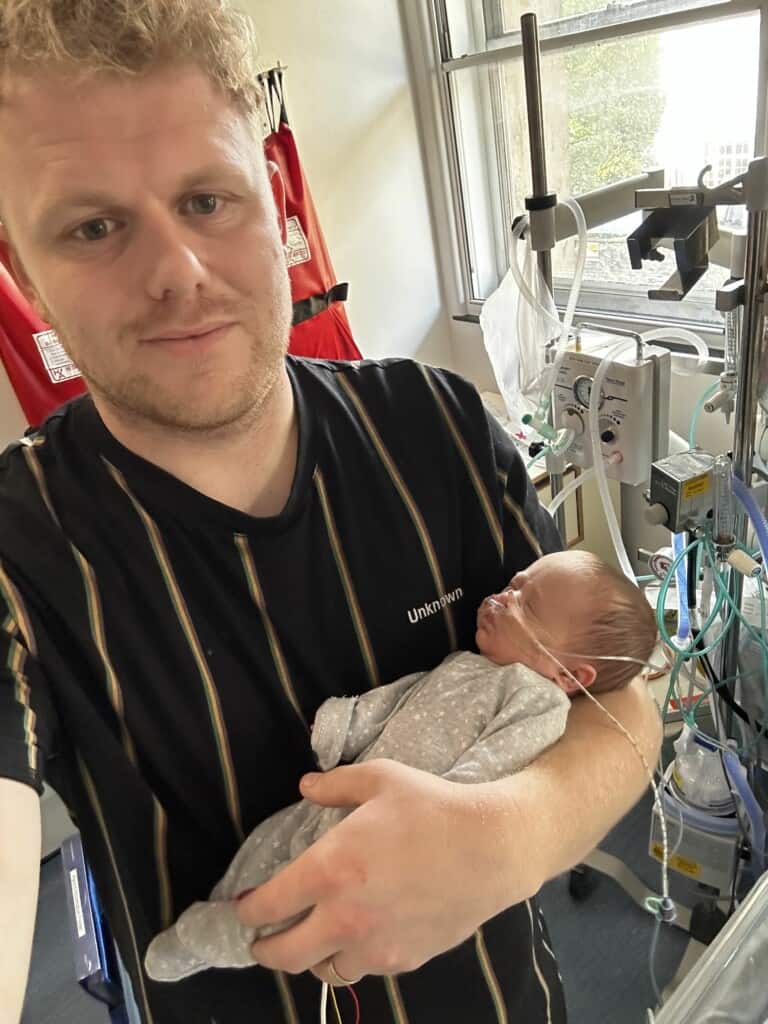 I was welcomed in by Anne, who showed me our room and the communal kitchen, living and dining rooms – I couldn't believe how amazing and spacious it was.
We didn't realise that it was a permanent solution for us. I remember saying to Anne, "I think we might need a few days here until I can sort a hotel out." She replied, "This is yours for as long as you need it." I was in shock, but so relieved. Our house is a 50-minute drive away from St Michael's Hospital. The fact we were a minute's walk away from Emmy at all times was incredible.
Cots for Tots House is an amazing place run by a wonderful charity and, of course, the legendary Anne. I know that if I am ever in the area, or if Emmy has a check-up at St Michael's, I'm always welcome to pop in for a chat and a cuppa!"
That's the thing with Cots for Tots; it's a place for you to live while you need it, but when you leave, you're still part of a family.

Dan, Emmy's dad
How are you feeling about your challenge?
"I'm really excited, I can't wait now. It's been a silly idea in my head for such a long time, but now that it's actually happening, it feels unreal!  
We are currently at just over £1,000 raised on my JustGiving page. Knowing I have people donating and supporting me means so much – it gives me the motivation to do this challenge. 
I don't run regularly. The most running I've done in one go is back in 2018, when I did the Tough Mudder – which was 12 miles with 20 obstacles. Despite this, my training is going very well. I work all over the UK and I stay away for a night or two regularly, so this challenge has given me the opportunity to run around various parts of the UK. I love seeing new places, so it's really helped me get into training.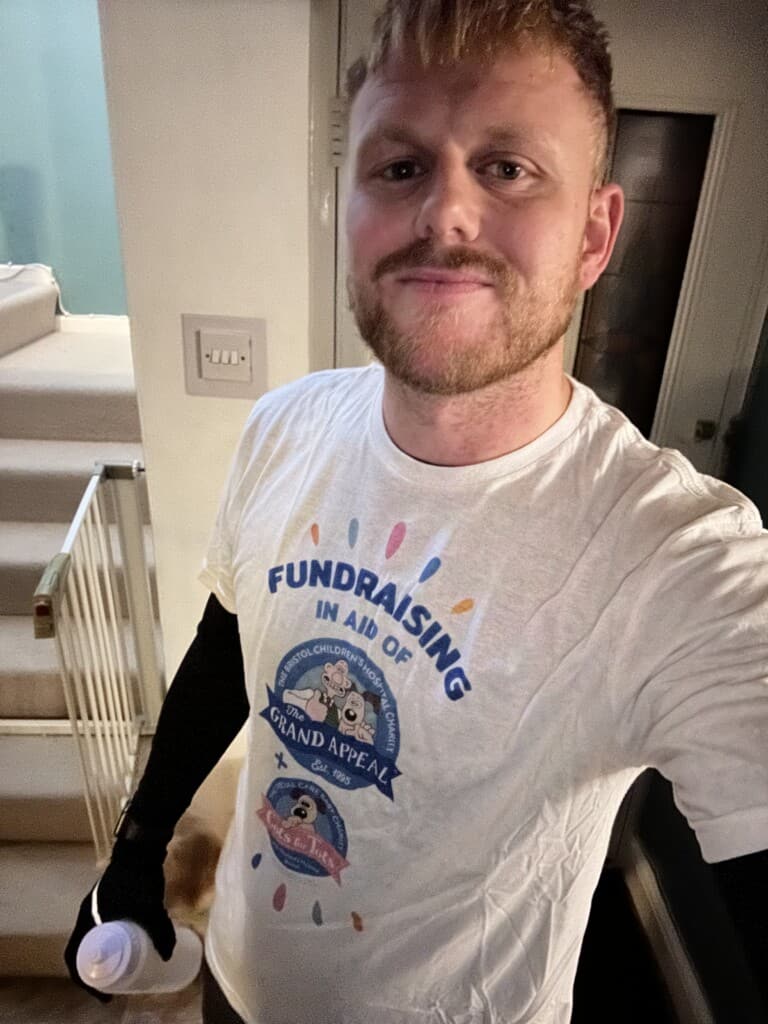 My first proper training run was when I stayed in Canary Wharf and ran seven miles around it. I instantly got the bug for it. I then worked in the Scilly Isles for five days, running every evening after work. I ran the whole coastline of St Mary's Island (10 miles) on my second night! 
Honestly, the hills are what I'm most nervous about. The route is very up and down, and the final stretch is up the very steep St Michael's Hill to reach Cots for Tots House – but it's all going to be worth it."
Why did you choose this route?
"There's a special reason I've chosen to run from The Grand Pier in Weston to Cots for Tots House in Bristol.
I grew up in Weston-super-Mare, but have since moved to Burnham-On-Sea. I was wondering how far it would be to run to Bristol to raise money for Cots for Tots and it was exactly 26.2 miles, which is the equivalent of a full marathon. So, this was my first idea: to run a marathon from our home in Burnham to our second home, Cots for Tots House. But to be honest, Burnham doesn't feel like home still, so I started to think about Weston – and where else to start but The Grand Pier. It was at that point I realised how perfect it was – I could call it 'The Grand Marathon'! I added extra miles, my new route taking me over the suspension bridge, to make it up to 26.2 miles.
Not to mention, Emmy was born at 26 weeks. It all came together perfectly."
What would you say to anyone considering donating to your page? 
Before Emmy was born, I never fully understood when people said, "This charity means so much to me," because I was fortunate enough to not have used one. Now, I know. Our son, Henry, was born two weeks late, so we never imagined there would be issues with Emmy's birth until it happened.
Any future parent could experience something like we did and without Cots for Tots, our 87 days in NICU would've been so much harder. I just want to make sure this service continues to be there for parents like Sarah and me.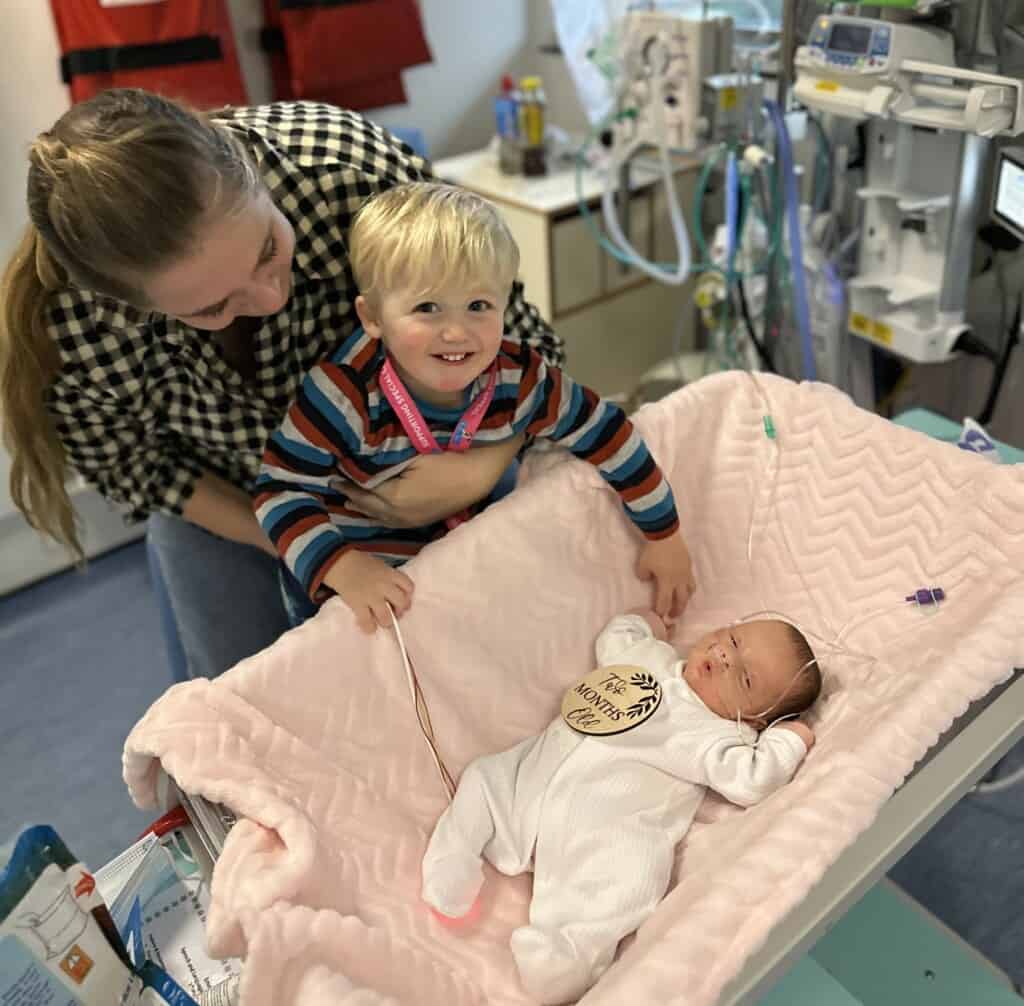 I hope when Emmy is old enough to look back on this, she is doing perfectly. Going from her being just 1lb 8oz, wearing an oxygen mask and needing weekly appointments to being told at her one-year checkup, "We don't need to see her again until she's two," was an absolute dream come true. 
She's our little fighting miracle – just perfect – and we want to give every NICU parent the chance to feel like we do."
Support Dan's challenge
Dan wants to make sure every parent and baby on NICU is supported the way Emmy was. Please donate whatever you can to his fundraiser.