In a matter of weeks, Emily went from being a happy, healthy three-year-old girl to having to learn to walk, talk, and even swallow again after being diagnosed with a brain tumour.
We spoke to her parents, Jamie and Kelly, about their little girl's road to recovery and the incredible teams at Bristol Children's Hospital who did so much for her.
"There really are no words to describe what Emily went through. From a healthy three-year-old who was above average in speaking and everything to the cruel hand, she has been dealt.
It took six months for Emily to be diagnosed. Initially, our local hospital believed she had a stomach bug. My wife Kelly eventually demanded a CT scan and in two minutes, everything changed. 
When I arrived, Kelly and I were taken into a room and told Emily had a large tumour. Kelly looked at me and said, 'what are we going to do?' I just didn't have the answer. We would have to take each day as it came. 

Jamie, Emily's dad
Emily was blue lighted to Bristol Children's Hospital along with Kelly. While I made my own way there. As soon as we stepped inside the hospital, our care changed. She was immediately given steroids to reduce the swelling because the tumour, which was the size of an apricot, was pushing her brain forward. 
Dr Carter, from the neurosurgery team, performed Emily's first surgery and three days later, he spent 14 hours in theatre trying to remove the tumour. Kelly and I walked around Bristol city centre like the walking dead.
My heart was breaking. Absolutely breaking. I've never felt that pain in my chest before.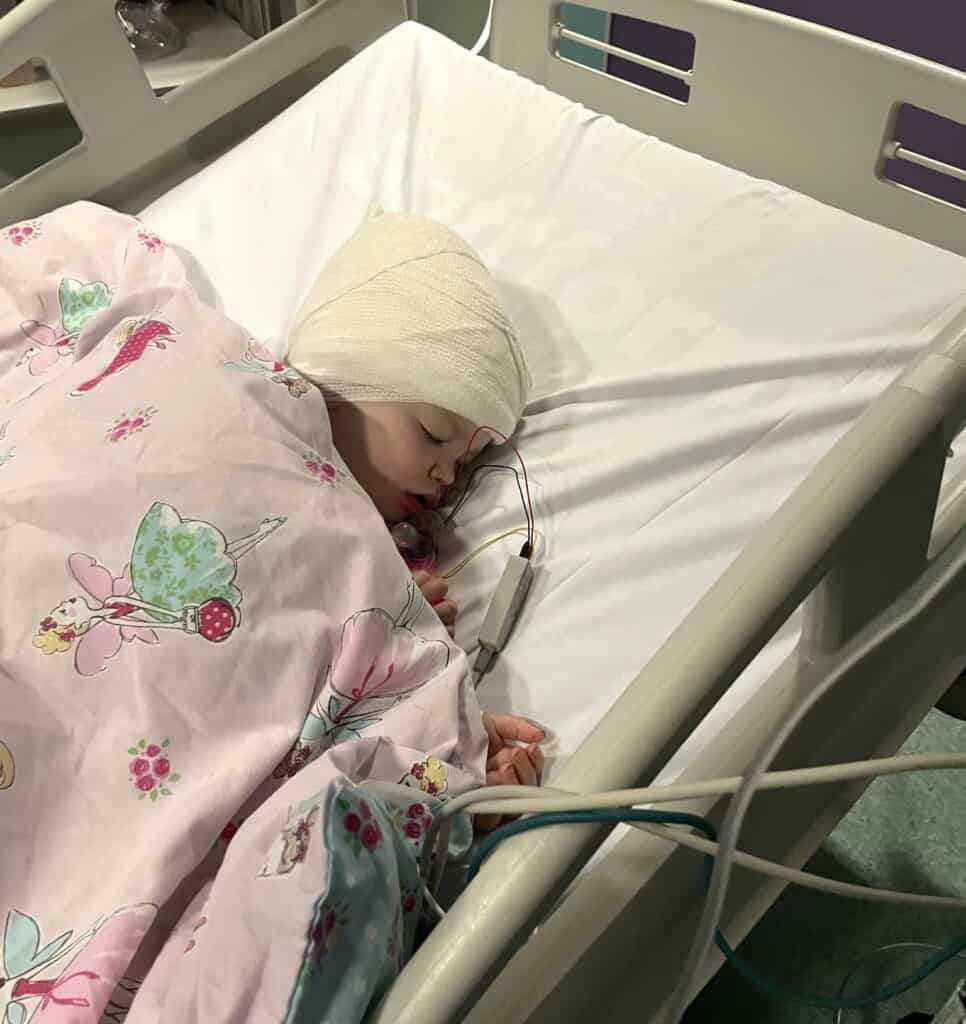 The staff were incredible, though. Rhian, from the Play Department, did everything she could to make the situation less scary. She got her pyjamas with her favourite TV characters and even wrote a story about Emily and the characters. 
Emily was having tubes put in. Injections all the time. They were waking her up every hour to do observations. For a little three-year-old girl, it's a lot. But they removed all the tumour, and that's the main thing. 
I remember after Emily's first surgery, Dr Carter slapped me on the back and said, 'it's not spread to the brain. It's not spread to the spine. I can get this.' That's when I thought Emily wasn't going to die from this. It will be tough, but Dr Carter can remove this and he did just that. 
Unfortunately, Emily was left with a condition called posterior fossa syndrome. She didn't speak for three months. 
At first, Emily had woken up crying. She said, 'mummy, daddy – juice!' She had her juice and fell asleep. The following day, she couldn't speak, move, or swallow. It was a complete factory reset of the brain. Because of where the tumour was, Emily's brain was now realigning itself.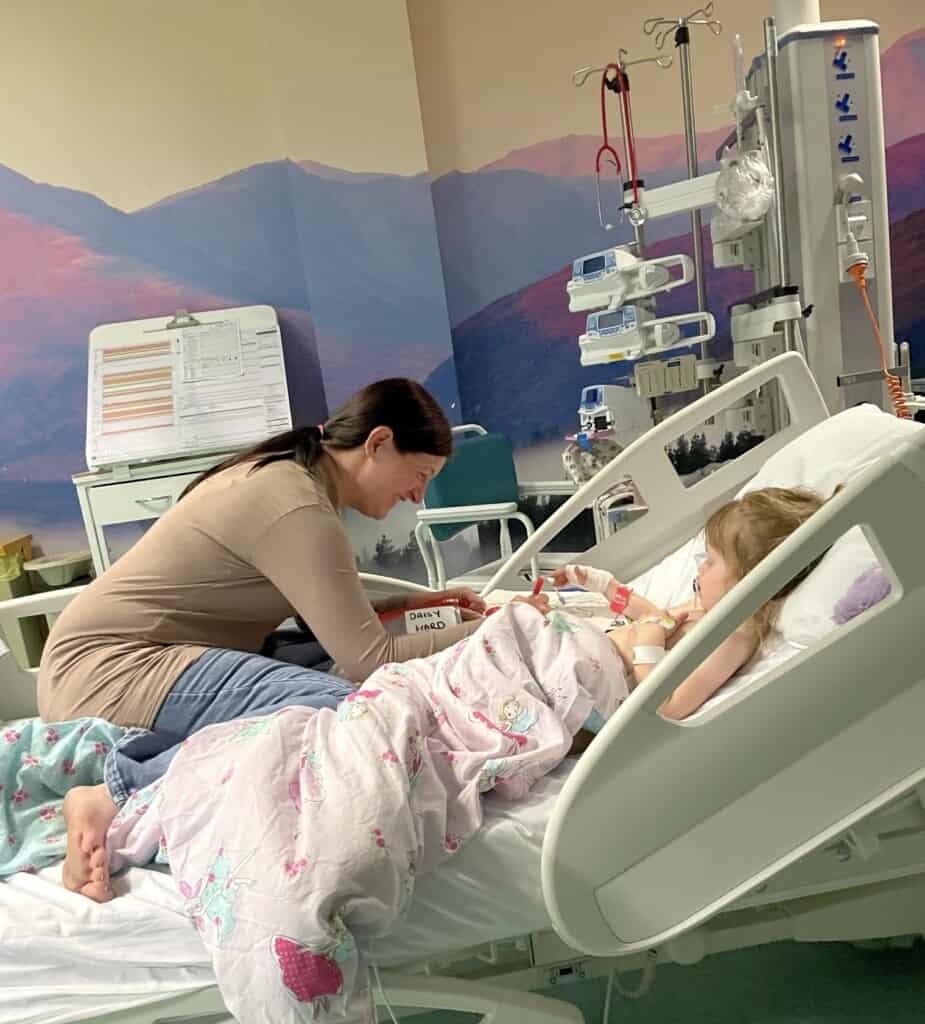 Soon after, Emily caught meningitis. That was a whole different level of scariness. After being on Bluebell and Sunflower wards, we were rushed back to Daisy Ward, the high dependency unit. I saw Dr Carter and asked him to help. 'Please help my daughter.' 
After being told the neurosurgeons were busy, Kelly and I were worried she wouldn't make it. Apparently, Dr Carter called the ward sister immediately and pulled up Emily's scans to see what was happening. Next thing we knew, Emily was being operated on again. I'll always be grateful to Dr Carter for that. 
From neurosurgeons to the play team and therapists, so many people have played a part in Emily's recovery. 
Quite honestly, I think Helen, our first therapist, was the only reason Emily got out of bed some days. Even when she was feeling bad, if I said to Emily, 'shall we get dressed and get in the wheelchair to see Helen', she would smile. I think it helped Emily see staff who didn't just perform medical treatments. 
For us as a family, the Family Support Service was a massive help. We felt really sorry for our two boys, Max and Joe. We had so many things planned for the summer and everything stopped. We were going to the hospital every day to see Emily, so Max and Joe suddenly lost both parents. 
Bobby, the Family Support Practitioner, was absolutely brilliant. She would send things to Max and Joe at home, so they didn't feel forgotten. She also arranged for us to go to the aquarium or We the Curious with the boys when they came to visit. Otherwise, we would wander around Bristol city centre for the millionth time.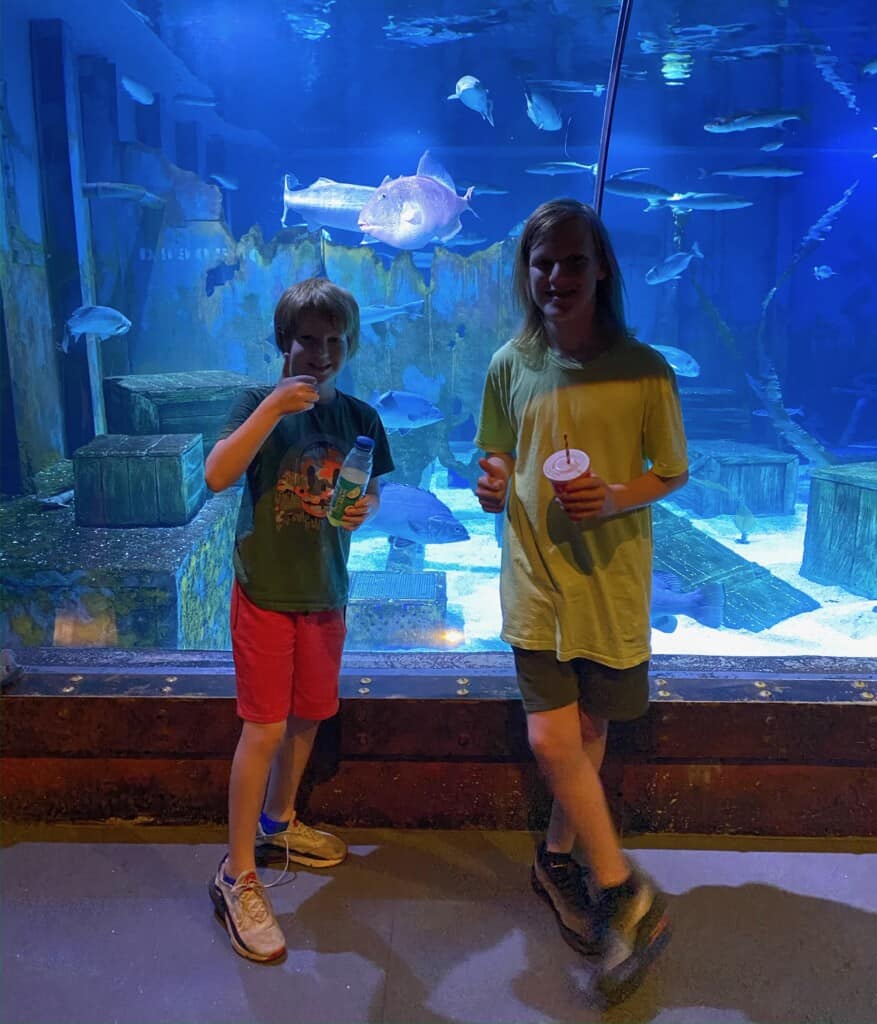 She also sought out some grants for us. To begin with, we didn't even think about the financial side because we were so stressed with Emily. Eventually, you have to think about your home and how you will keep that going. 
Kelly is a childminder, so had no sick pay or anything like that. We lost a wage straight away. It was a shock. Having to pay for food, drink, and travel on top of losing a salary was horrendous. Bobby even arranged for some new clothes for Emily. 
We don't know what we would have done without the Family Support Service. They helped so much. 
Emily had two further operations and was at Bristol Children's Hospital for four months.
When it came to leaving, Kelly and I almost didn't want to. The comfort of the staff being there was gone. They felt like friends to us, and we've really missed them since we have been home, but from Emily's point of view, it was great. 
Because there were a few times we thought she wouldn't come home, to be discharged is amazing. She'd really missed home. Four months in the hospital is a long time for a little girl. She even missed out on seeing her kittens grow. We went for a scan recently and she asked, 'when I come out, will my kittens be even bigger?'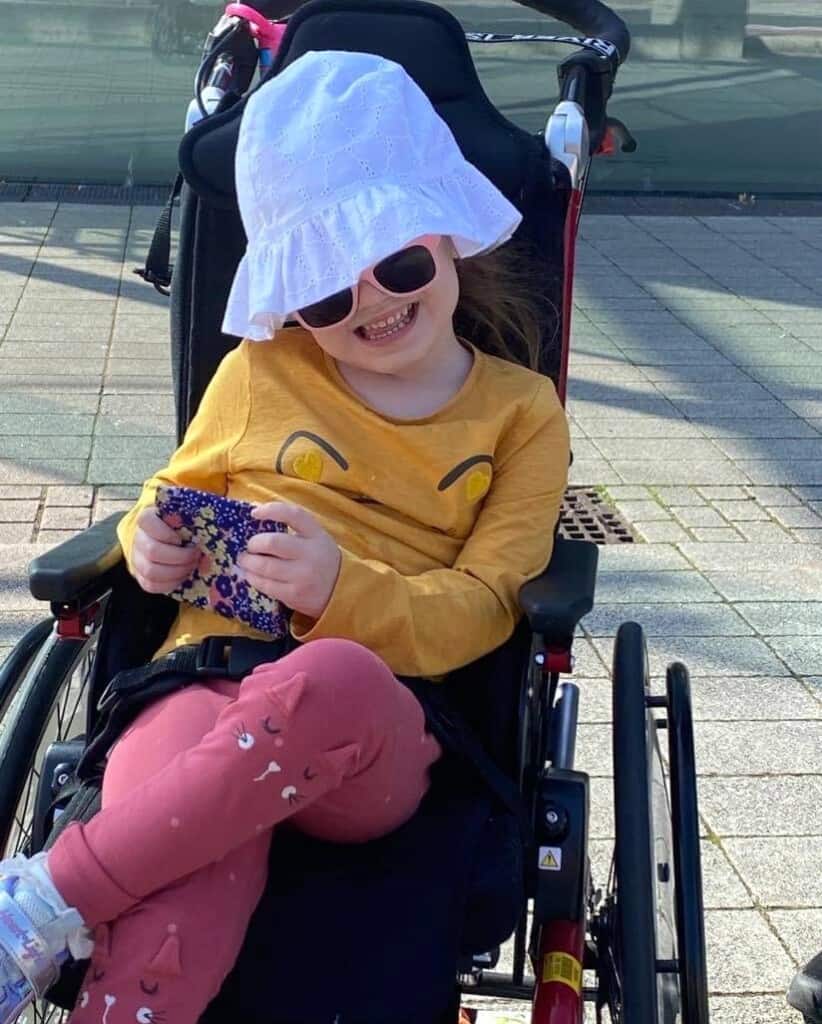 Things are looking bright. She still can't walk unsupported, but she can sit and play. She can talk. We were in touch with so many departments – physiotherapy, play, music therapy, the list goes on… and they all played an important role. The hard work they put in with Emily is paying off. 
There's not one person at Bristol Children's Hospital we don't think is amazing. We're not sure how we will ever repay them."
More children like Emily need your help.