Losing a child is unthinkable. Unfortunately, Jamie knows this only too well after his brave boy, Hugh, battled through chemotherapy, radiotherapy, and a stem cell transplant.
In tribute to his amazing son, Jamie completed a gruelling cycle across Wales. Joined by his pals Tom and Kevin, Jamie ended the 450km ride at a very special place: Bristol Children's Hospital.
"Despite the massive void left behind after Hugh's death, he continues to be our inspiration and joy.
Hugh was diagnosed with leukaemia at just four years old. His treatment involved chemotherapy, radiotherapy, and a stem cell transplant. All of which he took in his stride.
He often had to be treated in isolation on Starlight Ward, especially throughout his stem cell transplant, when his immune system wasn't as strong. For a four-year-old boy, this could have been extremely daunting, but with multiple visits from specialist play therapists, music therapists and teachers, Hugh was provided with lots of activities and games to prevent boredom and anxiety.
In fact, our Hugh remained joyful and full of energy throughout all the massive challenges he faced. His bravery has inspired us to raise funds for the incredible nurses, doctors and play therapists at the Bristol Children's Hospital who helped him thrive.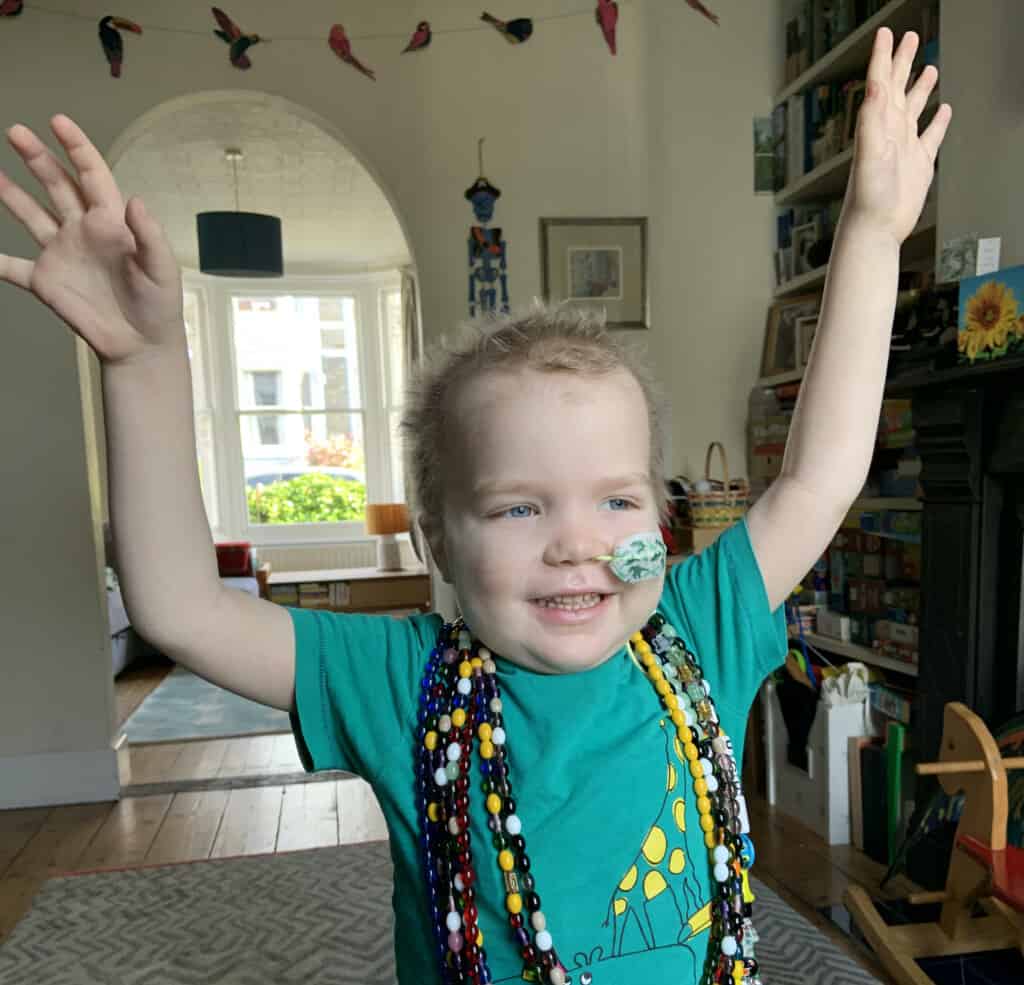 The Grand Appeal has a special place in our hearts. We were overwhelmed by the additional support we received from the charity while Hugh was in hospital. Seeing the joy and happiness on Hugh's face, especially over Christmas, was a real testament to the fantastic support he received from the charity whose supporters donated Christmas presents.
That's why our ride will raise money to provide more support from The Grand Appeal for families on Starlight Ward and Ocean Unit – where we spent so much of our time. Raising funds in Hugh's name means we can carry on his legacy.
The challenge took us three days – we covered 450km in distance, 5000m of ascent and cycled for 23 hours! At the beginning, we set off in a rainy Anglesey with a sense of trepidation, but as we progressed and clocked up more miles over more challenging, hilly terrain, our confidence began to build, and we got into a routine. To keep me going mentally, I often thought about Hugh and how bravely he continued through the horrible treatments he had to endure throughout his hospital stays. This made me grit my teeth and keep going, no matter what was thrown at us.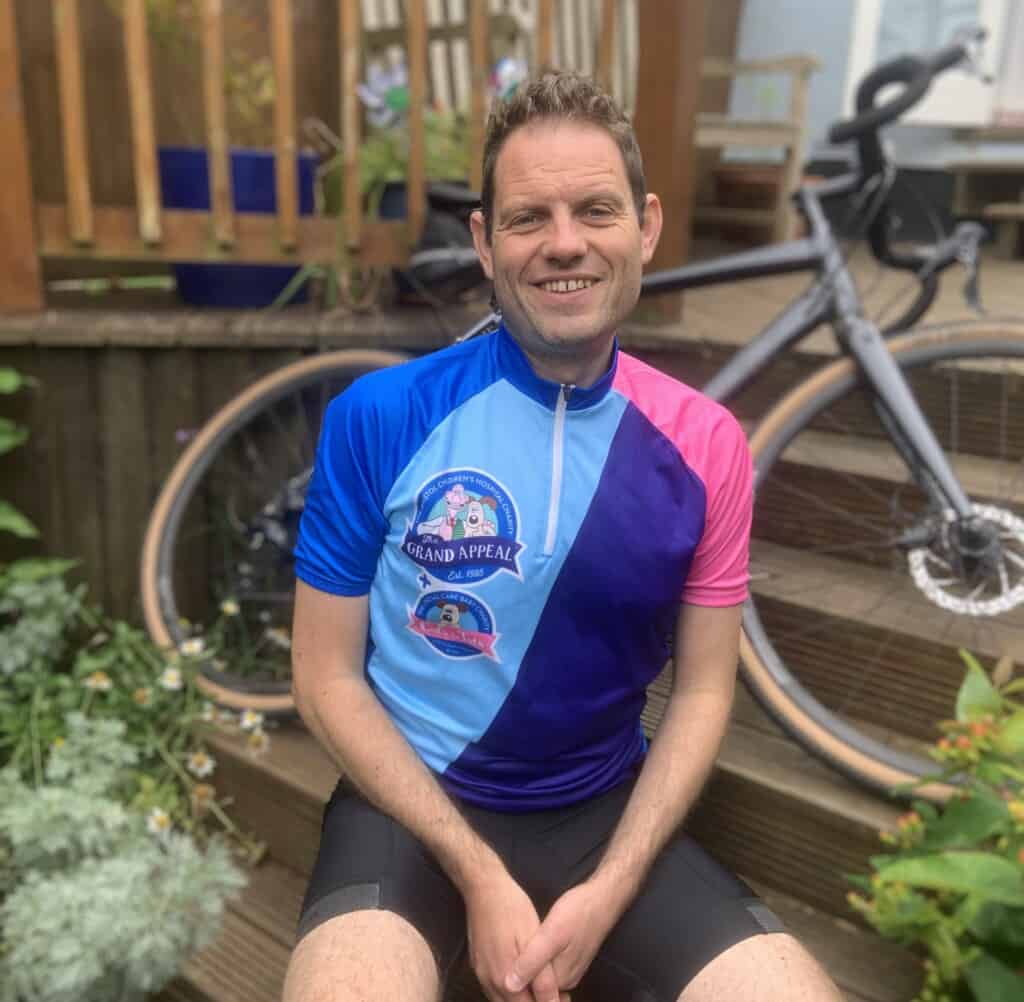 At times, it was really punishing, especially at Snowdonia, where the rain came hammering down. Cycling through such glorious scenery did make up for the tougher parts of the trip.
The final ride into Bristol under Clifton Suspension Bridge to Bristol Children's Hospital was the most emotional segment of the trip. I thought about Hugh throughout and cried my eyes out the whole way. Finishing outside the hospital's front door, I felt like I had gone full circle since arriving there with Hugh when he started his treatment. However, we were so relieved to have completed our challenge for the fantastic supporters of the event, and I couldn't have asked for better people to do it with.
It was a true honour to have two close friends alongside me on the trip, who I fully trusted and knew wouldn't let me down. Angus, my son, also joined the crew, along with 40 friends, family, and colleagues, for a short stretch near Cardiff.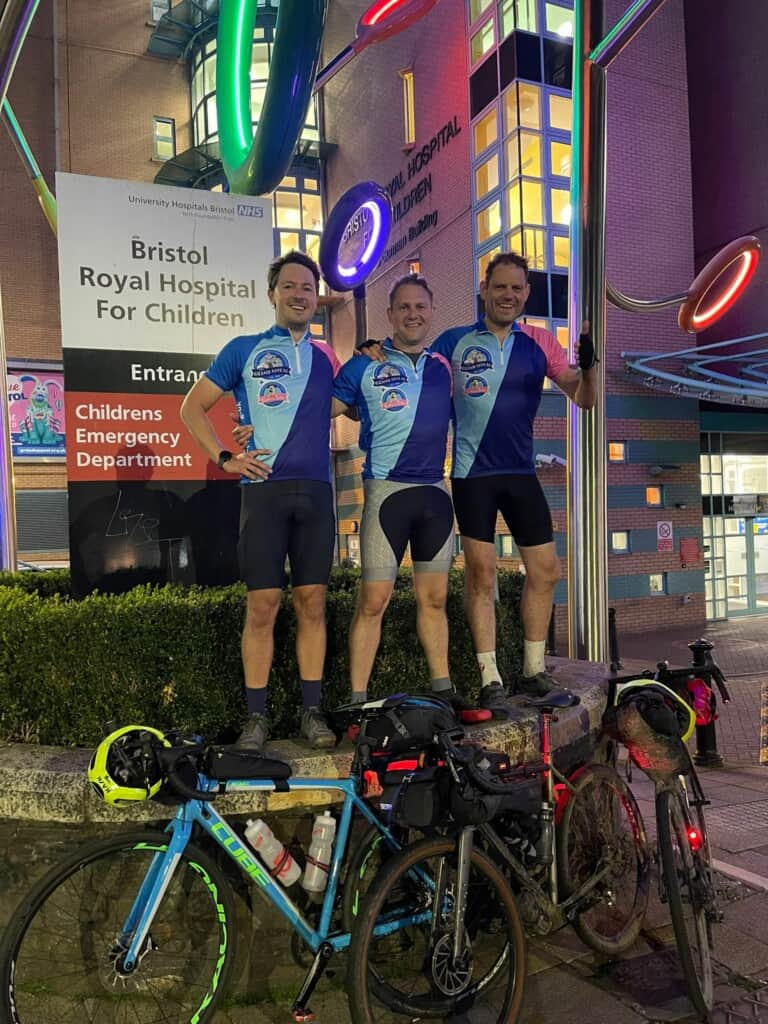 It's been incredible to have such support from so many who have been so generous with their time and donations to The Grand Appeal Charity. The solidarity people have shown in supporting our fundraising efforts has been massive. We miss Hugh constantly. His absence in our lives is always present, and the grief can be overwhelming. However, we take such comfort as a family, knowing that so many people are thinking and talking about our beautiful boy Hugh in such a positive way. We continue to be so proud of Hugh's enormous legacy and its positive impact on other children and their families who pass through the Bristol Children's Hospital like us."
---
Jamie is one special fundraiser we are lucky to have as part of The Grand Appeal – he has raised over £18,000 from this cycle alone! It's thanks to his efforts that we can ensure children like Hugh have the very best hospital experience, whatever the outcome.
For anyone who has sadly lost a loved one, you can create a Star Tribute Fund. A Star Tribute Fund is a special way to remember your loved one by creating an online space to share treasured memories, stories, photos, and videos with family and friends and raise funds for Bristol Children's Hospital.