Seven-year-old Stan was diagnosed with a rare type of bone cancer last year. Since then, Starlight Ward and Ocean Unit have become a second home for Stan and his mum Jess. We spoke to Jess about her experience at Bristol Children's Hospital.
"It was our first holiday in three years. Our last one was cancelled because of the pandemic. We landed in Italy at 11 pm. Our hire car didn't turn up, so we jumped in a taxi. I sat with my seven-year-old Stan and put my hand on his leg as he rested his head against mine. And at that moment, I knew. 
I felt the lump in his leg, and I just knew something was wrong.

Jess, Stan's mum
After an x-ray in Italy, Stan and I flew home the next day. We told ourselves that if nothing was on the scan, we'd fly back and enjoy the rest of the trip.
It wasn't meant to be. An MRI at Bristol Children's Hospital showed Stan had a tumour in his leg. Weeks later, he started chemotherapy. Stan has been in and out of the hospital ever since.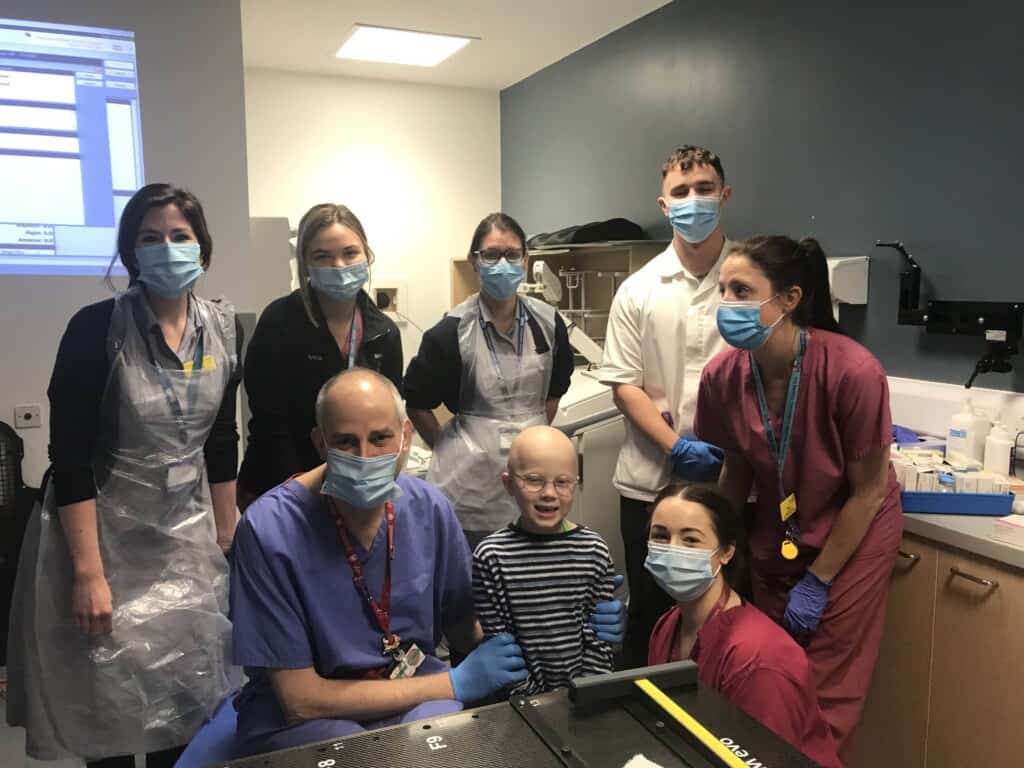 I felt devastated at the beginning and still do. I can't take the pain away. All I can do is support him.
When we first told him about it, we focused on the chemotherapy and how it would help get rid of the tumour. But then he asked me about dying. 'They're going to take a bone out of your leg to make you better.' As soon as he heard that, I saw a shift in him – he could see a way through it.
It's been hard knowing how to help Stan mentally sometimes. I'm too involved; kids sometimes don't want to talk to their mums. Having Claire, the music therapist, and Sian, the play therapist on Starlight Ward, means Stan can speak to people without me or someone who isn't a nurse or doctor. Cancer treatment can be particularly isolating, and there are still some covid restrictions on the ward.
Claire has been fantastic. She is just full of energy. Stan was struggling with anger, and Claire came up with some techniques for Stan. Together, they made a target with 'angry colours' that Stan could throw a ball at. He still takes time to come out of his shell, but she always breaks through.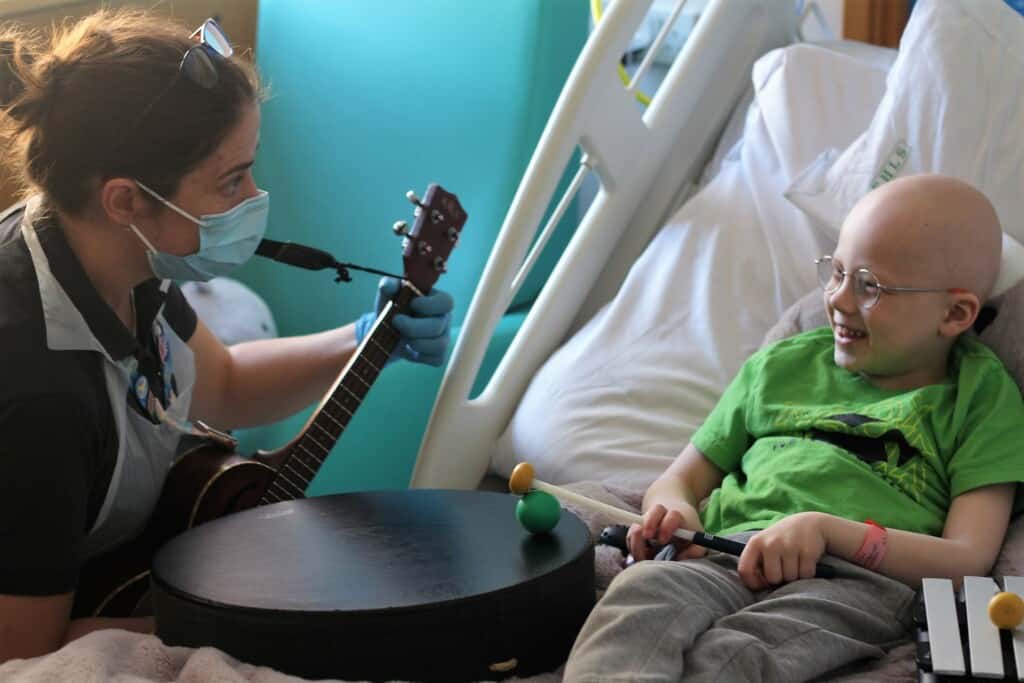 And we love Sian. She always brings Stan toys and games and constantly comes up with different play activities. I'm always thinking, 'I need to play; I need to do this…' Constantly feeling guilty. Having someone to guide and play with Stan is a real help.
She can act as an advocate for Stan, too. One time, she stepped in and managed to talk Stan around. And it's tough for anyone to persuade Stan! I told my husband, 'Let Sian do it'. It was weird for us to let go as parents, but brilliant because Sian knew how to handle the situation.
Sian and Claire even teamed up once. Stan wasn't having a great day. So, they set up the playroom for him, got out the drums and guitar, and made a band. They sang about his emotions and how rubbish hospital can be.
Stan's treatment is going well. He still has lots of energy. Sadly, he's missed out on school plays, the Halloween disco, and things like that, but he never moans. We're just taking each day as it comes.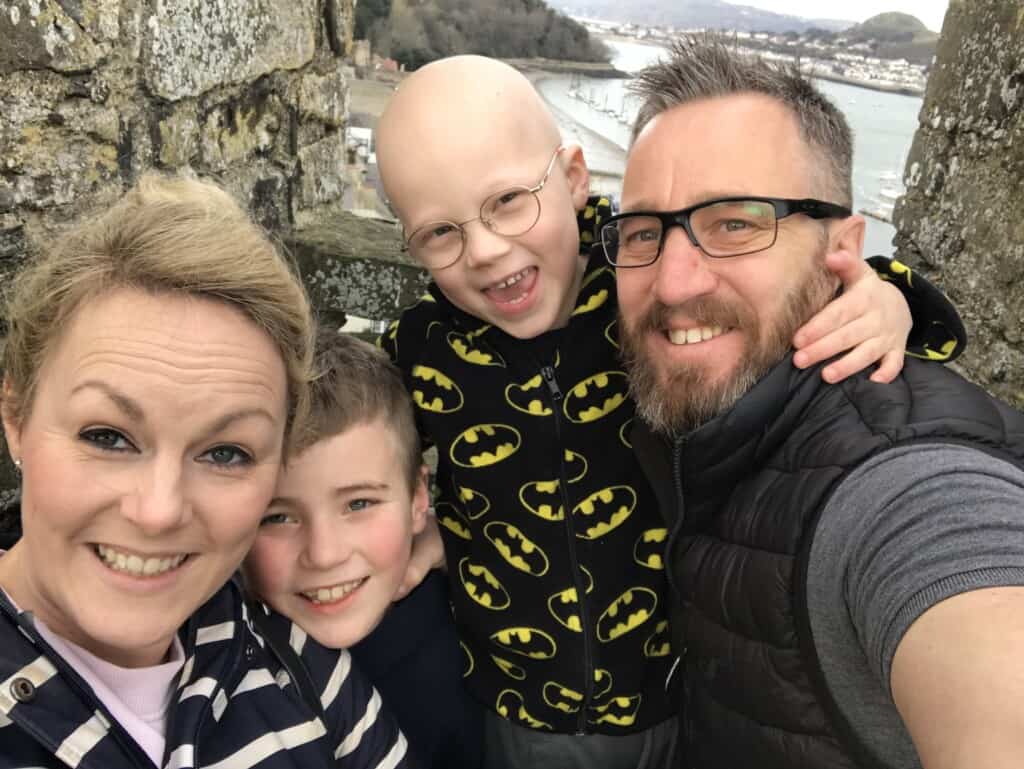 Stan has major surgery coming up, and we are waiting to see what happens next. One thing I am sure of is that Bristol Children's Hospital is made up of amazing, wonderful staff. I feel lucky Stan is here."