Overnight, five-year-old Ollie was struck down by a rare condition. His mum, Carly, tells us how she watched on in horror as her once bubbly young son became dangerously ill.
"A few hours. That was the time it took for our lives to be turned upside down. My once happy, energetic five-year-old had become a lifeless body.
It all started when Ollie complained of being tired and not enjoying his food. We found a small rash behind his ear and put him to bed thinking he would feel better by the morning, but things only got worse. Much worse, in fact.
Soon, he was covered in blisters from head to toe. He looked unrecognisable. I did not know what to do. He couldn't stop vomiting and by the time the ambulance arrived, his blood sugars were dangerously low. Everything had happened so fast – I could hardly believe it.
Initially, he was taken to a local hospital in Basingstoke, but it became clear he was in a terrible way and urgently needed specialist care. His lung had collapsed, and they decided to transfer him nearly two hours away to Bristol. Knowing Ollie would be so far away was extremely hard. We had four other children to think about, but we knew it was Ollie's best chance of survival. A special team called Wales and West Acute Transport for Children Service arrived, and he was whisked away comatose in an ambulance.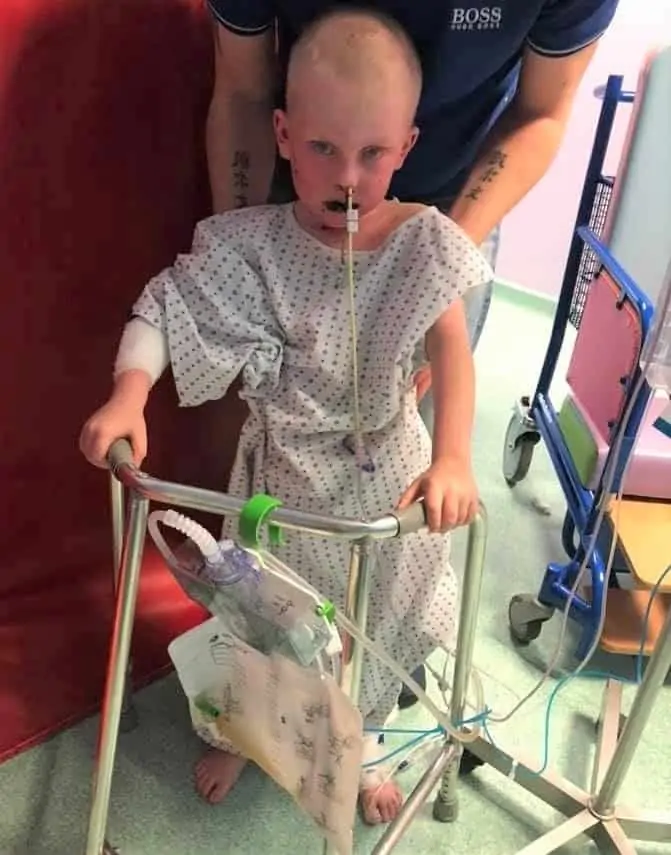 When he arrived, they suspected he had a condition called Stevens-Johnson syndrome. It was so rare that many of the staff had never seen a patient suffer with it throughout their career. Aside from the blistering of his skin, it was causing damage to his eyes. Immediately, he was taken to the Paediatric Intensive Care Unit, so they could attempt to stabilise him.
All we could do was wait by Ollie's blistered and bandaged body. It felt like time was standing still. I'd look out through the hospital's window onto the busy, unfamiliar streets and realise that for everyone else, life was still going on, but instead, we were trapped in some kind of hell. To add to our worries, Ollie developed sepsis, a blood infection.
But after 10 long days, things began to look up for Ollie. The staff worked hard to help him walk again and thankfully, they had saved his sight. I've never felt so proud, yet so relieved. Eventually, we could return home, but they warned us that Ollie would still have a long recovery ahead of him.
It hasn't only been the physical effects Ollie has had to deal with. Despite regaining his sight and his skin looking better by the day, he is still struggling with post-traumatic stress disorder, but we're keeping our focus firmly on the future and I know things will only get better for Ollie. He has just returned to school and surpassed all of our expectations.
Our time on PICU will stay with me forever – the constant beeping sounds, the pain in the eyes of parents… But despite the painful memories, I know for certain if it wasn't for that place, my boy wouldn't be here today. We owe everything to Bristol Children's Hospital."
Help us be there for more children like Ollie.