Last December, Sara could be found in Henleaze Lake swimming in freezing cold temperatures. Why? In 2020, Sara went through every parent's worst nightmare as her three-year-old son George suffered a stroke.
Sara told us all about why fundraising for Bristol Children's Hospital is so important to her.
"I used to walk past the children's hospital every day on my way back from work. It always made me grateful that my child was healthy. I could never have imagined we would end up there one day.
Last year, my son George and I visited the park. We had a great time and George went to bed as usual. A few hours later, George woke up. He was clawing at his face and chest, visibly distressed.
We called 999 as George only seemed to get worse. As we waited, he went limp down one side. The paramedics arrived. They took one look at us and asked us all to jump into the ambulance with George.
That's when I knew it was bad. Usually, only one parent would be allowed to travel because of coronavirus.
Arriving at Bristol Children's Hospital was a blur of tests and scans. Doctors told us it wasn't a stroke. 'It might have been a seizure', they said. I was relieved.
We stayed in hospital overnight, expecting to wake up and find George back to normal. It didn't happen. In the morning, he was no better and still couldn't move his left side.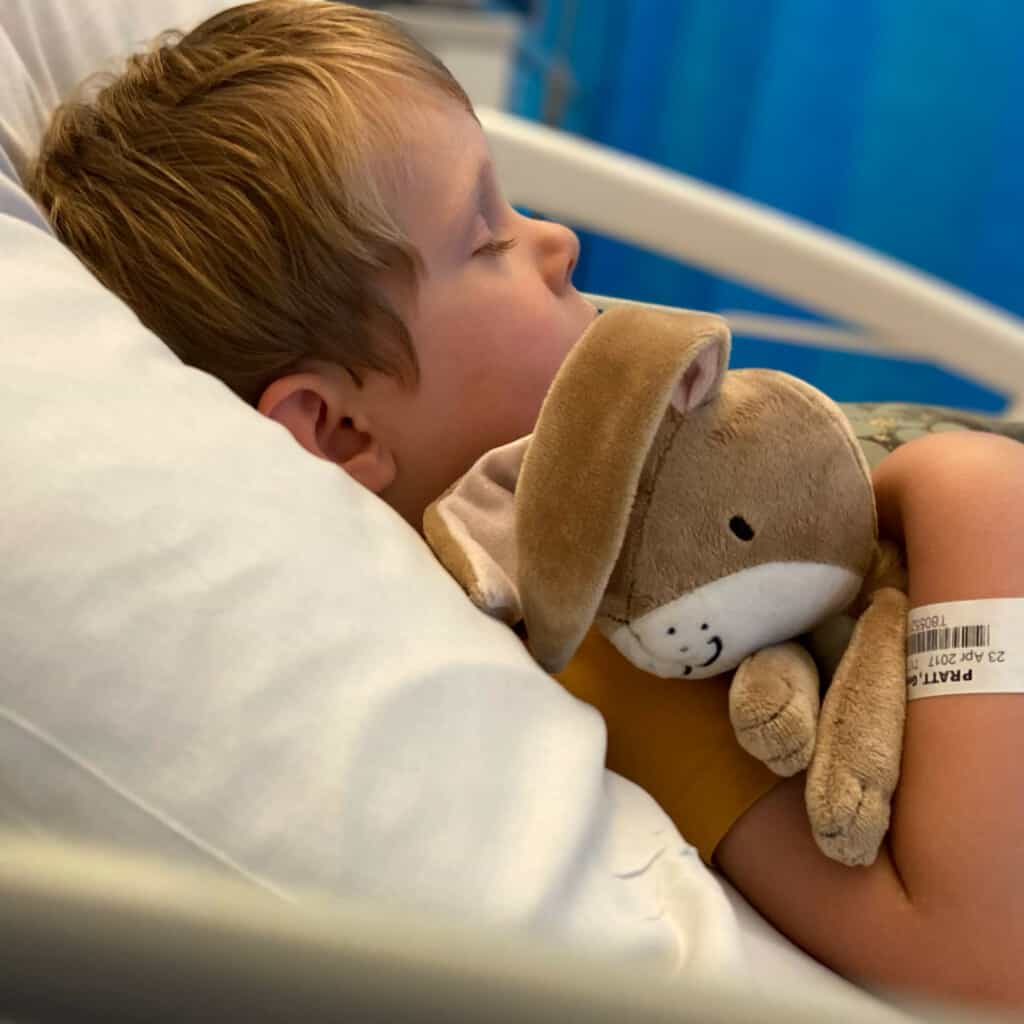 He even tried to say 'I love you mummy' but couldn't quite get the words out. My heart broke.
A consultant asked for an urgent MRI scan, which revealed George had suffered a stroke in the part of the brain that controls movement. Simon and I were devastated.
The next week felt like an onslaught of tests, trying to find the cause for George's stroke.
Life was bleak. George was only three years old. It was impossible to explain to him what was happening. He hated taking his medicines and the constant tests. Staff told us that many of the after-effects from the stroke would be with him for life.
"The future we had mapped out for George suddenly seemed very different. Despite the hopelessness we felt, we never doubted that we were in the best possible place for George.

Sara, George's mum
George wasn't coping very well. He would wake in the night and call for me. I couldn't leave him on his own. I thought I would stay with George in hospital for a few weeks, but in fact, we spent three months at Bristol Children's Hospital. Living on the ward was surreal and one of the hardest things I have ever done.
After two weeks, George started physiotherapy. Progress seemed painfully slow, but his therapy team appeared to have an endless source of enthusiasm, patience, skill and creativity. Getting a three-year-old to engage with physiotherapy and occupational therapy is incredibly hard, but they pulled out all the stops.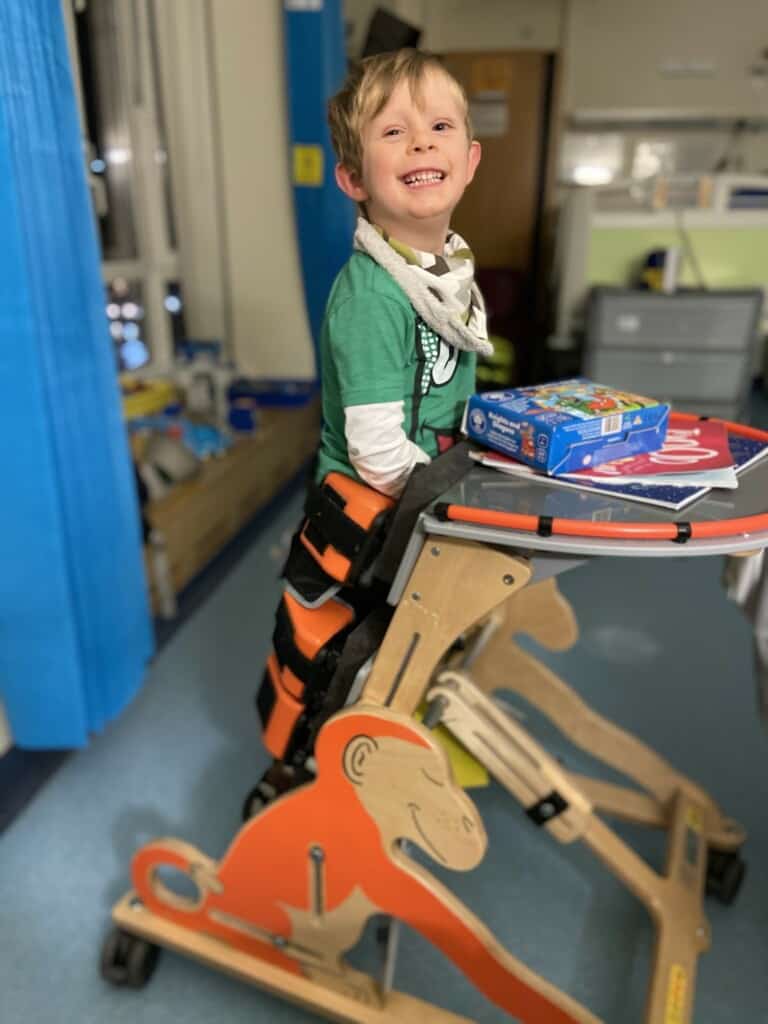 The nursing staff were incredible too. George and I always felt surrounded by expertise and care.
Three exhausting months later, and our brave little boy was strong enough to come home. Throughout George's therapy, the team had kept me informed, so I knew exactly what to do when it came to continuing his rehabilitation at home.
As a parent, when your child is sick, you want the team around them to have absolutely everything they need to make your child better. I couldn't stop thinking about other families in similar situations to ours. I wanted to raise some money to help them.

Sara, George's mum
I spent a long time trying to work out what to do for a fundraiser. Since the stroke, George has needed near-constant supervision, so I'm pretty time-poor. And physical challenges are no good, thanks to an old knee injury.
I'm lucky enough to be a member of Henleaze Lake in Bristol. Swimming through the winter has always been something I wanted to try, but never had the guts to do. I figured that I couldn't back out if I did it as a fundraiser. And whenever I've done any fundraising in the past, it's always been the silliest or most uncomfortable challenges that have raised the most. And like that, my fundraiser began!
The lowest temperature I've swum in so far has been 5.5 degrees. I don't think I could make myself get in if it weren't for the fundraiser. The water takes your breath away! I've decided to keep swimming until Christmas Day and so far, I've raised £2,702.
Considering Bristol Children's Hospital helped my child learn to walk again, no amount of money will be enough. But to give anything back means the world to us. George will always have a few challenges and he'll never be quite the same, but we're so thankful that he's running about as the cheeky little boy he was before.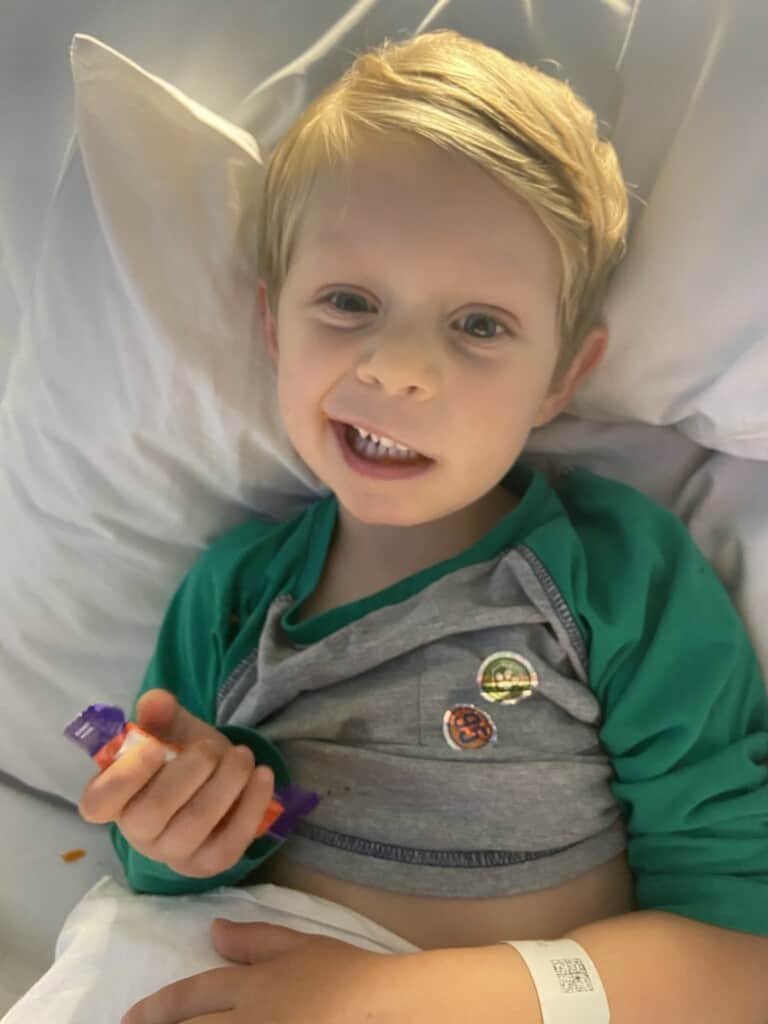 I try to feel lucky that I got to see him take his first steps twice, and every time his left hand opens to grasp something, it makes me smile."
More children like George need your help. To support Bristol Children's Hospital, donate to Sara's JustGiving page.