When Rebecca gave birth to her little warrior Aimee, her life hung in the balance.
"My pregnancy was far from easy. After my initial joy of finding out, I was going to become a mum, then came the pain and anxiety about what was to come.
At 12 weeks, I had my first taste of St Michael's Hospital. I was diagnosed with Hyperemesis Gravadium – I couldn't hold anything down and felt constantly nauseous. But as the nurse scanned my tummy, I got to lay eyes on my daughter for the very first time. It was at that moment I knew it would be all worth it.
But then as I started to enjoy my pregnancy, I suffered a massive bleed. I was 27 weeks gone and doctors were concerned our little lady was about to arrive early. Thankfully, she didn't but only a few weeks later I was given the news I had gestational diabetes. Not only did it mean monitoring my diet closely but testing my bloody sugars six times a day.
A few weeks later and back at home, I was preparing for my baby shower. But in the early hours of the morning and half asleep, I realised I had gone into labour. Looking down at my blood-stained waters, my heart filled with fear. I raced to St Michael's Hospital along with my partner James and sister-in-law. When it became time to push, the doctor attempted a forceps delivery, but with everything going on both Aimee and I's heart rate began to race. We were rushed to theatre.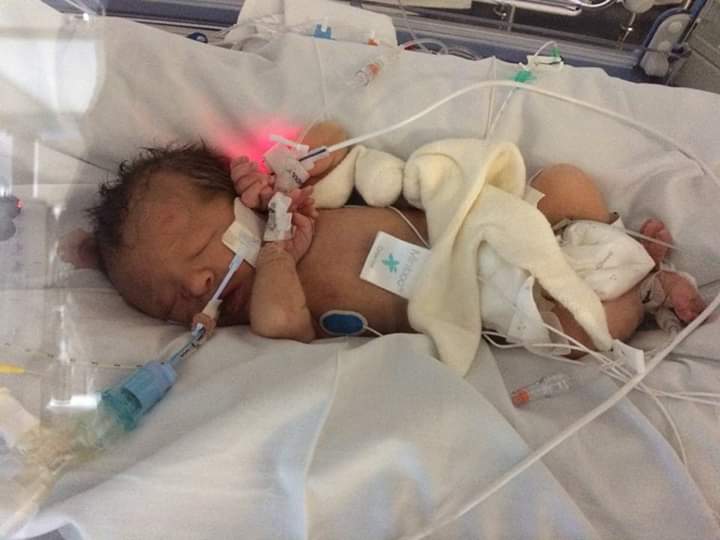 Our gorgeous girl was delivered via emergency caesarean section weighing 3lb 15oz.
Not only was my placenta discoloured and infected, but later we found out it had passed on the infection to Aimee. Everything was a blur as I was laid on the operating table.

Rebecca, Aimee's mum
Little did I know that just metres away from me. The doctors and nurses were crowded around Aimee as they attempted to resuscitate her. I didn't even hear her cry. After a brief moment together, they whisked her away to the Neonatal Intensive Care Unit. I wasn't sure what would happen.
The first time I saw Aimee, she was in the incubator – she looked so tiny and fragile. With a collapsed lung, kidney failure, sepsis, and bleeding on the brain and from her umbilical cord, they told us she was seriously ill. But slowly she became stronger. When she was five days old, I could finally hold Aimee in my arms. At that moment it all felt real – I felt like a proper mum. And it's thanks to Cots for Tots House that I could be there.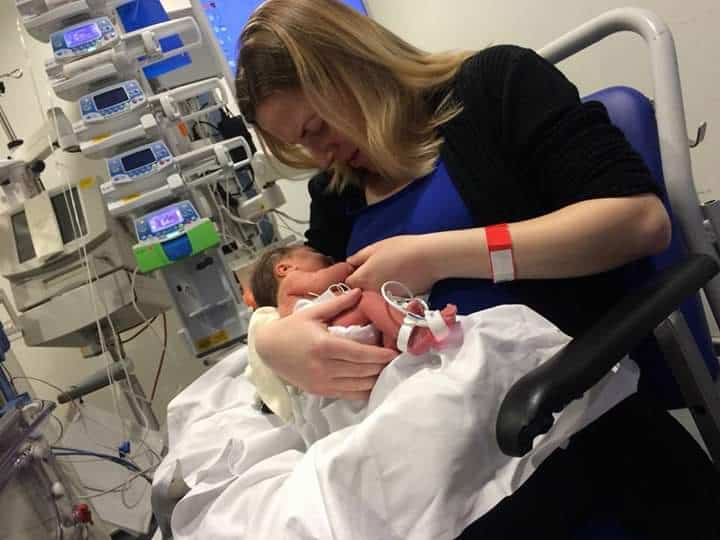 That house is so much more than just a room; it's a little piece of sanctuary throughout such a scary time. It gives you a comfortable place to express milk and a chance to meet fellow residents and share your experiences.
Meanwhile, Aimee received the most exceptional care from the most incredible doctors and nurses. She wouldn't be here today if it wasn't for everyone working at St Michael's. After 20 days she was allowed home and we could begin to enjoy our time as a family of three.
At 16 months, although her development is slightly delayed she is coming on leaps and bounds. Aimee already has such a big personality and an infectious smile. I'm not sure what the future holds, but I am certain that with her determination and fight Aimee can achieve anything she puts her mind to!"
Donate today and help sick children like Aimee