When a patient is admitted to the Paediatric Spinal Team, it isn't just their surgeon that treats them, but a whole army of healthcare heroes who work hard behind the scenes to ensure that each and every child or young adult gets the treatment they need.
Young adults like Katie, have a large team guiding her and her family every step of the way before, during and after her surgery. Below, you can see a number of the diverse team members that make up the Spinal Surgery Team at Bristol Children's Hospital.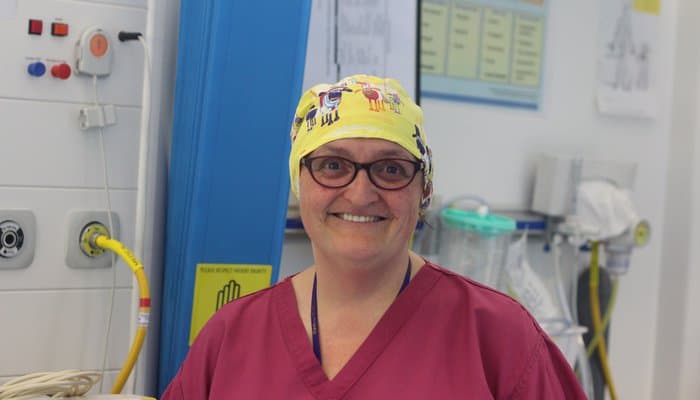 We caught up with the team's Performance & Operations Manager, Ursula, to find out about this wide team, and just how many people are involved in a patient's care.
How many people are in the Paediatric Spinal Surgery team at Bristol Children's Hospital?
We have five Spinal Surgeons here: Mr Stephen Morris (Clinical Lead), Mr Ian Harding, Mr Neil Upadhyay, Mr Priyan Landham and Mr John Hutchinson. Working alongside them is their Nurse Practitioner, Diana Lavelle, who has worked for the service for many years and is an absolute expert in her field.
They are supported by a Medical Secretary, Carolyn, myself, as Performance & Operations Manager for the children's hospital, and a clinic coordinator, Shana, who helps to keep things running smoothly.
The team works as part of a wider Multi Disciplinary Team (MDT) who all meet once a month to discuss patients under their care and decide on the best course of treatment for them. The MDT are heavily involved in the care of the spinal surgery patients, and include Consultant Paediatricians from the High Dependency Unit, Paediatric Consultant Anaesthetists, Consultant Radiologists, Paediatric Respiratory Consultants, Dieticians, Physiotherapists, Occupational Therapists, Paediatric Orthotists, Coordinators and Managers of the service. This meeting always runs, come rain or shine (even when the Beast from the East hit!) and is the best way for the team to make the right decisions for their patients.
How many patients do you see each year?
We treat over 1000 outpatients every year, and perform approximately 70 operations in that time. These surgeries can be incredibly complex operations, usually taking between 6 – 8 hours each. For a patient such as Katie, undergoing a high-risk and incredibly intricate operation, there were 10 people in the operating theatre all focussed on her. This included four spinal surgeons, neurophysiologists, anaesthetic colleagues, and scrub practitioners, who assist the surgeons, providing the most appropriate equipment for the operation and ensuring it all runs smoothly.
What does an average day look like for a Spinal Surgeon?
The surgeons usually come in very early to see their patients before their operations, and then go to theatres to prepare themselves for the day ahead of them. It's not uncommon to still see a spinal surgeon here well into the evening, checking their patient is okay after waking up from their operation. The team all have an adult practice at Southmead Hospital too, where they are based primarily, and therefore balancing both practices is very demanding but works incredibly successfully. It's thanks to their hard work but also their surrounding teams' involvement in each patient who attends the centre for spinal surgery.