Just when you thought a marathon was hard enough, this fundraising hero has decided to run in full police uniform. Meet Jamie.
On 16 April, he'll take on the country's second-largest marathon in honour of a very special 15-year-old. We asked Jamie why he's determined to raise money for Apollo 35 at Bristol Children's Hospital, which cares for teenagers and young adults.
"I'm strong-minded and have always been sporty. I like to push myself as hard as I can!
In the past, I've completed triathlons and ironman races – eight full ones. But that was over three years ago, and I have lost my fitness and gained weight. For me, deciding to run a marathon feels like I am starting from scratch again. I know people will look at it and think, 'he's run loads of marathons – this is easy for him', so I wanted to make it harder.
All my efforts are to thank Apollo 35 for how they've looked after Sophie.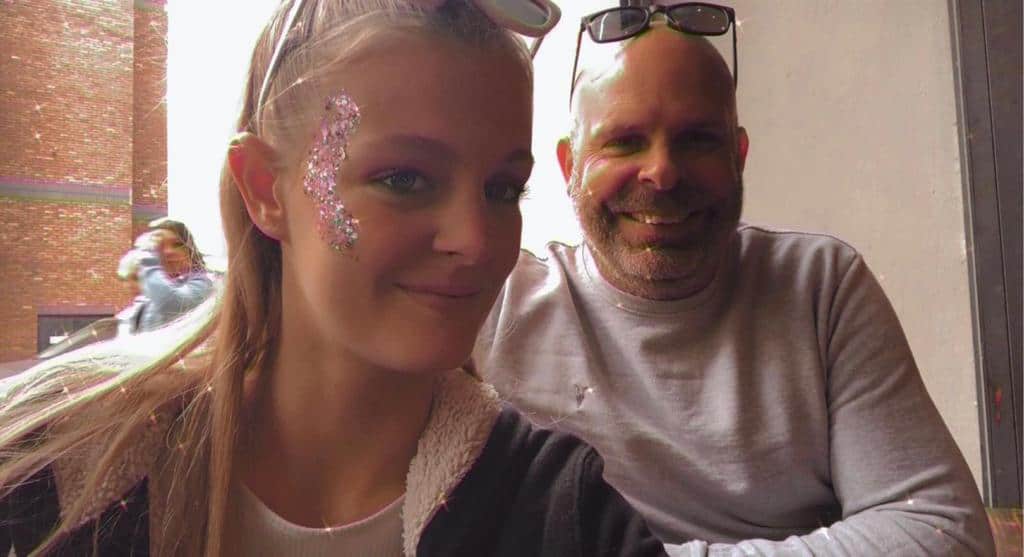 Sophie was a happy, healthy, and active child until she began complaining of joint pain when she was ten. We put it down to growing pains, but she began to lose movement, and the pain only increased.
Things have deteriorated for Sophie over the years, and we still don't have a diagnosis. There are issues with different joints in her body, and so far, she has had two operations on her elbows, with another to come. There have been two major surgeries on her spine. She's also needed steroid injections in her spine. Sophie now has a titanium cage around the base of her spine, which was a huge operation for someone of her age.
For a girl in her early teens, coping with everything she has is incredible. This shouldn't happen to a girl of her age. Yet she takes it all in her stride. She has bad days, of course. But she keeps fighting and leading her life the best she can. She truly inspires me and everyone around her; we are all very proud of her.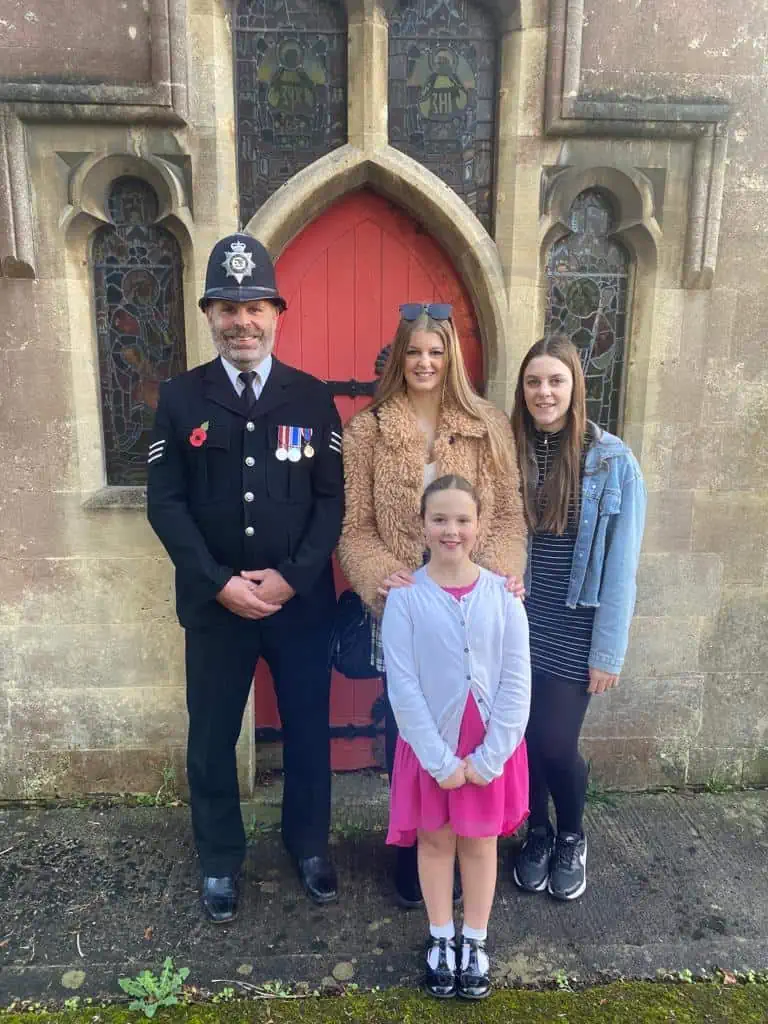 By the time I run the marathon, I will be a year short of 50 and only have 18 months left of 30 years of service in the police. So, I plan to run the marathon in full police uniform. This includes a custodian helmet, body armour, and work boots. I've done a lot of fundraising in the past, so I'm hoping this will inspire people to sponsor me.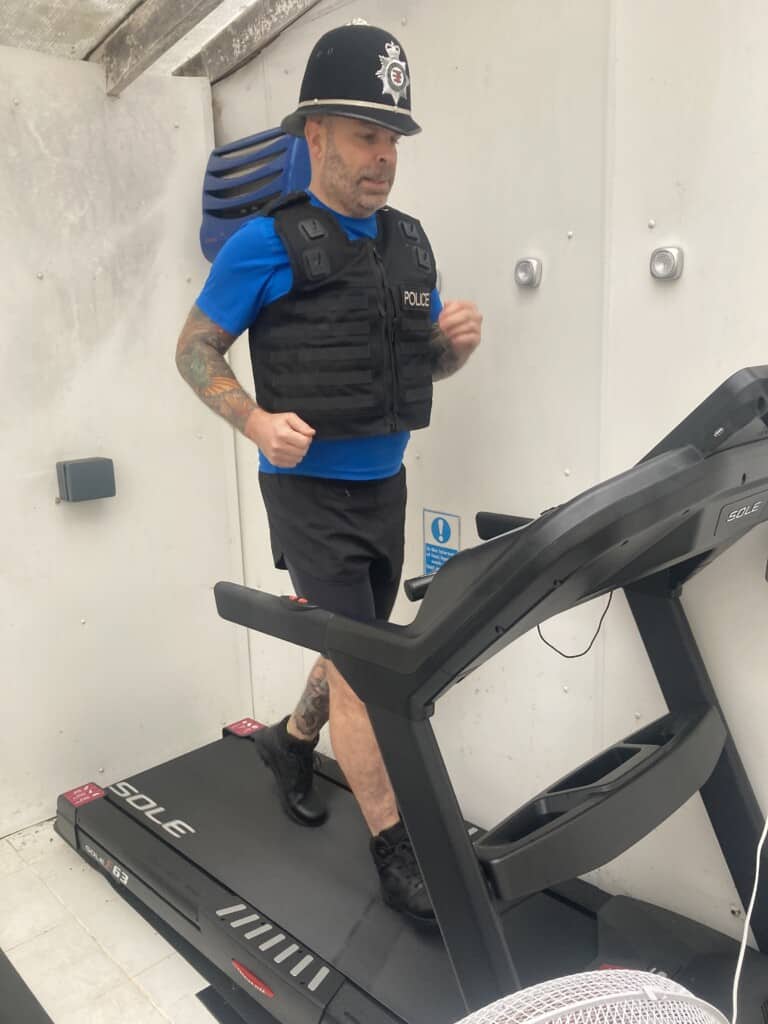 When I tell people, they think I'm crazy. Some have suggested wearing running trainers or taking the body armour plates out of my stab vest. My response is 'no' because that would be cheating. Sophie has suffered so much that I need to suffer on the day to justify people's generosity. I'm hugely thankful to Deputy Chief Constable Nikki Watson for allowing me to do this event in my uniform.
Seeing Sophie ill has been a great worry. I'm worried not only about Sophie but also Katherine, my partner. To see her so concerned about her eldest daughter was heartbreaking. I just wanted to take on all of their pain so they could feel better.
Fundraising for Apollo 35, the adolescent unit, is so important. It means we are able to keep meeting the ever changing world of young people and provide entertainment, distraction and social spaces. All of us on Apollo 35 are immensely grateful to Jamie for his fundraising and are really proud he has chosen to support the ward.

Nonni, Ward Sister on Apollo 35
We are lucky enough to have a close friend, a matron, in the children's hospital. She was able to answer lots of questions for us. I couldn't go inside the hospital at the start because of coronavirus, but all I ever heard was how great the people were. Nothing was too much for the staff on Apollo Ward, and they have supported Sophie brilliantly. Hence why I want to say thank you in a small way.
From the big to the small, every piece of equipment and entertainment provided by The Grand Appeal is so appreciated and valued by staff, parents and patients alike.

Sue, Matron at Bristol Children's Hospital
Training has been really enjoyable, even though at times it has been hard. I'm feeling much fitter and healthier, and I have lost over two and a half stone! However, I've got black toes and blisters to show for it. I have gone up to 20 miles in my training runs and now, I'm really looking forward to the event.
The day before the Manchester Marathon, I'm even doing the Chipping Sodbury 5k park run in full police kit!
Sophie has more treatment ahead of her, but she'll join me in Manchester with her two sisters. She says she'll be supporting me, but because I might take a while, I have a feeling Manchester's shops might get a little visit in between!"
If, like us, you are blown away by Jamie's commitment to making life better for sick children at Bristol Children's Hospital, head to his JustGiving page and donate.