Here at The Grand Appeal, we strive to help Bristol Children's Hospital provide the very best care for its patients.
That means not only helping patients enjoy some egg-cellent fun this Easter, but also thinking about the health implications of excessive chocolate.
How you can support Bristol Children's Hospital this Easter
That's why we've teamed up with Bristol Children's Hospital to give you a handy list of other ways you can support your children's hospital at Easter.
Don't worry, we haven't banned chocolate completely. After all, who doesn't love Easter chocolates? But we want to help families stick to a healthier diet and care for those patients who are unable to eat sugary snacks.
So, whether you are an individual or organisation, we're simply asking that you only give up to 15 Easter chocolates. We also ask that you consider dairy and gluten-free options for children with specific dietary requirements.
And if you would like to donate a gift that lasts longer than chocolate, we have plenty of options for you.

Other ways to give
Why not donate Easter-themed arts and crafts, toys, comforters, books or make an online donation this Easter? Whatever you choose, your gift will make a lasting impact on a child and their experience in hospital.
To purchase your gift, use our Easter-themed Amazon wish list. Your gift will be delivered directly to us and we'll make sure the Easter bunny gifts your donation to a child in hospital. Please include a note with your details, so we can thank you for your generous donation.
You can also buy similar gifts from other shops and drop them in to us at our office by Monday 3 April. Please contact us in advance to make delivery arrangements by email or phone 0117 927 3888.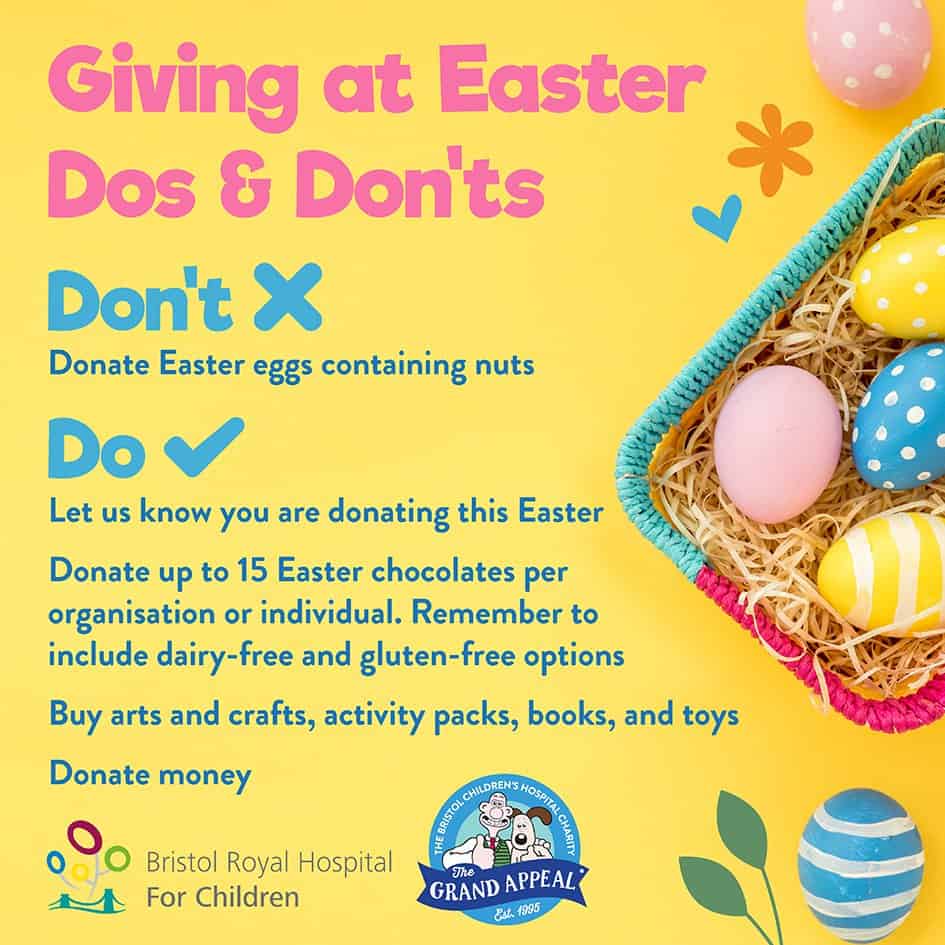 We are so incredibly grateful for your support. Thanks to people like you, we can make a real difference to Bristol Children's Hospital.
Support sick children this Easter