Throughout this crisis, Oncology Play Assistant Sian has been a constant source of support for the patients and families in her care. Sian told us why it's important she continues her work in the Starlight Ward during the coronavirus pandemic.
"During these extraordinary times, my work is as essential as ever. I am one of two Oncology Play Assistants funded by The Grand Appeal at Bristol Children's Hospital. I still arrive at work each day, ready to help my patients and their families in any way that I can. I feel proud to be continuing to provide play support despite everything that is going on.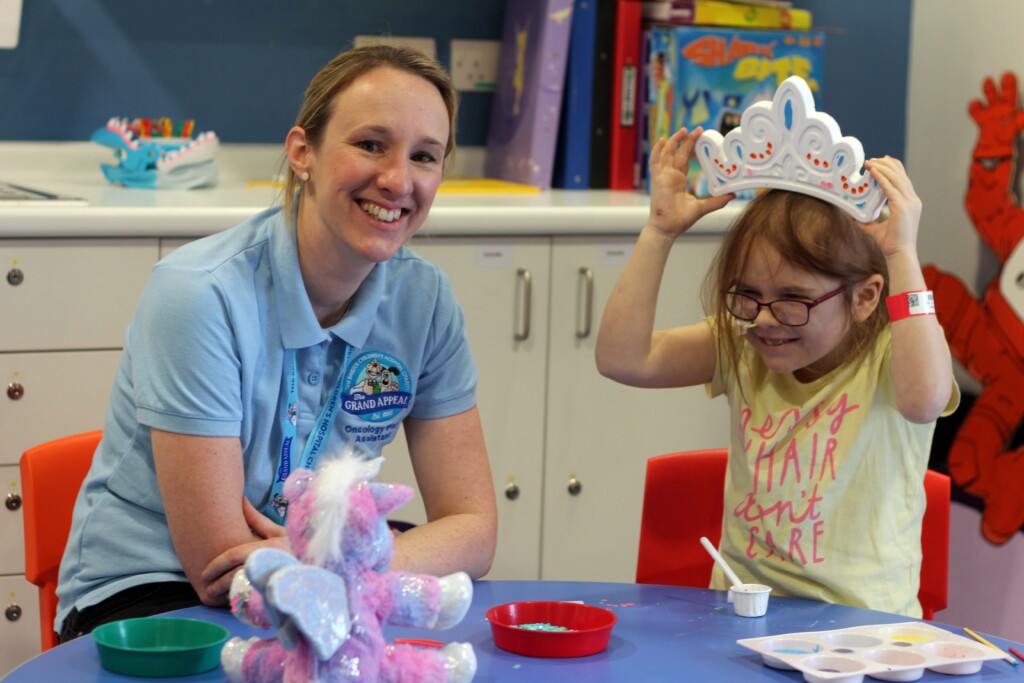 "As the UK is gripped by coronavirus, I'm very aware that the feelings people are experiencing up and down the country are nothing new for the children in my care. The 'new normal' we are all learning to deal with is something they have to adjust to from the minute they were told they had cancer.
"Our patients endure invasive treatments, which compromise their immune system so much so that they have to learn to live in isolation here on the ward. As we're all beginning to find out, this can be stressful, but it is even more so when you're confined to the four walls of a hospital cubicle.
"Bristol Children's Hospital has introduced visiting restrictions, meaning only one immediate family or carer can be on our ward at any one time. We know it's a necessity, but it's hard to explain to a patient why their mummy and daddy can't visit them together or why their sibling must stay at home. It's another layer of stress our families could do without.
"Uncertainty can also be hard to deal with. Many of us are struggling with not knowing when lockdown will end. Imagine being diagnosed with cancer, or any other serious condition or illness. For them, treatment or hospital stays can seem endless, with no end in sight. It's a lot to deal with for anyone, let alone a child.
"Here on Starlight Ward, it's my job to help them manage the pain, anxiety or fear they experience. These negative feelings have only been heightened by the current situation, so it's important I'm here to help them smile.
"Starlight is a specialised ward treating patients suffering from cancer; we care for children aged between a few months old up to 12 years old. Occasionally, we'll work with teenagers too. The virus has brought with it a lot of changes and challenges for us. The entire team now wear masks, aprons, goggles and gloves. We look almost unrecognisable! It can be scary for children, so we've covered our new uniform in colourful stickers.
"Because our playroom has been closed, we've had to think creatively to organise a range of fun and exciting activities patients can do from their hospital bed. It means they are stuck in one room all day, and that's tough. I'm doing all I can to engage with them through drawing their favourite characters on their bedroom windows, giving out toys or just having a chat.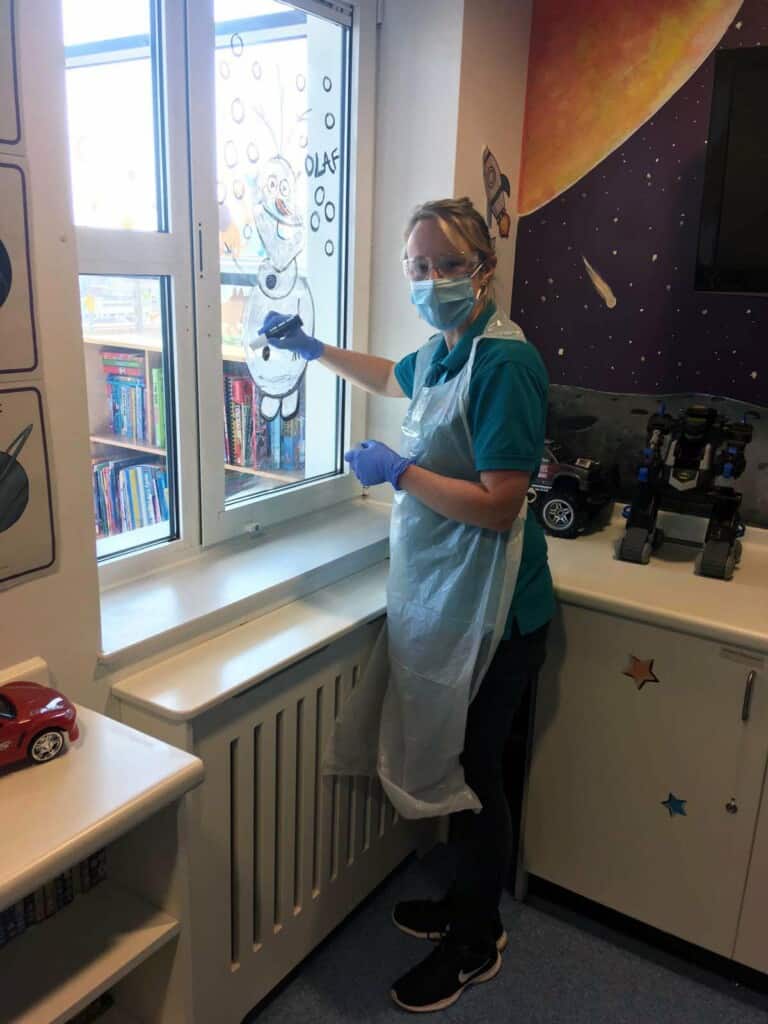 "Our incredible doctors, nurses and healthcare professionals are here to treat cancer and save lives. But patients and families need to be supported emotionally too. That's why it's important I remain at work.
"Right now, there are many mums and dads wondering what are going to do with the kids today? Just remember, play can provide a sense of normality in a world that is feeling distinctly abnormal. Try to engage with your child needs and interests whilst trying something new. And if you're still feeling stressed or upset in these strange times, that's okay too."
Donate today
Help save more lives and make life better for young patients in hospital