Throughout this crisis, we continue to make Bristol Children's Hospital the very best it can be, but we can't do it without your help.
With social distancing still in effect and events cancelled up and down the country, many of our corporate fundraisers have had to get inventive when it comes to supporting Bristol Children's Hospital. And that's exactly what Annie and Emma did!
As groups and businesses are now working separately, fundraising activities are limited, so it's more important to think outside the box.

Annie
The UK Hydrographic Office based in Taunton chose us as their Charity of the Year for 2020. Having had many of their scheduled fundraising events cancelled because of coronavirus, colleagues Annie and Emma stepped up by coming up with their own challenge called 'Lockdown Locks Off'!
Emma said: "It all started when a colleague posted some pictures of him clipping his hair and I commented that I was tempted to do the same as I hadn't been able to get to a hairdresser! Never one to back out of a challenge, I committed to the clippers and was even more thrilled when Annie joined in."
Emma was spurred on by a fellow colleague
Annie added: "I'd been toying with the idea of cutting my hair for a while. Then, when Emma was challenged, it seemed appropriate to offer my support. The rest, as they say, is history… Having had breast cancer five years ago, my shaved head wasn't such a shock and it is so much easier to manage."
In doing so, the pair have raised an incredible amount – over £1,000! We asked Annie and Emma what inspired their hair-raising challenge.
Emma explained: "I saw a family speak to BBC Points West. They were staying with The Grand Appeal whilst their tiny baby was cared for at the Neonatal Intensive Care Unit. At this moment it hit home how important this charity is to so many families. It feels great to know we've helped in some small way."
Meanwhile, for Annie Bristol Children's Hospital remains a cause close to her heart.
"It feels amazing to have raised so much for families in need. Being in lockdown is scary enough for everyone, let alone a family with a sick child. Supporting Bristol Children's Hospital means a lot to me. It's thanks to The Grand Appeal that the family of a colleague can be close to their child as he receives treatment at the children's hospital. They are staying in one of the family accommodation houses run by the charity and I know how thankful they must be. I've been in a similar if not so serious situation and I only had a hard camp bed to sleep on. So, I can appreciate what this means to them."
Annie's own experience battling cancer meant she was prepared to say goodbye to her hair
Finding yourself far from home and loved ones, with a critically ill child to support, can be incredibly stressful. Throughout this crisis, our three family accommodation houses have remained open, 24 hours a day. It's thanks to people like Annie and Emma, we can give families of seriously ill young patients a free, comfortable and supportive place to call their own when they need it most. Despite all that is happening, we will continue to provide this vital service to help protect and save the lives of children and their families.
To get behind Annie and Emma, visit their Virgin Money page.
The people that this charity support still need our help

Annie
It's your fundraising that fuels our life-saving work. Could you and your colleagues follow in the footsteps of Annie and Emma, with your own challenge? Get in touch with Helen to start your fundraising journey today.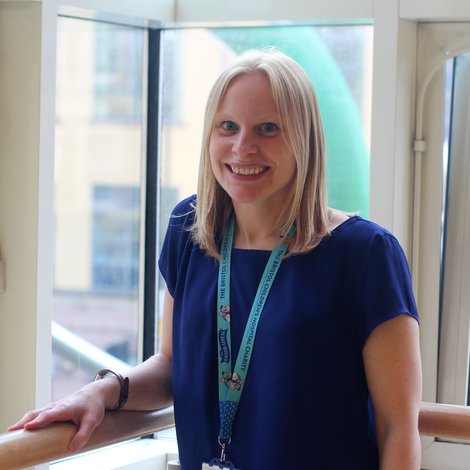 Head of Fundraising (Corporate)
Helen Haskell
Helen works with our amazing corporate supporters. Contact Helen if your business or company would like to support Bristol Children's Hospital or if you are keen to find out more about ways we could work together.
Donate today
Help save more lives and make life better for young patients in hospital