Thank you so much for visiting our fundraising stall at Bristol Children's Hospital.
On this page, you can find out more about John, our wonderful volunteer who is often found at the stall, as well as information about how to donate to support your children's hospital and how to get involved with us.
A little bit about John
Not many 92-year-olds can claim to have skydived 43 times!
John's adrenaline-fuelled fundraising activities have helped raise over £390,000 for Bristol Children's Hospital. You name it, John's done it – skydives, wing walks, abseils and zipwires.
John's appetite to do good knows no bounds. Since 1999, he has fundraised and volunteered for Bristol Children's Hospital. You can find John volunteering on his weekly stall inside the children's hospital when he's not flying high.
He's a familiar, friendly face for many of our long-term and regular families, and has made good friends with the doctors, nurses and porters there.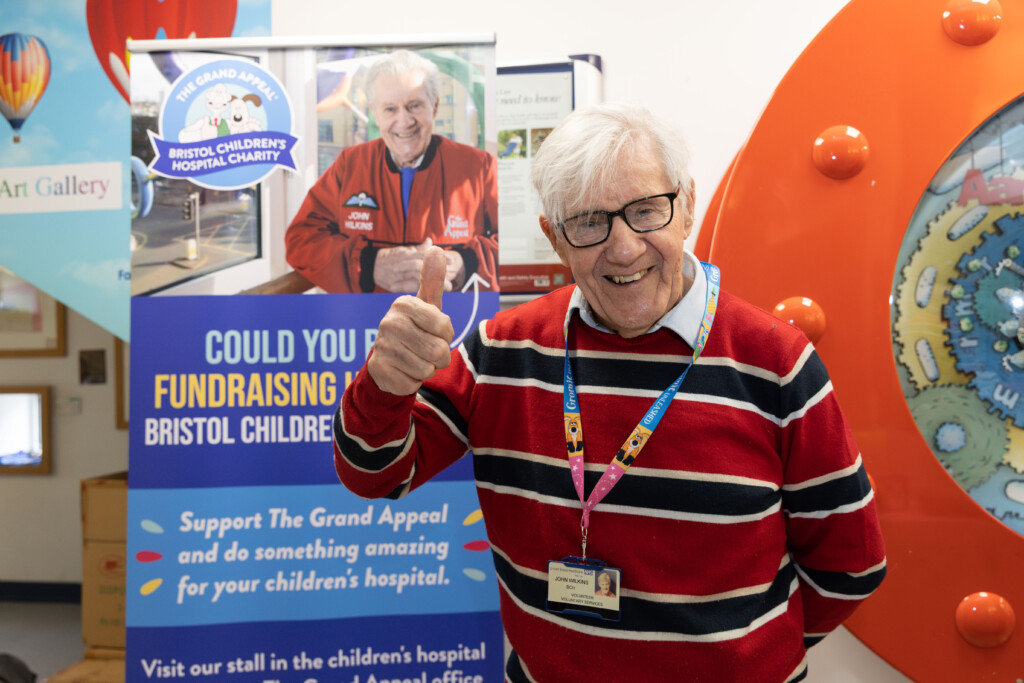 ---
Donate
It is your generosity that allows the incredible work at Bristol Children's Hospital to continue.
If you'd like to donate, please fill out the form below. We are so grateful for your support.
Get involved
If you'd like to become a fundraising hero like John, use the form below to tell us what you're interested in hearing more about or contact us to learn about our volunteering opportunities.
Our team will be on hand with expert advice and resources to help maximise your fundraising, and you'll even get a Grand Appeal t-shirt to keep!
Join the 11,000 heroes signed up to our e-newsletter
See first-hand where your fundraising goes and meet the patients your support helps.