Whether you want to start a new hobby, kickstart your fitness journey or just try something new, our fundraising ideas give you the chance to do something different whilst you raise money for charity.
Make 2021 a great year and an amazing start to the decade. Whether you want to start a new hobby, kickstart your fitness journey or just try something new, our fundraising ideas give you the chance to do something different whilst you raise money for charity.
Fundraising ideas can vary from four-day epic treks to running the local 10K. However many people hold collections, ranging from Facebook fundraisers to birthday fundraisers, or collections at school concerts or football tournaments.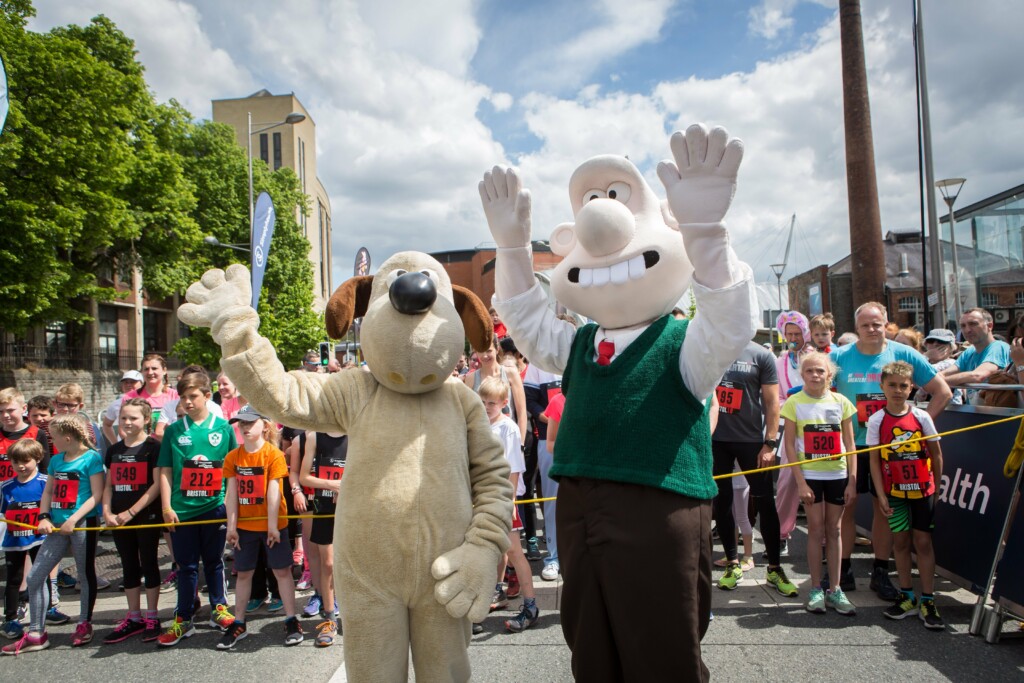 School/Office fundraising:
Fundraising in a school or office is a fun and exciting way to raise money for charity whilst enjoying yourself at the same time. Whether it's dressing up your teacher or boss, or joining in with a sponsored silence, there are plenty of ways to get students and work colleagues excited and engaged to raise money for charity.
1. Cake sale
Get ready to raise some serious dough! Whether you're a total beginner or an absolute star baker, baking and decorating cakes and selling them at school or in an office makes for happy tummies and full donation tins! Register your interest for our Wallace & Gromit's BIG Bake and download the extra resources for recipes, cake labels, cake flags, cake games, bunting and more.
2. Raffle
A raffle is a great way to raise money in schools or offices as people can either bring in unwanted Christmas or Birthday presents, bring in items they have never used or even contact sports teams for a signed shirt to auction or raffle off. Raffles can be low maintenance and time-efficient whilst raising much-needed funds for Bristol Children's Hospital.
3. 5K Fun Run
5K fun runs are ideal for most abilities and ages, without the need for much training or preparation beforehand. 5K fun runs are more about the experience with family, friends and colleagues than getting a personal best.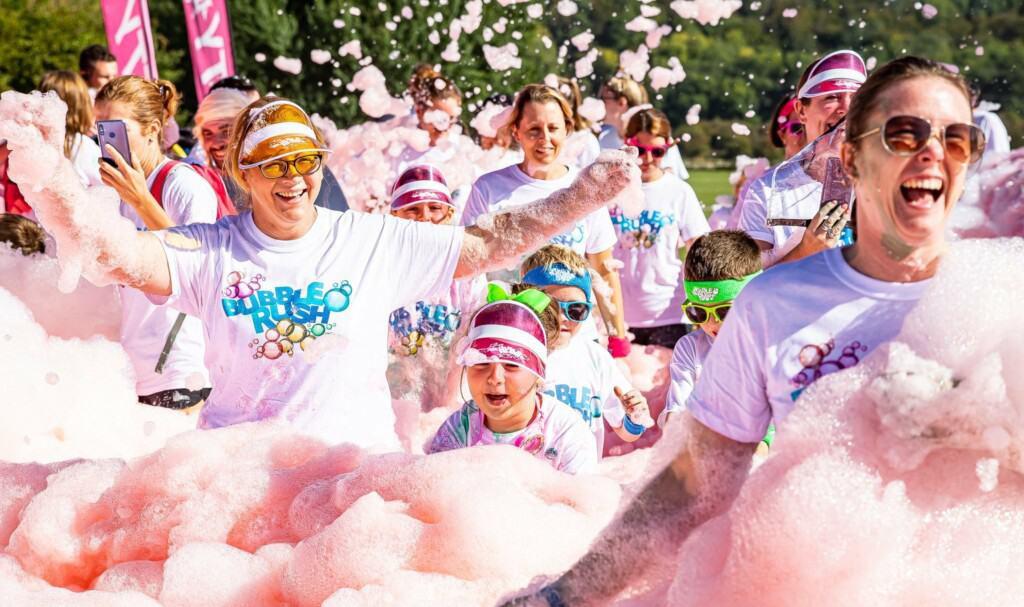 4. Non-Uniform Day/Dress Down Day
This one may be simple but it is a classic fundraising idea for schools and offices. Wear your jeans to the office, donate and have a feel-good Friday.
1. Christmas Dress Up Day
As soon as December hits and that infamous Mariah Carey song starts hitting the radio, it's time to grab your Christmas jumpers and elf hats from the attic and start donning your festive attire. If you'd like to dress up next Christmas, check out Wallace & Gromit's BIG Christmas Dress Up for great ideas on how to make your, Christmas jumper day especially cracking!
2. Wrong Trousers Day
If you enjoy donning your Christmas attire in December to raise money for charity, then try out Wallace & Gromit's Wrong Trousers Day in July at your school or office. Inspired by the short film 'The Wrong Trousers' featuring Wallace and Gromit, put on your weirdest, wackiest, and most wonderful trousers to raise money for critically ill children and babies. Parade your pyjamas in the playground or shimmy around your office in funky flares.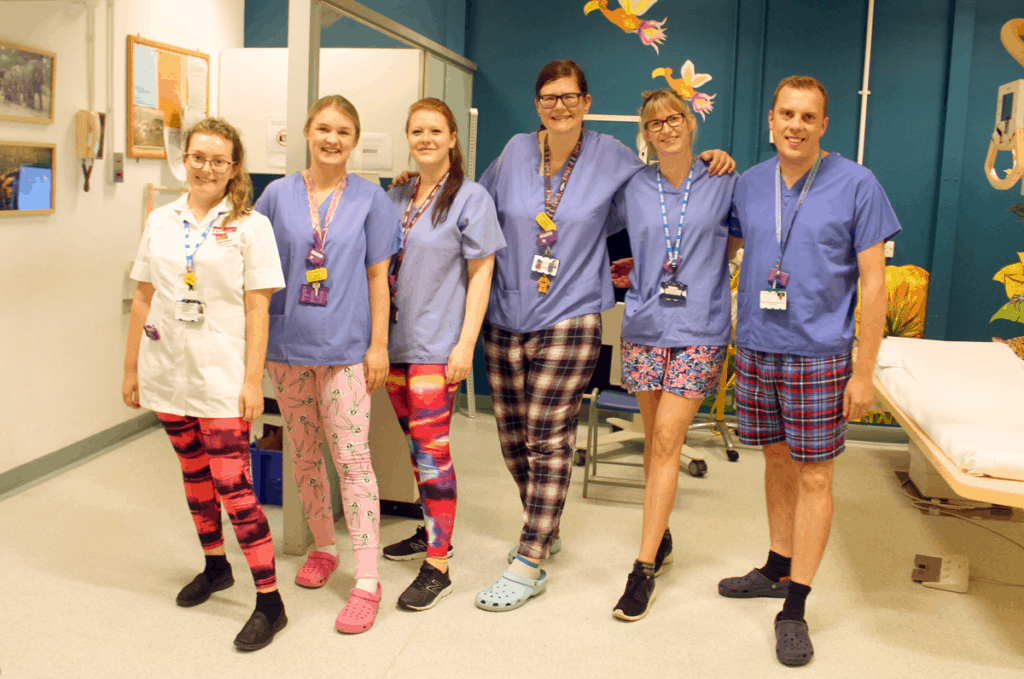 Adrenaline fundraising: for the bold and the brave
Adrenaline-fuelled fundraising ideas are a great thing to tick off your bucket list whilst raising money for charity. As these are not something people do every day, it's a great way to get sponsorships from friends, family and work colleagues.
5. Wing Walk
Take on a great aerial adventure this year and test your courage with a wing walk. Fly for 10 minutes on top of the wing of a vintage plane, with your friends and family below cheering you on.
With the aircraft going up to 135mph it's definitely for the thrill-seekers, so tick this off your bucket list and raise money for charity at the same time. Worried? Our amazing volunteer John is 88 years old and he's taking part in the Wing Walk in 2021. Join him and our amazing Grand Appeal Team Wing Walk!
6. Skydive
A sponsored skydive is on many thrill-seekers bucket lists. Face your fears alongside your fellow fundraisers and take part in a tandem skydive, falling 15,000ft for charity. It is an easy and enjoyable experience, with the most exhilarating, breath-taking, an adrenaline-pumping moment of your life. Join our Grand Appeal Team Skydive.
7. Bungee Jumping
Bungee jumping is a great way to raise money for charity. You can choose a time and date that suits you, and fundraise with our packs to get you started.
Endurance fundraising:
Endurance fundraising includes running events and cycling events. Push yourself whilst raising money for charity.
8. Land's End to Bristol cycle
Saddle up for a truly unique four-day cycling event, covering around 250 miles. Starting at the historic Land's End landmark, you will ride through the beautiful coastline of Cornwall, rolling hills of Exmoor, and the twisty roads of Cheddar. Land's End to Bristol is suitable if you're a cycling enthusiast or even a beginner looking for a challenge. Join the team and put your pedal power to the test whilst raising funds for Bristol Children's Hospital.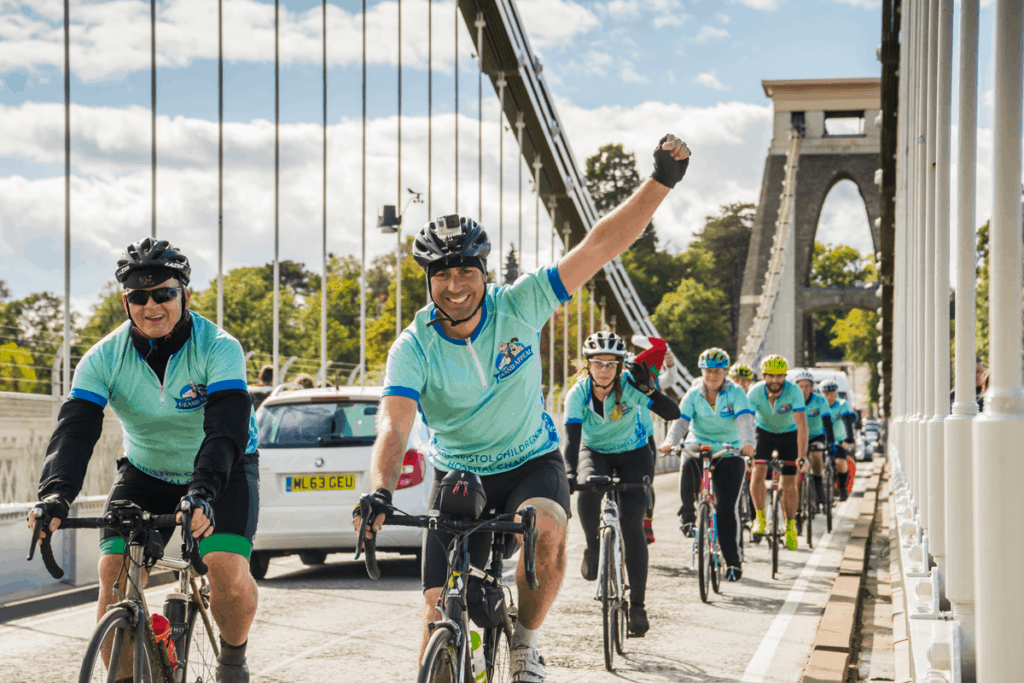 9. Half Marathon
A half marathon can seem really daunting at first but if you follow a training plan you can run the 13.1 miles with 12 weeks of training, with three runs per week. Start with running a 5K, then a 10K, then train for a half marathon. Our picks are Bristol Half Marathon and Bath Half Marathon.
10. Running 10K
10K is the most popular distance for charity runners as you can train within 10 weeks, running three times a week. Our favourite is Bristol 10K which is fast and mostly flat, taking you around the beautiful sights Bristol has to offer, including running past Avon Gorge and under the Clifton Suspension Bridge.
11. Nightrider 50k or 100k
Cycle overnight in a challenge like no other. Based in Bristol, Nightrider is an epic 50km route around the inner city, or ride the full 100km circuit around the outskirts. The ride starts at 10.30 pm, setting off in waves, cycling on open roads a fully signposted route. The 50km route may take three-four hours, with the 100km route averagely taking six-eight hours. It is a truly unique way to explore the city and view the hidden gems along the way. Not your average night out.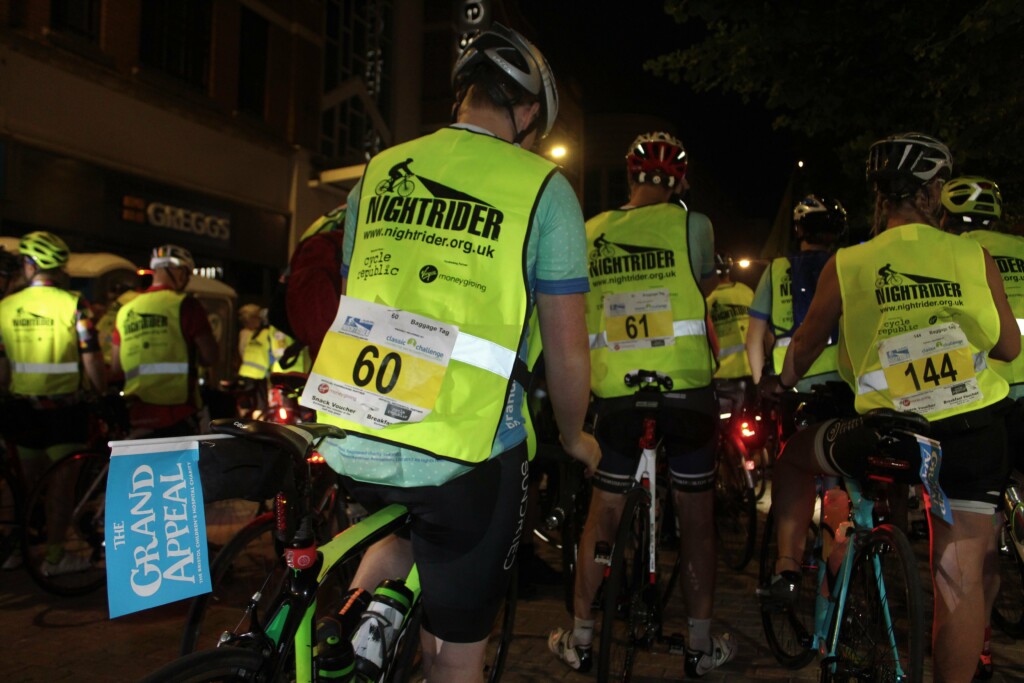 12. Cyclone 24
Grab your colleagues and team up for a 24-hour charity cycle around Newport Velodrome. Our Cyclone24 Cycle Challenge is a true feat of endurance that will see you battling physical exhaustion and mental fatigue. There is a maximum of six people to a team, so grab your colleagues and take it in turns to cycle non-stop in a relay. It's a challenge of strength, determination and team spirit. Do you have what it takes?
Faraway fundraising:
A trek challenge overseas is very rewarding, not to mention a once-in-a-lifetime opportunity.
Although a trek for charity can sound expensive, there are many options for people who want to participate. You can fund your challenge by paying the registration fee when you book, or pay the registration fee in instalments or even raise money for both your registration fee and minimum sponsorship. Create a fundraising page on JustGiving and check out our handy fundraising materials to help you reach your goal.
13. Kilimanjaro Summit Climb
Climb one of the world's tallest freestanding mountains by partaking in the Kilimanjaro Summit Climb. Following the stunning Lemosho route to the roof of Africa, Mt. Kilimanjaro is a tough yet exhilarating challenge. Gaze upon star-studded skies, walk above an endless sea of clouds and admire the incredible scenery as you climb to Uhuru Peak.
The days in length vary, from hiking three-four hours some days, to 7-10 on other days, it is an extreme challenge but a very rewarding one.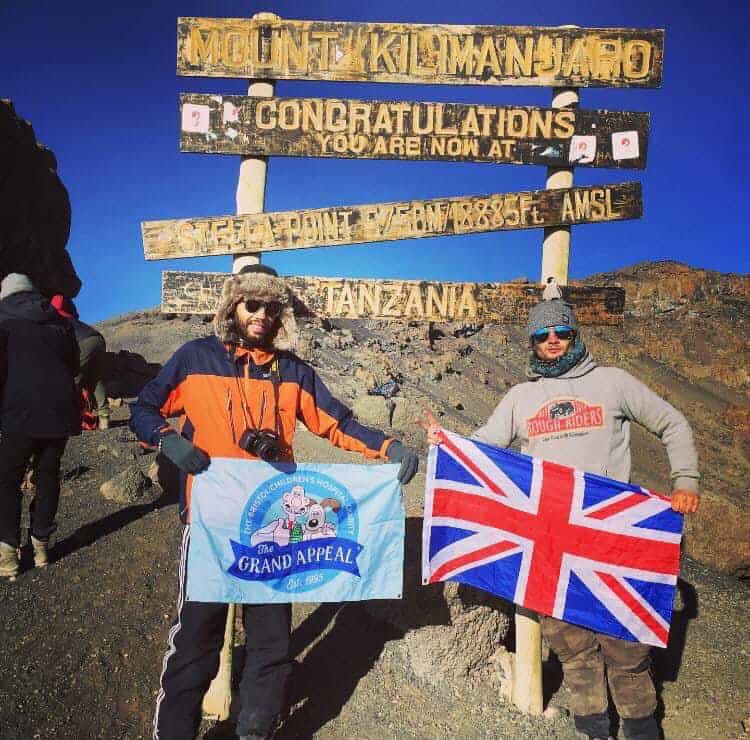 14. Everest Base Camp
Stand in the shadows of the world's highest mountain whilst taking in overwhelming panoramic views. Everest Base Camp is an extreme challenge, with the average day hiking for four-six hours. Embark and conquer one of the most sought-after treks in the world, it's a mind-blowing experience you'll never forget.